Bickford Theatre Announces 2018-19 Season - Shakespeare, FOLLIES, and More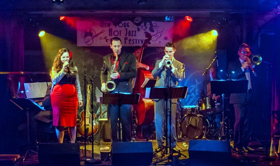 The Morris Museum has announced the 2018-19 season in its Bickford Theatre, adventuring into new programming directions, while continuing to support live theatre and jazz. Notable, new additions this season include an expanded program of documentary and classic film, storytelling workshops, a public lecture series, and a new relationship with National Theatre London. Seats for most of this season's events are reserved. Tickets are available online at www.morrismuseum.org or by phone at 973-971-3706. The Bickford Theatre continues to provide a diverse set of offerings, while taking advantage of a unique strength as a theatre within a museum 'ecosystem'.
"This season there will be more opportunities to interact with our performers, gain further insights into the works just seen or heard, feel stronger connections to our current exhibition themes, and have new learning opportunities" says Executive Director, Dr. Cleveland Johnson. A newly-installed, state-of-the-art ticketing system will provide an enhanced purchasing experience, while new incentives will encourage further exploration of the many offerings the Morris Museum has to offer.
For theatre-lovers, the Bickford stage will come alive with three compelling works, presenting different slices from the real lives of three individuals: a wealthy socialite who imagined herself a great operatic singer, a Canadian war hero, and a man's struggle to make it as an actor and comedian in New York City. Souvenir, A Fantasia on the Life of Florence Foster Jenkins (opening September 27, 2018) shares the experiences of a delusional woman as she gives concerts in NYC to rising celebrity culminating with a Carnegie Hall concert in 1944. Billy Bishop Goes to War (opening November 9, 2018) is a memory play celebrating the World War I flying ace as he reflects on his 72 victories and the business of war and hero making. My Son the Waiter, A Jewish Tragedy (opening May 2, 2019) shares the bittersweet and hysterical tale of Brad Zimmerman's exploits as as he strives to succeed in the professional NYC jungle.
Another new opportunity to experience theatre at the Bickford will come from a new avenue, National Theatre Live, which provides the best seat in the house, for live performances and encore screenings. We are pleased to present several Shakespearian classics (Hamlet on Sunday, Sept. 23, 2019), Julius Caesar (Sunday, Feb. 24, 2019), and Macbeth (Sunday, Mar. 31, 2019), one from Broadway - Follies (Sunday, Oct. 21, 2018), plus two live events: The Madness of King George III (Tuesday, Nov. 20, 2018) and I'm Not Running (Thursday, Jan. 31, 2019). All screenings will be at 2:00PM with live performances having an additional screening at 7:00PM. Attendees will experience some of the best talents from the UK in these world-class productions (now numbering more than 40, which started broadcasting in 2009).
Film becomes especially prominent in the Morris Museum's programming this season, with no fewer than four separate series screening in the Bickford. Appropriate for the dynamic Morris Museum, each series is insightfully curated and selected to bring surprising film offerings to Bickford's big screen. Inside Cinema offers monthly films on Wednesday mornings with a behind the scenes look at classic Film Noir with Professor David Landau, of Fairleigh Dickinson University. Real to Reel with Bruce Frigeri, also a film professor at Fairleigh Dickinson and founder of LifeSize Entertainment, will provide a lens into key issues of the day. This series will be held monthly on Thursday evenings. Both of these film series, made possible by Dillard and Adrienne Kirby, offer introductory remarks from the curators prior to each film screening. A third film track from Exhibition on Screen, creates an immersive art experience drawing one into major museums and galleries while providing insights from major art critics and historians. The popular Black Maria Film Festival arrives in November and May with its 2018 and 2019 award winners which celebrate the diversity, invention, and vitality of short films. Also, the Bickford will present, for the first time, the New Jersey Young Filmmakers' Festival.
New and old favorites return to the Bickford's Jazz Showcase with swing, cool, classical and traditional jazz sounds! Concerts will be held monthly on select Mondays and Thursday evenings at 7:30PM. The jazz season opens with Full Count Big Band, 17 piece big band that has been entertaining New York and New Jersey audiences for more than a decade with an eclectic mix of music. In November, clarinetist, Dan Levinson leads the Bickford Benefit All-Stars - join us to see which musicians are assembled for this year's tribute. Herb Gardner's illustrious career as a trombonist has taken him from playing with all the jazz greats in NYC in the 1960s to leading Vince Giordano's Nighthawks, playing for several presidential inaugurations, and writing specialty songs heard on NYC radio and theme songs for radio personalities. At the Bickford, he gathers musicians to celebrate a cool holiday that fortells whether spring will be early or late. Other events include the annual Bix Beiderbecke birthday bash in March, the legendary Rio Clemente in April, husband and wife classical jazz piano duo Stephanie Trick and Paolo Alderighi in early May, and the return of stride pianist, Neville Dickie and the incomparable Midri Brothers at the end of the season.
By popular demand, the Morris Museum unveils a new programming dimension as part of the Bickford Theatre offerings this season. SmartTalks is a series of captivating speakers - scholars and authors who are experts in their field who broaden horizons and challenge conventional wisdom. The full series launches in Spring 2019, with weekly talks on Thursdays at 1:00 p.m. This fall, a preview of the series is being offered: Do Animals Have Rights? (September 13), What is Jazz and Why Does it Matter (October 11) and LOL A Philosophical Look at Comedy (November 15). By engaging with our speakers, attendees will have the opportunity to stretch themselves and gather new insights on interesting and thought provoking topics.
There will be several special performances and programs to round out our expanded season at the Bickford Theatre. Engage in the art of storytelling with educator and producer for The Moth, Nisse Greenberg through a series of Sunday afternoon workshops in October culminating with a performance in November. A spring 2019 workshop will be announced. Then dive into great musical masterpieces with New Jersey Native Rob Kapilow as he takes listeners inside the music to unravel their mysteries and learn What Makes it Great! On a Sunday in October he will dissect the Octet for Strings by Mendelsohn and in March, it will be the music of Duke Ellington. Each program will be followed by a live performance of music along with a question and answer session with Rob and the artists. The Brass Project, a sextet from the Curtis Institute of Music in Philadelphia will be in residence twice during our 2018-2019 season in December and March with seasonal favorites and a survey of hits. The Philadelphia Inquirer describes them as "six superb Curtis brass players". They collaborate with composers world-wide, seeking to expand the repertoire for chamber brass while recording and distributing new works.
Tickets may be purchased online at morrismuseum.org, by phone at 973.971.3706, or in person at the Bickford Theatre Box Office. The shows this year will mostly have reserved seating so order tickets early. The Morris Museum's Bickford Theatre is located at 6 Normandy Heights Road in Morristown, NJ, and offers free parking and full accessibility. Box office hours for phone sales are Monday through Friday, 10:00am to 5:00pm. Walk-up hours are Tuesday through Friday 11:00 11:00am to 5:00pm. During July and August, Friday walk-up hours are 11:00AM to 2:00PM.