BWW Review: THE IMPORTANCE OF BEING ERNEST at TRT is Performed to Perfection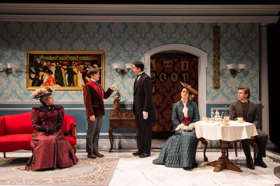 "The truth is rarely pure and never simple."
by Algernon in The Importance of Being Earnest
Two River Theatre continues their successful 2017/2018 Season with Oscar Wilde's The Importance of Being Earnest now through December 3. Whether you've seen it before or it's your very first time, you'll find the show to be absolutely delightful. Superbly directed by Michael Cumpsty, the play features the ideal cast to portray Wilde's farcical classic. It was first performed in February of 1895 at the St. James Theatre in London and now theater aficionados and many more will relish the opportunity to see it on the Red Bank stage.
In Wilde's wonderful and witty play, romance and identity issues take center stage as John Worthing proposes marriage to Gwendolen Fairfax and Algernon Moncrieff woos Worthing's young ward, Cecily Cardew. The two women falsely believe that their suitors are known as Earnest, a name they think "inspires total confidence." While each of the men pursue their sweethearts, a subtle romance is also brewing between Reverend Canon Chasuble and Cecily's teacher, Miss Prism. And it is Gwendolen's mother and Algernon's aunt, the very proper Lady Bracknell, who attempts to maintain the highest social standards in spite of all the shenanigans. It is an intriguing story with unique twists that cleverly ridicule Victorian traditions, social class, and the trappings of romance.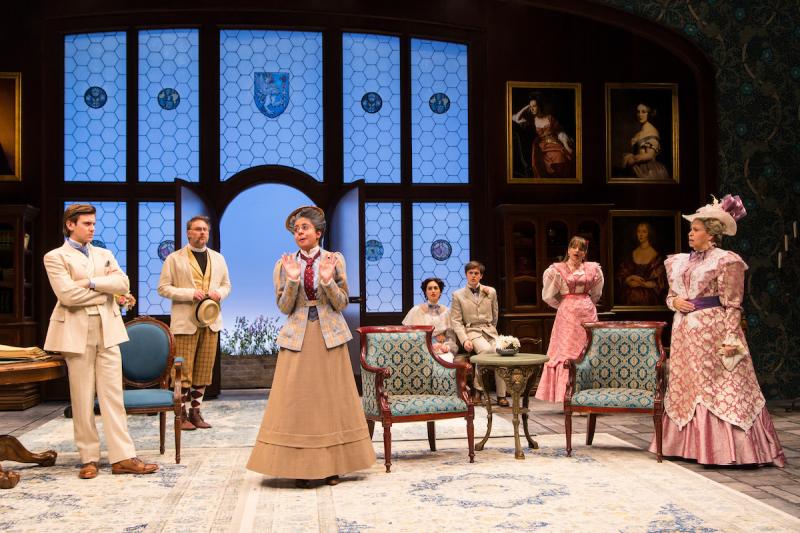 The stellar cast captures the mood of the show with its colorful characters and sharp repartee. They include Randy Danson as Lady Bracknell; Rosa Gilmore as Gwendolen Fairfax; Mahira Kakkar as Miss Prism; Chris Kipiniak as Rev. Canon Chausuble; Sam Lilja as Algernon Moncrieff; Federico Rodriguez as John Worthing; Liesel Allen Yeager as Cecily Cardew. Rounding out the cast as the butlers are Henry Vick as Lane and Bob Mackasek as Merriman. Be sure to catch every line of the play's impeccably delivered dialogue. Wilde's words are brimming with wit and wisdom.
The Creative Team has done a fantastic job of creating the setting for the production with scenic design by Charlie Corcoran; costume design by Jess Goldstein; lighting design by Yuki Nakase; sound design by Elisheba Ittoop; wig design by Leah J. Loukas. The Production Stage Manager is Rick Steiger and casting is by Heidi Griffiths and Kate Murray.
The Two River Theater, under the leadership of Artistic Director John Dias and Managing Director, Michael Hurst is presenting the metro area audience with a holiday gift. Their production of The Importance of Being Earnest is a light-hearted, yet insightful piece of theatre that you will long remember. Get your tickets and enjoy.
Performances of The Importance of Being Earnest will begin in Two River's Joan and Robert Rechnitz Theater, 21 Bridge Avenue, on Saturday, November 11 and continue through Sunday, December 3. The opening night performance is Friday, November 17 at 7pm. Tickets are available from 732.345.1400 or www.tworivertheater.org.
Photo Credit: T. Charles Erickson