Interview: Playwright Adam Szymkowicz and MERCY at NJ Rep 6/14 to 7/15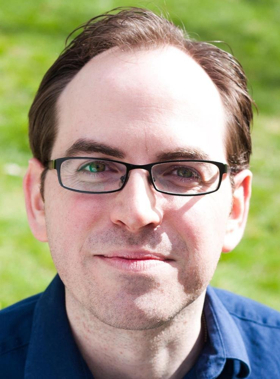 New Jersey Repertory Company (NJ Rep) is proud to present the world premiere of Adam Szymkowicz's Mercy from June 14 through July 15. This surprisingly funny, dark comedy is directed by Gail Winar, and stars Christopher Daftsios, Dan Grimaldi, Nandita Shenoy, and Jacob A. Ware.
After his wife is killed in a car accident, Orville attempts to move on with his life. His father takes on the responsibility of caring for his new granddaughter, while his boss at work, aggressively tries to comfort him. However, everything changes for Orville when he inadvertently meets Ian, the troubled man responsible for his wife's death. Will Orville choose redemption or revenge?
Broadwayworld.com had the pleasure of interviewing Adam Szymkowicz about his career and Mercy at NJ Rep.
Szymkowicz's plays have been produced throughout the U.S., and in Canada, England, The Netherlands, New Zealand, Australia, Germany, Greece, Mexico, Turkey, South Korea, Slovenia and Lithuania. Published plays include Deflowering Waldo, Pretty Theft, Food For Fish, Hearts Like Fists, Incendiary, Clown Bar, The Why Overhead, Adventures of Super Margaret, 7 Ways To Say I Love You, Rare Birds, Marian Or The True Tale of Robin Hood, and Nerve. Adam received a Playwright's Diploma from The Juilliard School's Lila Acheson Wallace American Playwrights Program and an MFA from Columbia University. He has interviewed 1000 playwrights on his blog.
When did you first realize your penchant for writing?
I was in plays starting in kindergarten through college and acting wasn't my thing exactly but I loved theater. My final year of college I wrote, directed and produced a play and when the audience responded to the play in real time, I was floored, and I've been chasing that feeling ever since.
What writers are you likely to read for relaxation or in your down time?
You know what I really loved recently? "The Night Circus." Have you read that? I read a lot of YA these days. I love anything by Rainbow Rowell. I just read a graphic novel called "Tricked" by Alex Robinson. I also just finished writing a play about a bookstore so I was reading a bunch of books about bookstores. I also just read a lot of plays.
Do you have any particular mentors?
Chris Durang and Marsha Norman were huge influences and later became my teachers and mentors.
You have interviewed an incredible number of playwrights for your blog. Are there any particular insights you'd like to share from the interview process?
I think my biggest takeaway is the scope of the American theater. People are coming from everywhere writing about everything and they are smart and dedicated and there are just a huge number of really talented people trying to do this weird thing. And I love that.
Tell us a little about the inspiration for Mercy.
I never know how to answer this question and it's the question I get the most. I'm not sure when plays come from. I guess I just get interested in telling a story and sometimes that's about a moment or a character or some words. I don't know where the jokes come from or why I have to write these things. And I'm not saying it's easy to write or anything. No muse dictates to me. But I can't usually point to a moment in my life or an article I read that explains why I wrote a play. So I guess that's my non-answer answer. It came from somewhere but I don't know where.
How do you like working with NJ Rep?
They're a great group of people. This is my first show and it's in process but I think I can say they are smart and supportive, take good care of the artists and are truly kind people. And it's very civilized to walk to the beach after rehearsal.
What are some of your plans for the future?
I have another premiere coming up from the NOLA Project in New Orleans early in the winter. It's about a TGIFridays type restaurant that gets taken hostage. It has a lot of songs. It might be a musical. Also probably a New York production that hasn't been announced yet. And I have a bunch of other productions of some of my other plays, including Marian Or The True Tale Of Robin Hood at Theater of Note in LA this summer.
Is there anything else you would like BWW NJ readers to know?
If you're interested in playwrights or writing, read some of the 1000 playwright interviews I posted on my blog.
For more information about Adam Szymkowicz and to read his blog, please visit http://www.adamszymkowicz.com/.
Mercy runs June 14 through July 15 at New Jersey Repertory Company located at 179 Broadway in Long Branch with convenient, free parking available in the rear lot. Previews are Thursday and Friday, June 14 and 15 at 8:00 PM, and Saturday, June 16 at 3:00 PM. Opening night with reception is Saturday, June 16 at 8:00 PM. Performances are Thursdays, Fridays 8:00 PM; Saturdays 3:00 PM and 8:00 PM; Sundays 2:00 PM.
Tickets are $46 (opening night with reception, $60; premium seating + $5). Annual subscriptions are $225 per person. For tickets or additional information call 732-229-3166 or visit their web site at http://www.njrep.org/.
Photo by Isaiah Tanenbaum