Interview: Christa Scott-Reed in DANCING AT LUGHNASA at TRT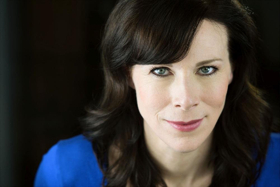 Dancing at Lughnasa is the story of five unmarried sisters on the west coast of Ireland in 1936. It won the 1992 Tony Award for Best New Play and the hearts of its audiences. The show promises to cast a warm and luminous theatrical spell with its portrait of love, hardship, and, above all else, family.
Broadwayworld.com had the pleasure of interviewing Christa Scott-Reed, who plays Agnes in Dancing at Lughnasa, about her career and the upcoming show.
Christa was most recently seen Off-Broadway in Church and State at New World Stages and starring opposite Richard Dreyfuss in Relativity at TheaterWorks. Broadway: The Pitmen Painters. National Tour: C.S. Lewis's The Great Divorce. Off-Broadway: The Talls (Second Stage); The Freedom of the City(Irish Repertory Theatre); The Great Divorce (FPA); Celebration and The Room, The Bald Soprano and The Lesson (Atlantic Theater Company); Beasley's Christmas Party, PULLMAN CAR HIAWATHA, and Museum (Keen Company); Deathbed (McGinn-Cazale); Marion Bridge (Urban Stages); The Voysey Inheritance(Mint Theater Company). Regional Theater: Bucks County Playhouse, Berkeley Repertory Theatre, The Old Globe, Paper Mill Playhouse, Actors Theatre of Louisville, Cincinnati Playhouse in the Park, Repertory Theatre of St. Louis, Pioneer Theatre, Barrington Stage, Syracuse Stage, Denver Center Theatre Company, Cleveland Play House, Intiman Theatre, and many more. Film & TV: 30 Rock, The Impossibilities, Eden, Gossip Girl, 666 Park Avenue, Law & Order, Law & Order: SVU, Love Life, New Amsterdam, and As the World Turns. Christa recently directed the first New York revival of William Nicholson's Shadowlands, starring Daniel Gerroll. Member of AEA, SAG-AFTRA, and SDC.
What was your earliest interest in theater?
I was in my first community theatre play at age 7 and was immediately smitten! I come from a small town in the Pacific Northwest and although it's an agricultural community and relatively conservative, there's a huge love of theatre there and very active amateur performing groups so my interest was generously fostered from a very early age. My town did everything from big musicals to small plays to a children's Shakespearean touring troupe - really remarkable! I grew up just thinking theatre was something worthy and special and yet also normal and accepted.
Has there been anyone in particular who has inspired your career?
I watched a lot of classic movies as a child and always adored Rosalind Russell above all. I certainly admire many famous theatre and film actors of today - as a tall woman myself I find myself particularly drawn to the performances and careers of talented tall female actors like Allison Janney and Janet McTeer, But as for inspiration I have certainly been most affected by the incredible teachers - from high school to college to graduate school - that I had the very good fortune of learning from, and being inspired and nurtured by. Teachers are, as always, our unsung heroes.
What are some of the challenges of working as both a director and actor?
There a lot of split focus there in terms of seeking jobs, if ones intends to continue doing both tracks. My last job was directing and this is my first acting job since that. I love that my first job back as an actor is one where I'm being directed by someone (the marvelous Jessica Stone) who has also been an actor and has that perspective. One would think that someone like myself who is a director as well as an actor would be a little too mouthy in the rehearsal room when acting, having too many opinions on the process - but on the contrary I keep my trap shut as much as possible and just consciously listen and observe our director's process, as I do all good directors, so that I can grow more as a director myself.
You have performed far and wide. What locations do you enjoy traveling to and performing?
I did a little look back not long ago and figured out I've performed in at least 40 cities across the U.S. What an incredible education! Every city I go to I get to explore something, learn something unique about that place, meet local folks, enjoy a fresh perspective. And get paid to do it! Of course it's been extra special when I've gotten to perform where I have family and friends. Plus so few people have the pleasure of welcoming their family right into their workplace in such a fun and engaging way! My husband and kids are visiting me right now, as they often do when I work out of town, and THEY get to have unique experiences, thanks to my shows. My 6 year old truly just said to me, "Thank you, Mommy, for being an actress, so I could come have fun in New Jersey!"
Tell us a little about your role as Agnes in the Dancing at Lughnasa.
I find Agnes to be a wonderfully challenging role. She is the ultimate middle child - the 3rd of 5 sisters. She is arguably the most sensitive of the five women. She has tensions and longings that run very deep but remain very tucked away - that is until one of sisters occasionally touches a little too close to those tender nerves and her emotions just burst. I have such empathy for Agnes and her inner emotional struggles (such as secretly pining for the man who loves her beautiful younger sister). It's a lovely challenge to play a character who is very contained most of the time yet who still has a very, very complicated emotional life.
How do you like working at TRT?
I love it! The facilities and production values are just beautiful; the leadership and staff are kind, professional, collaborative, talented, fun. What an absolutely lovely atmosphere. It's very clear to me why so many great NYC professionals value the opportunity to work at TRT.
What would you like metro area audiences to know about the show?
It's a wonderful meal of a show that has all of the food groups that satisfy an audience: humor, pathos, wit, tragedy, romance... Anyone with a family will find it engaging. I often find myself getting emotional watching the other actors - and I'm not even talking about the sad scenes! I just mean that the language and relationships are so fully realized and moving that I find my heart full at the very simplest moments when watching it.
For more information on Christa Scott-Reed, visit her web site at http://www.christascottreed.com.
Tickets for Dancing at Lughnasa can be purchased by calling 732.345.1400 or by visiting https://www.tworivertheater.org/. The theater is located at 21 Bridge Street, Red Bank, NJ 07701
Photo Credit: Courtesy of Christa Scott-Reed