Andrew Costello, Carami Hilaire and Tenor Taehwan Ku to Lead TOSCA at NJ Association of Verismo Opera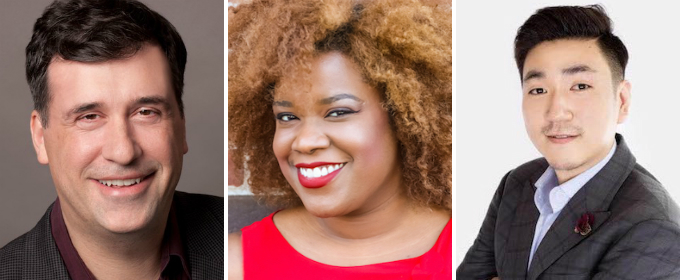 Lucine Amara, Artistic Director of the New Jersey Association of Verismo Opera, announces the cast performing in Giacomo Puccini's Tosca on Sunday, October 15, 2017.
Under Amara, one of the Metropolitan Opera's finest performers of Tosca, Verismo Opera, the Bergen Performing Arts Center's (bergenPAC) house opera company in Englewood, New Jersey, presents the opera at 3:00 p.m.
"Puccini's Tosca is deeply rife with three dimensional, intensely different personalities caught up in love---one's love of country, two romantic hearts, and another's evil quest for power. In Verismo Opera's production, before our eyes, we see Caravadossi, Tosca, and Scarpia come first to life and watch in horror, as each of them fatefully meets their end," explained Amara, who sang nine performances of Tosca at The Metropolitan Opera.
A new cast debuts with the company. Soprano Carami Hilaire, who recently performed Floria Tosca with Regina Opera, assumes the lead role with Verismo Opera. She has also appeared with the Sarasota and Saratoga Opera companies and is a Belvedere Competition qualifier, a Harlem Opera Finalist, and a Julian Autrey Song Foundation grant recipient.
Tenor Taehwan Ku, whose singing The New York Times lauded for "natural warmth and ping", appears as Mario Cavaradossi. In 2016, he debuted at Lincoln Center with the ISO Orchestra. Previous credits include Madama Butterfly (Pinkerton) with Martina Arroyo's Prelude of Performance Program and La Bohème (Rodolfo) with Manhattan School of Music.
Andrew Costello, a bass-baritone/heldenbariton, performed the role of Baron Scarpia with the Des Moines Metropolitan Opera. M.T. Ketterson of Metropolitan Opera News described his performance of Scarpia as "an erotically threatening presence. He has sung over 25 leading operatic roles, ranging from Monteverdi to contemporary opera, in the United States and Europe.
Other singers debuting with Verismo Opera are: tenor Brett Pardue (Spoletta, a police agent), baritone Jonathan Green (Sciarrone, a police agent), bass Kofi Hayford (Sacristan), baritone Wesly Anthony Clergé (Jailer), and baritone Roland Burks (Cesare Angelotti). Ten-year-old Brandon Wong appears with Verismo Opera as a Shepherd boy.
Verismo Opera presents the opera set in Italy in three acts with Luigi Illica and Giuseppe Giacosa's libretto based upon Victorien Sardou's drama, La Tosca. Under Principal Conductor/Music Director Lucy Arner, a live orchestra accompanies the performance, with Chorus Director/Associate Conductor Michael Wittenburg leading the Verismo Opera Chorus. General Manager/Stage Director Evelyn La Quaif directs the fully staged opera. The cast appears in period costumes designed by Costume Designer/Wardrobe Director Barbara Konig and performs in Italian with English supertitles provided for the audience.
Tickets are on sale at bergenPAC's box office, located at 30 North Van Brunt Street, Englewood, New Jersey, or call (201) 227-1030 or toll-free at 1-888-PACSHOW. Tickets may also be purchased online at www.bergenpac.org.
The theatre is handicapped accessible. Designated handicapped parking spaces are available. For information about bergenPAC's Accessibility Services, contact the theatre's Americans With Disabilities Coordinator at (201) 816-8160, extension 31.
For 28 years, the New Jersey Association of Verismo Opera, a nonprofit, tax-exempt organization in Fort Lee, New Jersey, has been an integral part of the region's classical music culture. In November 2017, the company celebrates its 29th season, launching the annual international vocal competition that draws artists worldwide.
Led by Metropolitan Opera luminary Lucine Amara, Verismo Opera is the Bergen Performing Arts Center's house opera company. Verismo Opera provides performing opportunities for artists through semi-annual productions and concerts and organizes opera workshops and master classes. For information, visit Verismo Opera's web site, www.verismopera.org; follow the company on Facebook, bit.ly/9JXTP8, or Twitter @NJVerismoOpera; or call (201) 886-0561.
Pictured: Carami Hilaire appears as Floria Tosca; Taehwan Ku performs Mario Cavaradossi; and Andrew Costello performs Baron Scarpia.