Photo Flash: Child Stars & Moms from Stage, TV & Film Gather at Hollywood Museum
Almost 80 students from The Dolores Mission School gathered for a wonderful opportunity to visit Hollywood and tour the recently decorated Hollywood Museum, enjoy the beautiful holiday decorations by Dr Christmas (Bob Pranga), as well as hear inspirational stories with interesting messages from local politicians and personalities. Scroll down for photos from the event!
The event and tour was followed by a lunch at the historic Mels diner and then each student receive gift bags to take home and share with their families. In addition, a select group of kids received a BuppalaPaloo Bear, created by actress Dee Wallace (ET/Cujo/GRIMM), that she designed to help children with issues involving self esteem. "My family was very poor, when I was growing up in Iowa. I understand the importance of helping our children take those first steps to truly loving themselves, so they can then truly love others."
Among the other artists in attendance were,
Romi Dame
s (Hanna Montana),
Alison Arngrim
(Little House on The Prairie),
Erin Murphy
(Bewitched), Moosie Drier (
Bob Newhart
/Kids Incorporated), Chris Trousdale (Dream Street/Austion & Ally), Hunter Payton (A to Z) and
Paul Peters
on (The Donna Reed Show), and
Ilene Graff
(Grammy Nominee/Mr. Belvedere). Amongst the political guests were Daniel Halden (Hollywood deputy for office of Councilmember Mitch O'Farrell, CD 13), Ben Pak (deputy for the office of the president pro tempore of the California state Senate, Senator Kevin de Leon), Franklin Ochoa (field deputy for office of Councilmember Jose Huizar, CD 14) and the former Councilmember CD4,
Tom LaBonge
, who is fondly known as 'Mr. Los Angeles' and gave civics lesson to the youth by calling students up as and making them honorary city attorney, city controller and LA City Mayor of 2013 for the day. "It's really all about the kids and history. Today was a fabulous pairing of both. It is an honor to be at the Hollywood Museum," remarked
Paul Peters
en.
Romi Dame
s advised the youth in the room to "Never stop doing things that scare you. Going outside of your comfort zone leads to new experiences. You'll either have a lot of fun, or have a great new story to tell--or both!" Adding, "I was really impressed with the kids--they were such a polite audience! And they seemed like they were having a blast touring the museum. I think it's wonderful that the Hollywood Museum donated their time and resources to the children of the Dolores Mission. I'm a huge believer in having the arts as a part of school programs, because it helps contextualize historical events." "I had the best time with these kids. It must have to have something to do with the good cheer in the room. Just lovely," commented
Ilene Graff
, who imparted the wisdom and wishes that the children in the room "...enjoy being children while they can. The realities of an adult life will come soon enough." Other words of wisdom came from
Alison Arngrim
, who suggested they should never be afraid of change, "in fact, embrace it" and Chris Trousdale who assured all of the kids that they "... can achieve anything you are passionate about and set your minds to accomplish," and
Erin Murphy
who stressed, "You have no control over how other people act. You have total control over how you react. Happiness is a choice. Choose to be happy!' The Dolores Mission School is a grade school (K-8) committed to serving low-income families in Los Angeles. Together with the family, we strive to educate the whole child, academically, spiritually, physically, and morally, in a nurturing environment. The students and their families are part of a larger community with a rich cultural identity. The goal is to empower the children to rise out of poverty by becoming educated leaders in their community, "women and men for and with others."
Donelle Dadigan
(Founder and President of The Hollywood Museum) has been credited for for not only saving Hollywood history that would otherwise have been lost to time, but also establishing the ultimate destination for tourists and movie fans. Located in the Historic Max Factor Building, The Hollywood Museum houses over 10,000 real showbiz treasures and the most extensive collection of Hollywood costumes, star cars, props, posters, photographs and memorabilia in the world showcasing more than 100 years of Hollywood history. The museum spotlights the glamour of Hollywood legends from
Mary Pickford
,
Douglas Fairbanks
and Rudolph Valentino; to the Golden Era's
Joan Crawford
,
Judy Garland
and
Katharine Hepburn
; to movie idols
Marilyn Monroe
,
James Dean
, Carey Grant,
Clark Gable
and
Elvis Presley
, to name a few. Today's Hollywood stars including
Brad Pitt
,
Angelina Jolie
,
Leonardo DiCaprio
, J. Lo, and
George Clooney
, among many others. Visit
HANNIBAL
Lecter's jail cell movie set from The Silence of the Lambs, the historic photo gallery and the official Walk of Fame exhibit. The Hollywood Museum is also home to Max Factor's world-famous makeup rooms where
Marilyn Monroe
became a blonde and
Lucille Ball
first donned her signature red hair. The Hollywood Museum is a 501(c)(3) non-profit corporation.
Photo Credit: Bill Dow


Chris Trousdale takes selfies with students of Dolores Mission School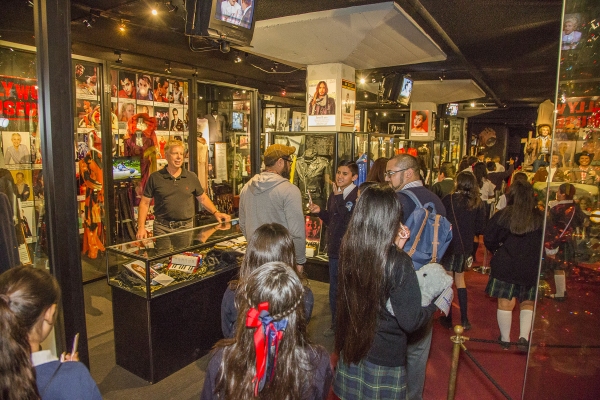 Dolores Mission students take tour of Hollywood history at The Hollywood Museum

Chris Trousdale, Romi Dames, Paul Petersen, Ilene Graff and Alison Arngrim in the lobby of The Hollywood Museum

Alison Arngrim and Ilene Graff visit the Blondes room at The Hollywood Museum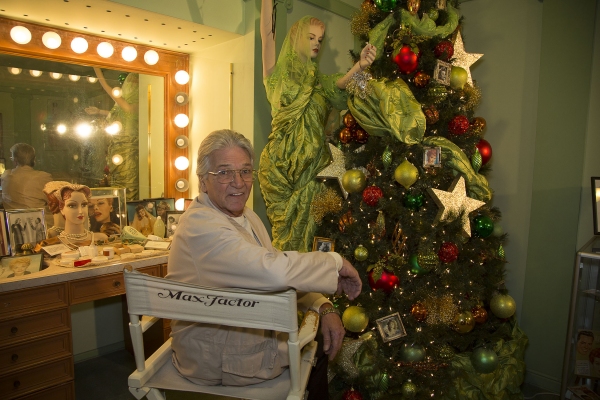 Paul Petersen recalls friend Lucille Ball in the Red Reds Room at the Hollywood Museum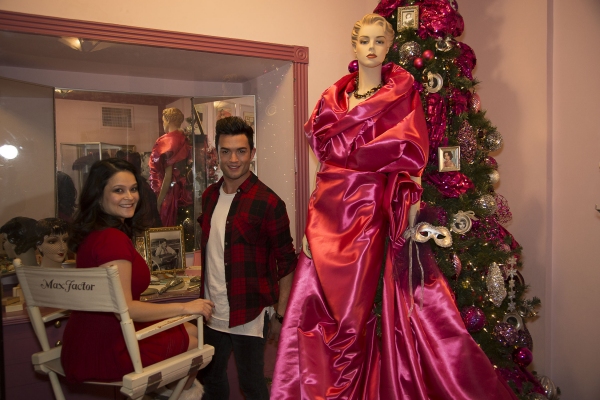 Romi Dames and Chris Trousdale inthe Brunettes Room at The Hollywood Museum

Dee Wallace with her BuppalaPaloo Bear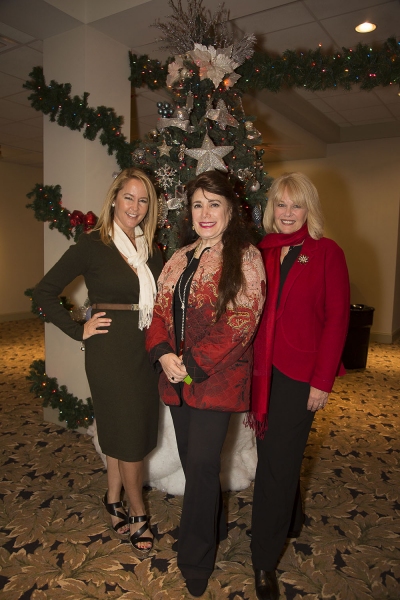 Erin Murphy, Donelle Dadigan and Ilene Graff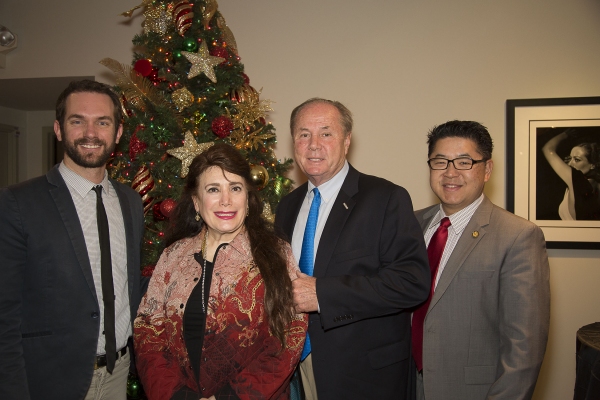 Franklin Ochoa, Donelle Dadigan, Tom LaBonge and Ben Pak

Romi Dames, Donelle Dadigan, Hunter Payten and Chris Trousdale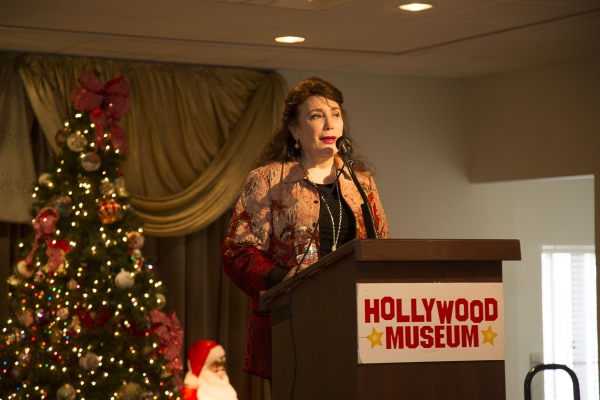 Donelle Dadigan welcomes the Dolores Mission students

Mr Los Angeles, Tom LaBonge, and Dolores Mission students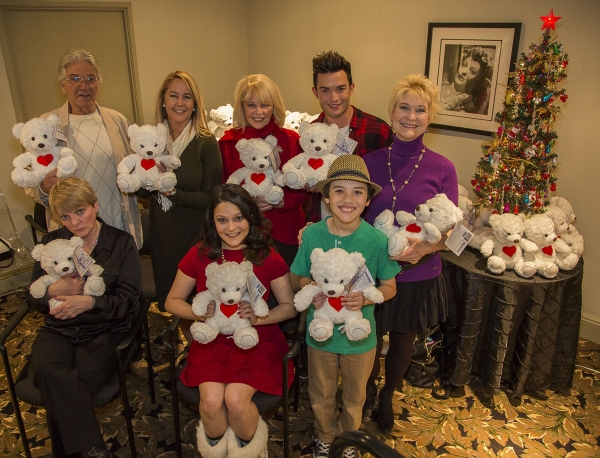 Alison Arngrim, Paul Petersen, Erin Murphy, Romi Dames, Ilene Graff, Chris Trousdale, Hunter Payten and Dee Wallace display the BuppalaPaloo Bears to be handed out to students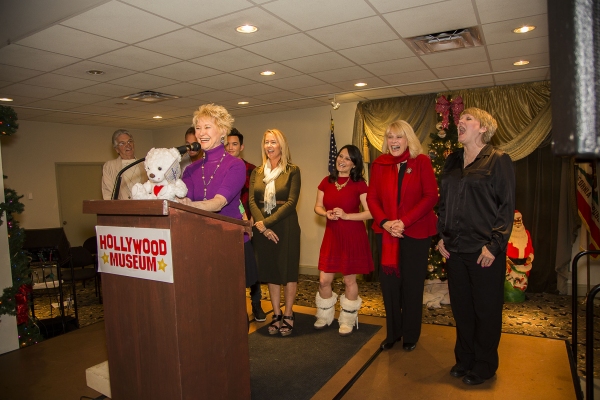 Dee Wallace presents the BuppalaPaloo Bear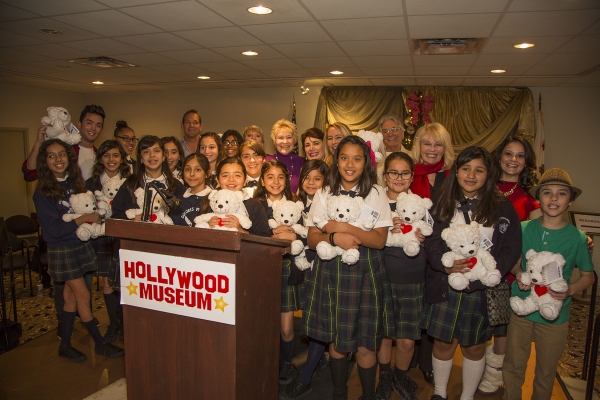 Celebrities with some of the students that received their own BuppalaPaloo Bear

Dolores Mission students continue their tour of The Hollywood Museum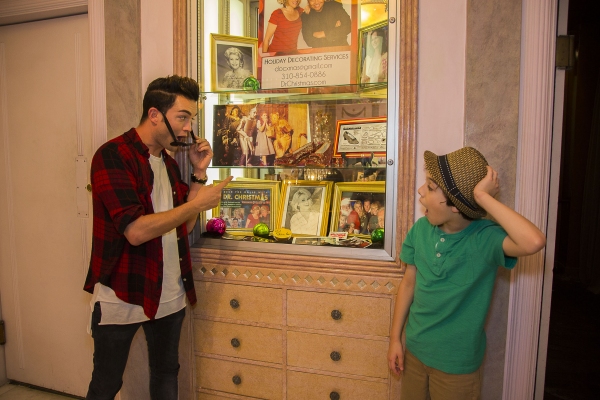 Chris Trousdale and Hunter Payton discover the Ruby Slippers (one of the original 6 pairs used in 'The Wizard of Oz')
Related Articles View More Los Angeles

Stories

Shows
More Hot Stories For You