Photos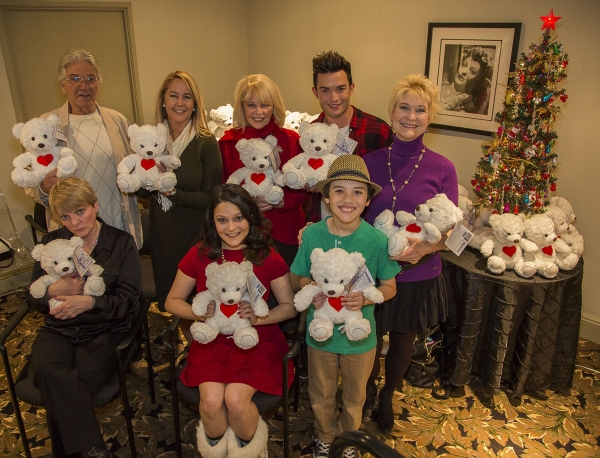 Alison Arngrim, Paul Petersen, Erin Murphy, Romi Dames, Ilene Graff, Chris Trousdale, Hunter Payten and Dee Wallace display the BuppalaPaloo Bears to be handed out to students
From: 
Date:
12/10/2015
Romi Dame News
Photo Flash: Former Child Stars Celebrated at The Hollywood Museum
by A.A. Cristi - Aug 19, 2016
Dadigan, hosted an eclectic list of current/former child stars (some reuniting with other cast members for the first time in years) and other VIP guests for cocktails and hors d'oeuvres as they preview the 'Child Stars - Then And Now' exhibit, which will be open to the public through December.
Over 50 Child Stars Unite Unprecedented Gathering at Hollywood Museum
by A.A. Cristi - Aug 8, 2016
The Hollywood Museum has teamed up with over 50 former child stars to offer the public, for the first time, two exciting and rare experiences.  The 'Child Stars - Then and Now' exhibit will open to the public on Thurs, August 19th.  Additionally, a two day exclusive child star themed autograph show on Sat, August 20th & Sun, August 21st, that involves what may be the largest collection of child stars ever in one place, for a good cause - A Minor Consideration.
Photo Flash: Child Stars & Moms from Stage, TV & Film Gather at Hollywood Museum
by BWW News Desk - Dec 10, 2015
Almost 80 students from The Dolores Mission School gathered for a wonderful opportunity to visit Hollywood and tour the recently decorated Hollywood Museum, enjoy the beautiful holiday decorations by Dr Christmas (Bob Pranga), as well as hear inspirational stories with interesting messages from local politicians and personalities. Scroll down for photos from the event!
UCLA to Host An Evening with George Chakiris, 11/16
by Tyler Peterson - Oct 16, 2013
UCLA Film & Television Archive salutes the extraordinary career of actor, singer and dancer George Chakiris in this exciting screening and discussion. Trained in Los Angeles, Chakiris first distinguished himself as a dancer in Hollywood films, displaying an athleticism and grace that helped bring renown to West Coast dance styles. Best known for his Academy Award-winning performance in West Side Story (1961), Chakiris has enjoyed a multi-faceted, international career on stage, screen and television. This program assembles a selection of his sparkling television appearances drawn from the Archive's holdings, including excerpts from "The Garry Moore Show" (1961), "The Dinah Shore Chevy Show" (1962) and "The Andy Williams Show" (1967), followed by a screening of Jacques Demy's The Young Girls of Rochefort (1967), foregrounding Chakiris' command of song, dance…and our attention. Chakiris won a Golden Globe and an Oscar for the role of Bernardo in the film and in Nov 2012, Chakiris received what many refer to as the highest honor in Hollywood - His Hand & Foot Prints were placed in cement (with colleagues Rita Moreno and Russ Tamblyn and placed along side friend and co-star, Natalie Wood) for all history in connection with the 50th anniversary of classic film West Side Story which premiered at Grauman's 50 years ago.
Photo Flash: Ilene Graff and Ben Lanzarone Help MAKE THE SONG YOUR OWN in LA
by BWW News Desk - Apr 19, 2013
Brooklyn transplants and Broadway favorites, Ilene Graff (Promises, Promises / Grease / I Love My Wife) along with her husband/musical director, Ben Lanzarone, not to mention the parents of stage success Nikka Lanzarone (Chicago / Women on the Verge of a Nervous Breakdown) presented 'Make the Song Your Own', a salon style performance this week before an equally eclectic crowd, which included such noted patrons as screen stars Tippi Hedren and Dee Wallace, cabaret sensation Barbara Van Orden, Daytime Drama personality Kate Linder, commedienne Geri Jewell and ABC Entertainment reporter George Pennacchio. Scroll down for photos from the event!
Photo Flash: Tippi Hedren and More Attend THE BIRDS Q&A and 50th Anniversary Screening in LA
by Movies News Desk - Jan 22, 2013
On January 17th, TCL (formerly Grauman's) Chinese Theatre presented a public screening of 'THE BIRDS' featuring a Q&A with cast co-stars Tippi Hedren and Veronica Cartwright. Hosted by Red Line Tour's owner, Tony Hoover, the screening celebrated the 50th anniversary of Hitchcock's Masterpiece released in January, 1963. Check out photos from the event below!
Photo Flash: Red Line Tours Launches 2013 Collectors Tickets Honoring Hollywood Directors
by BWW News Desk - Jan 21, 2013
On January 17, 2013 Red Line Tours launched their second set of collectors tickets, 'Directors Series,' highlighting four celebrated and iconic film directors. Designed by world-renowned artist, Andre Miripolsky, as a memento to patrons of the tour and of their visit to Hollywood. The tickets feature Charlie Chaplin, Alfred Hitchcock, Clint Eastwood and Sofia Coppola, the Silent, Golden, Modern and Contemporary eras of film. This is Red Line Tour's second installment in the series of images depicting iconic or celebrated Hollywood history. Check out photos from the launch event below!