3rd Annual BOWL FOR RONNIE to Benefit the Dio Cancer Fund Set for October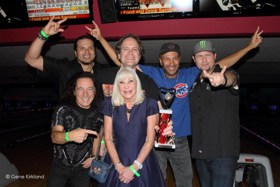 The 3rd Annual BOWL FOR RONNIE Bowling Party, benefiting the Ronnie James Dio Stand Up and Shout Cancer Fund (www.diocancerfund.org), will take place on Friday, October 6, 2017 at the Pinz Bowling Center in Studio City, California.
The event, hosted by VH-1's Eddie Trunk, will include a celebrity bowling tournament and a raffle drawing. Last year's BOWL FOR RONNIE brought in $36,500 for the cancer charity, which is now in its eighth year of raising awareness and much-needed funding for cancer research.
BOWL FOR RONNIE participants can anticipate an evening of fun, food, and, of course, bowling with rockers and celebrities competing for trophies in the name of raising funds and awareness for the Dio Cancer Fund. Among the raffle prizes will be a specially-designed bowling ball and pin featuring the BOWL FOR RONNIE artwork (see below).
The event kicks off at 6:30 PM with open bowling and a VIP pre-party for lane sponsors, celebrities and their guests. Previous BOWL FOR RONNIE events brought together entertainers and artists such as Grammy award winning duo Tenacious D featuring Jack Black and Kyle Gass, Tom Morello (Prophets Of Rage & Rage Against The Machine, John 5, members of Mastodon, Steven Adler of Guns and Roses, Lita Ford, members of the Grammy nominated group Stone Sour and many more. Last year, John 5 and Tom Morello, as members of Eddie Trunk's bowling team, took top honors for the highest celebrity bowling team score.
Eddie Trunk's team celebrates its 1st Place victory in the 2016 Bowl For Ronnie celebrity bowling competition. From left: Rock Feinstein, Jeff Scott Soto, Wendy Dio, Eddie Trunk, Tom Morello, Tim "Ripper" Owens. Not Pictured: John 5 (Photo by Gene Kirkland)
Radio personality EDDIE TRUNK (http://eddietrunk.com) will once again host the event and captain his own bowling team at the event. Additionally, LA's rock station KLOS will sponsor a bowling team made up of on-air personalities and celebrity musicians.
100% of the net proceeds from the BOWL FOR RONNIE will go to the Dio Cancer Fund (www.diocancerfund.org). Individual tickets and lane sponsorships are now on sale, and participants are encouraged to gather friends, family and co-workers for the ultimate bowling team. The Pinz Bowling Center is located at 12655 Ventura Blvd in Studio City, California.
For more information, visit the SUAS website at www.diocancerfund.org/events.
Tickets are now on sale HERE. Individual Spectator: $50 per person (includes pizza and general admission). Individual Bowler: $75 (includes pizza, shoe rental and bowling from 6:30-9PM). Team/Corporate Lane Sponsorship: $1995 private lane for 6 bowlers (includes team or corporate logo displayed on lane, 6 VIP party passes and access to Artist/VIP lounge, 2 drink tickets per team member, 6 "Bowl For Ronnie" t-shirts, pizza and shoe rental).
IF YOU GO:
The Ronnie James Dio Stand Up and Shout Cancer Fund
BOWL FOR RONNIE Celebrity Charity Bowling Tournament
At Pinz Bowling Center, 12655 Ventura Blvd, Studio City, California
On Friday, October 6, 2017 - 6:30-11:00pm /
VIP Pre-Party 6:30-8:30pm
To raise funds for cancer research
The Ronnie James Dio Stand Up and Shout Cancer Fund (www.diocancerfund.org) was formed in memory of the legendary rock singer Ronnie James Dio, who lost his life to gastric cancer in 2010. A privately funded 501(c)(3) public charity, the Ronnie James Dio Stand Up and Shout Cancer Fund has already raised nearly $2 million since its inception. Monies raised have been committed to the cancer research work of the T. J. Martell Foundation for Cancer, AIDS and Leukemia Research, the gastric cancer research unit of the M.D. Anderson Cancer Center in Houston, where Ronnie was treated for gastric cancer during the last six months of his life, and other cancer research projects. Most recently, the Dio Cancer Fund has committed funds to support the research of Dr. David Wong and his team at the UCLA School of Dentistry in developing a simple, non-invasive saliva test for the early detection of cancer, which is in keeping with the Fund's mission of cancer prevention, research and education.
Related Articles View More Los Angeles

Stories

Shows
More Hot Stories For You