Capitol Theater Düsseldorf Stellt Neue Spielzeit Vor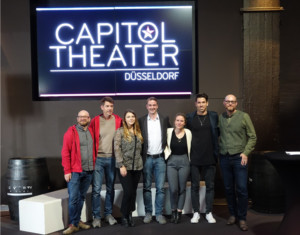 Das Capitol Theater ist erfolgreich in die neue Spielzeit gestartet und hat wieder ein buntes Programm zusammengestellt, welches dem Düsseldorfer Publikum das Beste aus den Bereichen Musical, Show, Tanz, Comedy und Familienunterhaltung präsentiert. Ein Highlight 2019: Die Rückkehr von DIRTY DANCING - Das Original Live on Tour.
Theaterleiter Henning Pillekamp ist stolz auf das vielseitige Portfolio des Capitol Theaters, das in diesem Jahr noch um das "Junge Capitol" erweitert wurde: Die Stücke für Kinder und Familien sind vom Düsseldorfer Publikum sehr gut aufgenommen worden und werden auch in der kommenden Spielzeit weitergeführt. Auch die Unterhaltung für Erwachsene kommt nicht zu kurz: Die STUNK-Sitzung kehrt 2019 zurück! "Das Darknet der Session", wie Ensemblemitglied Dennis Prang es bezeichnet, nimmt das aktuelle politische Geschehen auf die Schippe und paart schwarzen Humor mit intelligenter Unterhaltung. Dieses Jahr sorgte die Premiere im Capitol bereits für ausverkaufte Vorstellungen - im Februar 2019 geht es wieder los. Ganz nach dem Motto: "Alles andere ist nur Karneval!"
Auch die erfolgreichen, langjährigen Partnerschaften mit etablierten Veranstaltern bleiben ein wichtiger Teil des Capitol-Programms: Mit den weltweit gefeierten Shows LET IT BE (27.11. - 2.12.18), THRILLER - LIVE! (8.1. -13.1.19) und SOY DE CUBA (4. - 5.4.19) bringt BB Promotion nicht nur die Hits von zwei der größten Stars der Musikgeschichte ins Capitol Theater, sondern entführt das Publikum auch in die feurige Kulisse Havannas. Semmel Concerts holt am 6.1.19 das "Rat Pack" in ATRIBUTE TO SINATRA & FRIENDS nach Düsseldorf und schickt die Zuschauer in AFRIKA! AFRIKA! (14. - 16.3.) auf eine Reise durch den "Kontinent des Staunens". Am 21.3. erklingen dann DIE GRÖSSTEN MUSICAL HITS ALLER ZEITEN - interpretiert von den Musicalstars Alexander Klaws, Sabrina Weckerlin, Mark Seibert, Jan Amman und Roberta Valentini.
Ein Highlight der neuen Spielzeit im Capitol Theater bildet die Rückkehr von DIRTY DANCING - DAS ORIGINAL LIVE ON TOUR. Die Show bringt eine der größten Romanzen der Filmgeschichte auf die Bühne und lässt mit einem imposanten Bühnenbild die legendäre Optik des Films detailgetreu aufleben. 28 Darsteller tanzen zu Mambo, Merengue und kubanischen Rhythmen. Einer von ihnen ist Máté Gyenei, der schon 2014 zum ersten Mal in die Fußstapfen von Patrick Swayze getreten ist und das Publikum seitdem in der Hauptrolle des "Johnny" begeistert. Dass DIRTY DANCING nun endlich zurück nach Düsseldorf kommt, bedeutet ihm sehr viel: "Hier hat alles für uns angefangen: Unsere ersten Tourproben 2014 fanden damals schon im Capitol Theater statt und ich freue mich sehr, dass wir jetzt zurückkommen. Das Theater ist wie eine große Familie."
Das Capitol Theater Düsseldorf ist ein Theater der Mehr-BB Entertainment.
Die Mehr-BB Entertainment Gruppe mit Sitz in Düsseldorf ist mit ihren Theatern sowie der Produktion und Präsentation von Shows, Musicals und Konzerten einer der größten Live-Entertainment Anbieter im deutschsprachigen Raum. Derzeit betreibt die Unternehmensgruppe das Mehr! Theater am Großmarkt Hamburg, das Starlight Express Theater Bochum, den Admiralspalast Berlin, das Capitol Theater Düsseldorf und den Musical Dome Köln. Damit ist Mehr-BB Entertainment die größte Theatergruppe Deutschlands, deren Häuser auch für fremdproduzierte Shows, Musicals, Konzerte, Events und Firmenveranstaltungen zur Vermietung zur Verfügung stehen. www.mehr.de
More Hot Stories For You