BWW Review: TINA - THE TINA TURNER MUSICAL in Hamburg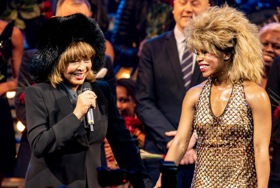 Tina The Musical has arrived in Germany. The acclaimed show about Tina Turner's life which premiered in April 2018 at the Aldwych Theatre in London now opens at the Operettenhaus in Hamburg.
The so called juke-box musical is written by Katori Hall, with Frank Ketelaar and Kees Prins. They take us back to 1988 just minutes before Tina is about to take stage in Rio de Janeiro where 180.000 fans await her concert.
Tina is meditating and reflecting on her life, starting with her childhood back in the forties in Nutbush, Tennessee. Rejected by her father, she later moved to St. Louis where she met Ike Turner who took her on tour with the Ike and Tina Turner Revue. While their Break-Through has yet to come, things turned difficult in their private lives.
Being betrayed and abused by her husband, Tina left him with literally nothing. When she met Roger Davis, a music producer and talent scout, things turned out positive for her. Not to mention that during her time in London, she met Erwin Bach who later became her husband.
The show moves forward to 1988 where Tina finishes her preparations and takes her record-breaking concert in Rio. The show includes 21 songs by Tina Turner which all fit remarkably into the story line. Be prepared: You shouldn't await a feel good musical. It is interesting to see which moments Tina Turner picked out to tell the story of her life. The most powerful scene was when she fled Ike at the end of act one asking for shelter at a hotel unable to pay for the night.
Sometimes it is just a short sentence which describes her misery ("After I gave birth to my first child I was back on stage the next day"). Not to mention the rude language and physical abuse. All these lead to a very emotional and intimate atmosphere between audience and actors. Most of the songs were translated into German by Kevin Schröder and Sera Finale. Their aim was to pursue the storyline and keep this powerful atmosphere, which is easier in the local language. And it works.
Seldom have I witnessed the audience being emotionally that much hooked by a story. Kristina Love, who plays Tina, is an American Musical actress born and raised in Houston, Texas. Despite being involved in nearly every scene, she performs Tina with a powerful voice and a remarkably condition - physically and that's for sure: emotionally.
Only if I have to name a defect: She isn't a native speaker. Naturally she is more confident in performing English songs. Her "Simply the Best" is outstanding. However, it will be interesting to see how she develops her "Tina" in the future. After the performance, Tina Turner herself entered the stage and thanked the cast, the musicians and the creative team for their work. It was such a warm welcome; a woman next to me described a shiver running down her spine. And she was right.
Tina Turner still fills the stage. Especially after witnessing her live on stage, I - and certainly everyone - will experience her songs from now on in a different way. To close my review with her words: "You can turn poison into medicine". That's why she did the show and it worked out.
Related Articles View More Germany

Stories

Shows