Germany Photos
Browse photos from live + streaming theatre in Germany.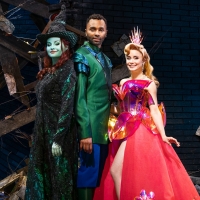 Photo: Get A First Look At Stage Entertainment's New Production Of Wicked
by Alan Henry - Germany

(6/29/2021) - Im Stage Theater Neue Flora herrscht Hochbetrieb. Die Proben für die Neuinszenierung des Broadway-Klassikers WICKED – DAS MUSICAL gehen in die heiße Phase. Das Publikum darf sich auf ein märchenhaftes Musical freuen, das mit modernen, spektakulären Bühnenbildern, fantastischen Kostümen, einer hervorragenden Besetzung und der großartigen Musik von Grammy- und Oscar©-Gewinner Stephen Schwartz perfekte Unterhaltung und Aktualität verbindet.
---
BWW Interview: MARKUS SCHÖTTL of HARRY POTTER AND THE CURSED CHILD at Mehr! Theater Hamburg
by Martin Ganeider - Germany

(2/4/2020) - It's busy at the Mehr! Theater in Hamburg these days. The German-speaking premiere of J.K. Rowling's epic Masterpiece is just around the corner. Rehearsals are in full swing, the level of excitement is growing as everybody can't wait to see how HARRY POTTER AND THE CURSED CHILD is going to be live on stage. 'The Chosen One', Austrias Markus Schöttl, who will be Harry Potter in Hamburg found some time during rehearsals to talk with us about his journey into the Wizarding World of J.K. Rowling.
---