ANASTASIA is Now Playing in Tampere
Performances run through 13 May.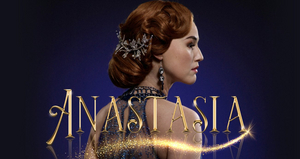 Tampereen Teatteri was the first in Finland to premiere the brilliant Anastasia musical! Our theater was granted permission to make its own version of the musical that premiered in 2016 and conquered Broadway.
The musical is based on the fate of the Romanov family and the family of Emperor Nicholas II, and the fascinating mystery associated with it. The magical story takes you from the Romanov palace to the middle of the Russian revolution and to Paris, where the young and brave Anja searches for herself and her past.
The story, also known from the popular animated film, was created as a musical by the Tony-award winning trio: Terrence McNally, Stephen Flaherty and Lynn Ahrens .
Samuel Harjanne , the top name among Finnish musical directors, is responsible for directing the musical , whose credits include e.g. hit musicals The Little Mermaid, Kinky Boots and Billy Elliot .
In the title role of Anastasia, the theater's own actress - the wonderful, talented and luminous Pia Piltz - will be seen in the main role .
Marjatta Kuivasto is responsible for the staging of the musical . in the unforgettable Hunchback of Notre Dame musical.