Finland Theater Reviews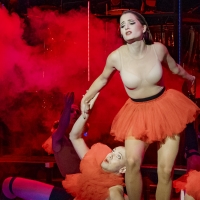 BWW Finland review: CABARET takes you from dances to hungover mornings of Berlin at Turku City Theatre
by Rosanna Liuski - September 15, 2020
All in all Cabaret is a fresh interpretation of the old classic with distincitve Höglund-aesthetic. The music leaves to play in your head and lights to blink in your eyes - though you'd close them....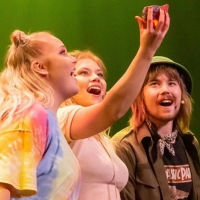 BWW Finland SUOSITUS: METKAN SPEKSI LUNA RUBRA
by Rosanna Liuski - August 27, 2020
Syvä into ja rakkaus tekemiseen näkyi myös tässä produktiossa...
BWW Review: GYPSY CAMP GOES TO HEAVEN at Summer Theatre Of Vuohensaari
by Rosanna Liuski - August 14, 2020
I went to see the Gypsy camp goes to Heaven at Vuohensaari's Summer theatre. First I have to say that the promo pictures by Mikko Pääkkönen are really good and present the atmosphere of the show quite well. I love the hues and some what dreamy atmosphere they have. ...
BWW Finland: HITLER JA BLONDI ON DOKUMENTAARINEN, BRECHTILÄISYYDELLÄ MAUSTETTU POHDINTA PAHUUDESTA
by Rosanna Liuski - March 09, 2020
Hitler ja Blondi on esityksenä muotoutuva ja vaatii herkkyyttä ja heittäytymiskykyä katsojassa. Ei siis kannata odottaa jotain helppoa dialogia tai selkeää alkua, keskikohtaa ja loppua. Välillä roolihenkilöt asettuvat katsojan asemaan ja kerronnassa hypitään asioista toiseen, onneksi selkeässä järje...
BWW arvio: KUKA TAHANSA MEISTÄ, Valtsikan Speksi
by Rosanna Liuski - February 21, 2020
'Speksillä tarkoitetaan opiskelijoiden toteuttamaa musiikkinäytelmää, jossa yhdistyvät draamalliset elementit, musiikki, tanssi, laulu ja improvisaatio. Speksiin kuuluvana improvisaatioelementtinä mukana ovat yleisön omstart-huudot, joiden avulla katsojat voivat vaikuttaa lavan tapahtumiin.' ...
BWW Review: SAPIENS at the Finnish National Theatre
by Rosanna Liuski - February 12, 2020
Sapiens got its premiere in Autumn 2019 but was so succesfull that it got more shows in Spring 2020. To put it short I totally recommend this experience, especially if you loved the book or if you love the endearing documentaries narrated by Jarmo Heikkinen....
BWW Arvio: HUMISEVA HARJU ravistelee Helsingin Kaupunginteatterilla
by Rosanna Liuski - February 07, 2020
Maijalan ohjauksessa nautittavia yksityiskohtia on lukuisia. Tietynlaisia fyysisiä eleitäkin on rajatusti, mikä tuo selkeyttä ja yhtenäisyyttä esitykseen: sormella tasapainoteltavaa alkoholia, naaman vääntelyä käsillä, lintuja ja niiden höyheniä sekä kiljuntaa. ...
BWW Interview and review: Katie Mitchell behind ARIADNE AUF NAXOS at Finnish National Opera
by Rosanna Liuski - January 31, 2020
...
BWW arvio ja haastattelu: FULL PULL, WOYZECK Teatteri Jurkassa
by Rosanna Liuski - January 29, 2020
Teatteri Jurkan pieni teatteritila on lavastettu olohuonemaisesti. Muuttolaatikoista hohkaa valoa. Lattialla on kasa kirjoja, joissa komeilee suurmiehien nimiä: Loiri, Jussi Parviainen, Tauno Palo, Dostojevski, Stanislavski, Turkka. Turkan kirja on punainen....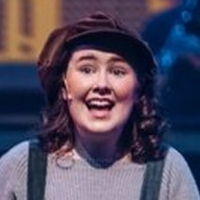 BWW Review: YOUTH ON STAGE: ANNIE the musical at Culture House Martinus
by Rosanna Liuski - January 13, 2020
All in all Annie is fairly good musical full of surprises, not to mention its humane approach to life: Magical things can happen to us, but if the little details you've longed for so long don't match, it's more than okay to feel sad, though it might feel wrong in the first hand. In the end, tomorrow...
BWW Review: MEDUSA'S ROOM BY Q-THEATRE at The Finnish National Theatre
by Rosanna Liuski - January 11, 2020
...