Click Here for More Articles on OPERA - DALLAS
Dallas Opera to Break Hearts with LA TRAVIATA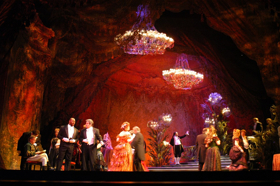 The Dallas Opera is proud to present the second mainstage production of the 2017-2018 "Motives Unmasked!" Season: Giuseppe Verdi's tender and bittersweet romance, LA TRAVIATA, opening on Friday, October 27, 2017 (The Amy and Vernon Faulconer Performance) at 7:30 p.m.in the Margot and Bill Winspear Opera House at the AT&T Performing Arts Center in Downtown Dallas. Verdi's tragic-yet-beautiful tale of a "fallen woman" consistently appears at or near the top of the list of the world's most popular operas.
This sumptuous production from Lyric Opera of Chicago stars American soprano Georgia Jarman as the doomed Paris courtesan, Violetta Valéry; American tenor René Barbera in his company debut as Alfredo, the naïve young man who falls head-over-heels for her; and Belarussian baritone Vladislav Sulimsky as Alfredo's deeply concerned father, Giorgio Germont.
In their Dallas Opera debuts, acclaimed Italian conductor Carlo Montanaro guides the performance from the podium and Stefania Panighini-in her American debut-directs the 2017 revival of a production originally staged by director Frank Galati.
This production is made possible through the generosity of the Texas Instruments Foundation.
Subsequent performances of LA TRAVIATA will take place on October 29(m), November 1, 4, 10 and 12(m), 2017. Single tickets start at $19. Contact the Dallas Opera Ticket Services Office at 214.443.1000 or purchase online, 24/7, at dallasopera.org.
Based on the play La dame aux Camélias by Alexandre Dumas fils (the Younger) who originally presented the tragic love story as a novel, Verdi's 1853 masterpiece overflows with some of the opera's most sensuous and beautiful melodies, the most memorable characters, and the most heart-rending drama, making it a popular favorite from that day to this.
Praised for her "crystalline tone and uncommon attention to detail" combined with "rhapsodic voluptuousness" (Opera), Georgia Jarman studied at Boston University and the Manhattan School of Music before captivating opera audiences across the U.S. in performances at the Metropolitan Opera, New York City Opera, Brooklyn Academy Of Music, Boston Lyric Opera, Atlanta Opera, New Orleans Opera, Florentine Opera-as well as her 2010 Dallas Opera debut as Donna Elvira opposite Paolo Szot's dangerously charming Don Giovanni. Since her initial bow at English National Opera, Ms. Jarman has conquered audiences throughout Europe and has become a favorite of audiences at Covent Garden. Her triumphs there include her portrayal of all four heroines in the Richard Jones production of The Tales of Hoffmann, for which The Independent (U.K.) hailed her as the "discovery of the year."
Ms. Jarman's mastery of both lyric coloratura and Bel Canto repertoire has earned critical acclaim and left audiences "gasping" with pleasure.
Romantically linked with Miss Jarman's Violetta is tenor René Barbera, the first sole recipient of all three awards of the Operalia Competition in 2011. He sang performances of Don Ramiro in La Cenerentola in his debuts with Seattle Opera and Los Angeles Opera, and was heard as Almaviva at the Stanislavsky Music Theatre in Moscow. Mr. Barbera made his 2013 Santa Fe Opera debut as Rodrigo in Rossini's La Donna del Lago. Recent highlights include Almaviva with the Opéra National de Paris, Ramiro in La Cenerentola, Almaviva and Iopas in Les Troyens in San Francisco, Tonio in La Fille du Régiment with Greensboro Opera, Almaviva in IL Barbiere di Siviglia with Los Angeles Opera, Giannetto in La Gazza Ladra and Narciso in Il Turco in Italia at the Rossini Opera Festival in Pesaro. He also appeared as the Italian Tenor in Der Rosenkavalier at the Lyric Opera of Chicago; made his debut at the Metropolitan Opera as Lindoro in L'italiana in Algeri, conducted by James Levine, prompting Classical Source to write: "He melted hearts with (his) ardent tone and thrilling high notes."
Mr. Barbera sang his first Alfredo in La Traviata in Palermo, Italy.
This season, René Barbera will make a number of additional house debuts: Deutsche Oper Berlin as Edgardo in Lucia di Lammermoor, at Teatro all Scala Milan as Ernesto in Don Pasquale with conductor Riccardo Chailly, and for the Bayerische Staatsoper Munich as Ramiro in Rossini's version of the Cinderella story, La Cenerentola. Other notable upcoming engagements include I Puritani at the Staatstheater Stuttgart and a return to the Opéra National de Paris as Almaviva.
This celebrated production also marks the welcome return of Belarussian baritone Vladislav Sulimsky to the Dallas Opera stage in the wake of a show-stopping appearance on the Winspear stage as Ibn-Hakia in Tchaikovsky's Iolanta. A member of the famed Mariinsky Theatre in St. Petersburg, where he has sung countless roles since 2004, the Grammy-nominated Mr. Sulimsky made a strong impression on Dallas Morning News Classical Music Critic Scott Cantrell: "With a dignified presence and a substantive polished baritone, Vladislav Sulimsky is deeply sympathetic."
"I am confident that Georgia Jarman and René Barbera will captivate audiences with their profound artistry and, together, they should create some of the most exciting chemistry onstage this season," says Dallas Opera General Director & CEO Keith Cerny. "Just when you think Georgia can't possibly sing any better-she astounds you by giving even more to her performances; and René's star is rising so quickly in the opera firmament, he's practically in orbit.
"This is one TRAVIATA," Mr. Cerny adds, "that will be talked about for many seasons to come."
American mezzo-soprano Abigail Levis will be making her Dallas Opera Debut as Violetta's closest friend and confidante, Flora Bervoix. Earlier, Ms. Levis made quite a splash in the trousers role of Cherubino (at Wolf Trap and elsewhere) prompting Opera News to write that she "sailed through the role...leaving an impressive vocal glow in her wake." Ms. Levis has been widely praised for her talent, versatility and fearlessness. She was awarded First Prize in the 2017 Klaudia Taev Competition and spent a full season with the Domingo-Colburn-Stein Young Artist Program at Los Angeles Opera.
Tenor Brenton Ryan will make his first appearance on the Winspear stage as Alfredo's friend Gastone. Hailed by Opera News for his "remarkable tonal suavity and refined phrasing," Mr. Ryan is the winner of the Birgit Nilsson Prize of the 2016 Operalia competition and will be seen this season as Spoletta in a new Metropolitan Opera production of Tosca being broadcast to theaters around the world.
Bass-baritone Dale Travis will return to the Dallas Opera in the role of Baron Douphol.
Baritone Daniel Armstrong will make his house debut as the Marchese D'Obigny along with sopranoRachel Sterrenberg as Annina (Violetta's loyal maid). In his second appearance on the TDO stage this season, bass-baritone Ryan Kuster returns in the role of the sympathetic Doctor Grenvil.
Rounding out the cast is tenor BrIan Rosewell as Violetta's servant, Giuseppe; baritone Bobby L. Tinnion as Flora's manservant; and bass Kyle Hancock as the Messenger.
All six performances will be led by renowned Italian conductor Carlo Montanaro in his official Dallas Opera debut.
After serving as music director of Warsaw's Teatr Wielki from 2011 to 2014, Montanaro made house debuts at Opéra de Monte Carlo (Tosca), Rigoletto at Warsaw Opera, Seattle Opera (Maria Stuarda), Sydney Opera House, and San Francisco Opera where he conducted Puccini's La Bohème. Mark Mandel of Opera Newsobserved that Montanaro conducted with "Muti-like verve and sprung rhythms," while a rave review of Verdi'sSimon Boccanegra in Seen and Heard International drew attention to the "astounding job (Montanaro) did with this ensemble" and his terrific interaction with the singers. The review concluded, "Who says conductors don't matter anymore?"
Maestro Montanaro regularly conducts high-level master classes for women conductors on the cusp of major careers, as part of the prestigious Linda and Mitch Hart Institute for Women Conductors at The Dallas Opera.
This lushly romantic Lyric Opera of Chicago production was designed by Desmond Heeley with lighting design by Alan Burrett, and wig and make-up designs by Dawn Rivard.
The choreographer is John de los Santos.
Chorus Master Alexander Rom has the task of preparing the superb Dallas Opera Chorus.
Set in 19th-century Paris, where the young heir to a distinguished family name falls passionately in love with a woman of uncertain virtue, LA TRAVIATA is one of the most soulfully romantic works in the opera canon.
Modeled after the too-short life and times of one of Paris' best-known 19th century beauties, Marie Duplessis (who later went on to have a torrid affair with composer Franz Liszt); this is the story of her sometimes stormy relationship with writer Alexander Dumas the Younger, who immortalized her as "The Lady of the Camellias" after she succumbed to tuberculosis at the tender age of 23. After her death, the frenzied sale of her remaining jewels and belongings paid-off her outstanding debts and provided a tidy bequest to her niece in Normandy, who inherited Marie's ill-gotten gains on the condition that she never set foot in Paris.
In Dumas' book, which served as the basis for his later play, his fictional heroine tells us, "I built a future life on your love; I dreamed of the country, of purity." In Verdi's opera, Alfredo (the stand-in for Dumas fils) was raised far from the wicked city-life and, in his naiveté, barely comprehends the choices that Violetta has been forced to make, in order to survive.
However, composer Giuseppe Verdi, who at the time was living in his own "scandalous" and unconventional arrangement with Giuseppina Strepponi, understood these characters completely and renders them indelibly upon our hearts.
For additional information about the cast, artistic/production team, and synopsis, or to purchase this "hot ticket"-visit www.dallasopera.org today.
Photo: La Traviata 2004 by Karen Almond