DTC and SMU Meadows Present FRANKENSTEIN at the Kalita Humphreys Theater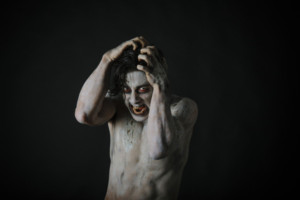 2017 Regional Theatre Tony Award Recipient Dallas Theater Center (DTC), in association with the Theatre Division of Meadows School of the Arts at Southern Methodist University (SMU), presents Frankenstein at the Kalita Humphreys Theater. Directed by DTC's Associate Artistic Director Joel Ferrell, Frankenstein begins on Feb. 2 and runs through March 4. A Pay-What-You-Can performance will be Sunday, Feb. 4 at 2 p.m., and Press Night will be Wednesday, Feb. 7 at 7:30 p.m. Tickets to Frankenstein are on sale now at www.DallasTheaterCenter.org and by phone at (214) 880-0202.
When Dr. Frankenstein's experiment goes horribly awry, he resolves to destroy the terrifying creature he unleashed upon the world. But can he kill his own creation without becoming a monster himself? Mary Shelley's 200-year-old horror story, widely regarded as the original science fiction novel, continues to challenge the modern imagination. After its sell-out run at London's National Theatre, Nick Dear's electrifying new adaptation, full of shocking twists and turns, is sure to keep audiences on the edge of their seats.
"Frankenstein is a story that the whole world continues to explore in wonderful new ways," said Ferrell. "All people wonder what it is to be human, what it means when our creations get out of our control, and ultimately, if we can 'cheat' death. Mary Shelley was just 18, estranged from her father, in love with a married poet, and wrestling with dark but thrilling existential questions when, challenged by friends to write a frightening story, she penned the ultimate science fiction thriller, Frankenstein. Nick Dear's adaptation takes the novel and flips it on its head. We are all the Frankenstein Creature; baffled by mortality and being, confused by our destiny, and longing for a place in the world where we feel safe, not savage. I am thrilled to bring Frankenstein to the stage in close collaboration with our friends at SMU, and both horrify and entertain the audience throughout the journey."
"The Meadows School's Theatre Division has a longstanding relationship with the Dallas Theater Center, and this co-production strengthens and extends a partnership that includes last season's Public Works Dallas production of The Tempest," said Samuel Holland, dean of the Meadows School. "We have had alumni, students and faculty serve as actors, designers, coaches and consultants with DTC for years, and DTC has also offered a regular two-year appointment for a new Meadows M.F.A. graduate with its Brierley Resident Acting Company. As our first full collaboration, Frankenstein will provide opportunities for current students to gain outstanding experience with a Tony-winning regional theatre while developing critical thinking and technique in the service of Nick Dear's compelling adaptation."
Starring as Victor Frankenstein is Diane and Hal Brierley Resident Acting Company member Alex Organ (Miller, Mississippi, Inherit the Wind, Public Works Dallas' The Tempest) alongside fellow Brierley Resident Acting Company member and SMU faculty member Kieran Connolly (Inherit the Wind, All the Way, The School for Wives) as Monsieur Frankenstein. Jolly Abraham will play Elizabeth Lavenza, joined by SMU faculty member Blake Hackler as De Lacey/Ewan. Kim Fischer stars as The Creature, with credits including the off-Broadway productions of Fuerza Bruta and Then She Fell.
SMU students in the cast include Aaron Campbell as Klaus/Understudy Monsieur Frankenstein, Chris Sanders as Gretel/Clarice, Richard Johnson as Felix/Constable/Understudy The Creature, Tia Laulusa (Inherit the Wind) as Agatha/Female Creature, Neil Redfield as Rab/Understudy Victor, Molly Searcy as Ensemble/Understudy Elizabeth and Galen Sho Sato as Gustav/Understudy De Lacey. SMU ensemble members include Jeliannys Acevedo Cuadrado, Sydney Lo, Deanna Ott and Dakota Ratliff. Child actor Donovan Covarrubias (A Christmas Carol 2017) will play the role of William.
Under Ferrell's direction, Frankenstein will take place in the Kalita Humphreys Theater with set design by SMU graduate student Amelia Bransky. Fellow designers include costume design by Beth Goldenberg (The Christians); sound design and original music by Ryan Rumery (Constellations, Sherlock Holmes: The Final Adventure, The Who's Tommy); lighting design by Tyler Micoleau (The Who's Tommy, A Midsummer Night's Dream); wig design by Leah Loukas (Miller, Mississippi, Gloria); projection design by David Bengali and projection programming by Ido Levran.
DTC's Come Early will take place one hour before every performance and DTC's Stay Late presented by Wells Fargo will take place after each performance.
ABOUT Dallas Theater Center:
One of the leading regional theaters in the country and the 2017 Regional Theatre Tony Award Recipient, Dallas Theater Center (DTC) performs to an audience of more than 100,000 North Texas residents annually. Founded in 1959, DTC is now a resident company of the AT&T Performing Arts Center and presents its Mainstage season at the Dee and Charles Wyly Theatre, designed by REX/OMA, Joshua Prince-Ramus and Rem Koolhaas and at its original home, the Kalita Humphreys Theater, the only freestanding theater designed and built by Frank Lloyd Wright. DTC is one of only two theaters in Texas that is a member of the League of Resident Theatres, the largest and most prestigious non-profit professional theater association in the country. Under the leadership of Enloe/Rose Artistic Director Kevin Moriarty and Managing Director Jeffrey Woodward, DTC produces a seven-play subscription series of classics, musicals and new plays and an annual production of A Christmas Carol; extensive education programs, including the National Arts and Humanities Youth Program Award-winning Project Discovery, SummerStage and partnerships with Southern Methodist University's Meadows School of the Arts and Booker T. Washington High School for the Performing and Visual Arts; and community collaboration efforts with the Sixth Floor Museum, the City of Dallas, North Texas Food Bank, the Dallas Museum of Art, Dallas Public Library, Dallas Holocaust Museum, Dallas Opera, Dallas Black Dance Theatre, and leading the DFW Foote Festival. In 2017, in collaboration with SMU Meadows, DTC launched Public Works Dallas, a groundbreaking community engagement and participatory theater project designed to deliberately blur the line between professional artists and community members, culminating in an annual production featuring more than 200 Dallas citizens performing a Shakespeare play. Throughout its history, DTC has produced many new works, including The Texas Trilogy by Preston Jones in 1978; Robert Penn Warren's All the King's Men, adapted by Adrian Hall, in 1986; and recent premieres of Miller, Mississippi by Boo Killebrew; Hood: The Robin Hood Musical Adventure by Douglas Carter Beane and Lewis Flinn; Bella: An American Tall Tale by Kirsten Childs; Clarkston by Samuel D. Hunter; Moonshine: That Hee Haw Musical by Robert Horn, Brandy Clark and Shane McAnally; FLY by Rajiv Joseph, Bill Sherman and Kirsten Childs; Fly by Night by Kim Rosenstock, Michael Mitnick and Will Connolly; The Fortress of Solitude by Michael Friedman and Itamar Moses; Giant by Michael John LaChiusa and Sybille Pearson; The Trinity River Plays by Regina Taylor; the revised It's a Bird... It's a Plane... It's Superman by Roberto Aguirre-Sacasa, Charles Strouse and Lee Adams; Give It Up! (now titled Lysistrata Jones and recently on Broadway) by Douglas Carter Beane and Lewis Flinn; Sarah, Plain and Tall by Julia Jordan, Laurence O'Keefe and Nell Benjamin; and The Good Negro by Tracey Scott Wilson. Dallas Theater Center gratefully acknowledges the support of our season sponsors: Texas Instruments, American Airlines, Lexus and NBC 5.
ABOUT SMU MEADOWS SCHOOL OF THE ARTS:
The Meadows School of the Arts, formally established at SMU in 1969 and named in honor of benefactor Algur H. Meadows, is a nationally recognized arts education institution in the U.S. The Meadows School offers undergraduate and graduate degrees in advertising, art, art history, arts management and arts entrepreneurship, corporate communication and public affairs, creative computation, dance, film and media arts, journalism, music and theatre. The school is a leader in developing innovative outreach and community engagement programs, challenging its students to make a difference locally and globally by developing connections between art, entrepreneurship and change. The Meadows School is also a convener for the arts in North Texas, serving as a catalyst for new collaborations and providing critical industry research.