Batten Down The Hatches for Reimagined TREASURE ISLAND at Dallas Children's Theater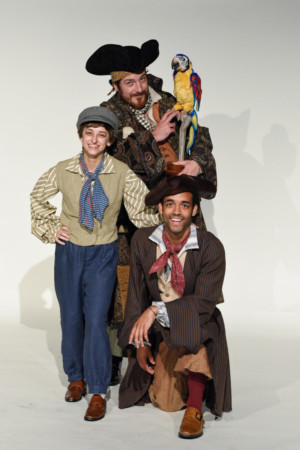 Set sail on one of the biggest adventures ever taken by Dallas Children's Theater (DCT) with the bold world premiere of TREASURE ISLAND Reimagined! Friendship, betrayal, and adventure are front and center as audiences find themselves shoulder to shoulder with ghastly pirates in this immersive adaptation of Robert Louis Stevenson's classic tale. DCT opens its 35th anniversary season with TREASURE ISLAND Reimagined!, at the Rosewood Center for Family Arts from September 23 - October 21, 2018.
Jim Hawkins, Ben Gunn, and Long John Silver will do just about anything to be the first to claim the buried treasure. From the moment audiences enter the theater, they'll be immersed in a world of dramatic sword fights, thrilling acrobatics, and magical shadow puppetry as Dallas Children's Theater, Prism Movement Theatre, Kathy Burks Theatre of Puppetry Arts, and Lone Star Circus® come together to present a wildly original version of this iconic tale. All would-be pirates are invited to grab costumes and come aboard the ship to help decide who gets to take home the gold!
"Treasure Island was one of my first experiences seeing live theater, so to begin such a significant season for our theater with a brand new adaptation of the show is just thrilling! And this show will immerse all audiences in the world of raucous pirates, but with a bold twist thanks to our partners who are specialists in acrobatics, puppetry, and stage combat," said Robyn Flatt, director of DCT's founder and executive artistic director.
TREASURE ISLAND Reimagined! will be filled with pirates, treasures, and breathtaking feats thanks to the amazing collaborators and their tremendous contributions to this production. Jeff Colangelo and Katy Tye, founders of Prism Movement Theatre and adaptors of the show, will teach the cast strategic ways to swab the deck; Sally Fiorello and Beck Slaughbach of Kathy Burks Theatre of Puppetry Arts are building fantastical puppets, with Douglass Burks and Sally Fiorello puppeteering during the show; and Fanny Kerwich from Lone Star Circus® is stepping in to teach acrobatics to the cast of pirates.
"There will be tension, laughter, and suspense as Jim Hawkins and Ben Gunn lead you through audacious schemes to ultimately outsmart the treacherous Long John Silver," said Flatt. "I can't wait to see how the audience finds their place in this most thrilling production!"
Fancy Yerself a Pirate Map?
Before every show, young pirates will get to design their own treasure map and take a photo aboard the DCT 35 Explorer ship with friends! Don't forget your costume by jove...
Opening Day Fun...
On Sunday, September 23, we'll be partying around both the 1:30P and the 4:30P show in celebration of 35 years of great storytelling! Walk the plank of The Black Pearl ship and take a photo with local pirates Captain Jack Sparrow and Elizabeth Swann. During both intermissions, adventurers can dig into some pirate pizza thanks to our friends at Cici's Pizza Timbercreek Crossing. Free posters, giveaways and fun galore!
Photo Credit: Karen Almond