CHICAGO VIDEO COVERAGE
The latest videos from live + streaming theatre in Chicago.
VIDEO: Sasha Hutchings Talks OKLAHOMA! Tour On ABC7
by Stage Tube - January 13, 2022
See Sasha Hutchings take on the role of Laurey during the Broadway In Chicago engagement of OKLAHOMA!, January 11 - January 23 at the CIBC Theatre....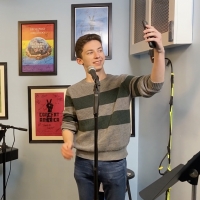 VIDEO: Andrew Barth Feldman & Seth Rudetsky Rehearse For Tonight's Streaming Concert
by BroadwayWorld TV - December 19, 2021
Andrew Barth Feldman and Seth Rudetsky are performing LIVE tonight in a streaming concert as the final show of The Seth Concert Series for 2021!...