Victory Gardens Announces Casting for 2017 IGNITION Festival of New Plays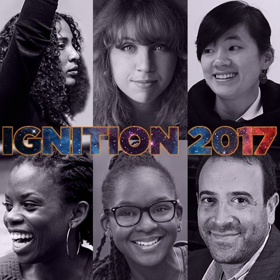 Victory Gardens Theater announces the lineup for the 2017 IGNITION Festival of New Plays, including Tuvalu, or The Saddest Song by Antoinette Nwandu; This Land Was Made by Tori Sampson; Spin Moves by Ken Weitzman; Tell Them I'm Still Young by Julia Doolittle; Wolf Play by Hansol Jung; and Suspension by Kristiana Rae Colón.
The 2017 Festival runs August 4-6, 2017 at Victory Gardens Theater, located at 2433 N Lincoln Avenue. All readings will be free and open to the public, though a reservation is strongly encouraged. For more information or to RSVP, visit www.victorygardens.org/ignition or call the Victory Gardens Box Office at 773.871.3000.
IGNITION's six selected plays will be presented in a festival of readings and will be directed by leading artists from across the country. Following the readings, any number of the plays may be selected for intensive workshops during Victory Gardens Theater's 2017-18 season, and Victory Gardens may produce these plays in an upcoming season.
"At Victory Gardens, we bridge Chicago communities through innovative and challenging new plays by giving playwrights the time and space to develop their work. We are thrilled to welcome these six remarkable and unique voices in the American theater to our IGNITION Festival," comments Artistic Director Chay Yew. "These playwrights not only reflect the challenges in our current political climate, but push us to imagine a greater future."
"This year's lineup exemplifies the current political and cultural zeitgeist of our city and country: a young girl's journey to self-empowerment, a movement towards a revolution, the role basketball plays in international peace, how to recover from the loss of a child, America's role in Korean adoptions, and the ancestral power of #blackgirlmagic. Come experience these new plays and hear what they have to say about the world in which we live," remarks Director of New Play Development Isaac Gomez.
The 2017 Lineup Includes:
Friday, August 4, 2017 at 7:30 p.m.
Tuvalu, or The Saddest Song
Directed by Jess McLeod
It is Los Angeles in the mid-nineties, and Jackie-girl is at a crossroads. This lyrical and powerful coming of age story with a soundtrack asks how the girls whose mothers' lives have been tainted by abuse, violence, poverty, and shame ever grow into healthy and empowered women.
Tuvalu, or The Saddest Song features Aneisa J. Hicks (Jackie), Curtis Edward Jackson (Boy), Al'Jaleel McGhee (Man), Lanise Antoine Shelley (Momma), Kelly O'Sullivan (Nicole) and Penelope Walker (Raylene). Additional casting to be announced.
About Antoinette Nwandu
Antoinette Nwandu is a New York-based playwright via Los Angeles. Her play Pass Over received its World Premiere production at Steppenwolf in June 2017, and her play Breach will receive a World Premiere at Victory Gardens in February 2018. She is currently under commission from Echo Theater Company in Los Angeles. Antoinette's plays have been supported by the Cherry Lane Mentor Project (mentor: Katori Hall), Kennedy Center, Page73, Ars Nova, PlayPenn, Space on Ryder Farm, Southern Rep, The Flea, Naked Angels, Fire This Time, and The Movement Theater Company. Honors include a spot on the 2016 and 2017 Kilroys list, the Lorraine Hansberry Playwriting Award, the Negro Ensemble Company's Douglas Turner Ward Prize, and a Literary Fellowship at the Eugene O'Neill Playwrights Conference. Antoinette is an alum of the Ars Nova Play Group, the Naked Angels Issues PlayLab, and Dramatists Guild Fellowship. Additional honors include being named a Ruby Prize finalist, PONY Fellowship finalist, Page73 Fellowship finalist, NBT's I Am Soul Fellowship finalist, and two-time Princess Grace Award semi-finalist. Education: Harvard, The University of Edinburgh, Tisch School of the Arts.
IGNITION Opening Night Kick-Off at 9:30 p.m.
Victory Gardens Theater Lobby
Stick around for this opening night celebration with a live DJ, delicious appetizers, and complimentary drinks as we raise a glass to kick off our IGNITION Festival of New Plays.
Saturday, August 5, 2017 at 3:00 p.m.
This Land Was Made
By Tori Sampson
Directed by Chika Ike
Oakland in 1967 was a powder keg of social activism about to boil over into radical action that would soon change how the whole country engaged in politics. For the patrons of Miss Trish's Bar, however, these ain't nothing but talking points-that is, until the full seductive and explosive force of the revolution walks through the door.
This Land Was Made features Tyla Abercrumbie (Miss Trish), Will Allan (Herbert Heanes), Ayanna Bria Bakari (Gail), Jordan Brodess (John Frey), Sheldon Brown (Troy), Bernard Gilbert (Huey), Martasia Jones (Sassy), Daniel Kyri (Drew/Gene) and Dexter Zollicoffer (Mr. Far).
About Tori Sampson
Tori Sampson is a recent graduate of Yale School of Drama, where her credits include This Land Was Made, Some Bodies Travel, and If Pretty Hurts Ugly Must be a Muhfucka. Her plays have been developed at Great Plains National Theater Conference and Berkeley Repertory Theater's The Ground Floor residency program. She holds an Honorable Mention from the 2016 Relentless Award, is the Kennedy Center's 2016 Paula Vogel Playwright and second-place Lorraine Hansberry recipient. She is a 2017 finalist for the Alliance Theater's Kendeda Prize. Tori's other plays include Cadillac Crew, Black Girl Nerd and Cottoned Like Candy. Her short play, She's our President, will be produced by Baltimore Center Stage as part of the My America: She commission. Tori is currently working on a commission from Berkeley Repertory Theater and will spend the next year as a Jerome Fellow at The Playwrights' Center in Minneapolis. A native of Boston, Massachusetts, she holds a B.S. in sociology from Ball State University in Muncie, IN.
Bringing New Plays to Life at 5:00 p.m.
Panel Conversation
Rehearsal Room
Victory Gardens is home to some of the richest and boldest new plays premiering across the country. In a city where audiences are hungry for new theater work, what is the current state of new play development and its future? What are the best practices for new play collaborations? Join this timeless conversation on the new play process featuring IGNITION playwrights Antoinette Nwandu, Tori Sampson, Ken Weitzman, Julia Doolittle, Hansol Jung, and Kristiana Rae Colón.
Saturday, August 5, 2017 at 7:30 p.m.
Spin Moves
By Ken Weitzman
Directed by Devon de Mayo
It's 1996, the inaugural year of the WNBA, and Maja dreams of playing high school basketball - but having escaped to the U.S. from the war in Bosnia, panic attacks prevent her from playing the game she loves. That is, until a new coach appears at her high school. He helps Maja to face her fears, but his unorthodox tactics alarm Maja's fiercely protective mother.
Spin Moves features Brian Balcom (Willam), Hayley Burgess (Maya), Gabriel Ruiz (Coach), Kristina Valada-Viars (Melika) and Netta Walker (Trish).
About Ken Weitzman
Ken Weitzman's most recent play, Halftime with Don, is in the midst of a 2017 National New Play Network Rolling World Premiere. Ken's previous productions include, among others, The Catch (The Denver Center Theatre Company), Fire in the Garden (Indiana Repertory Theatre), The As If Body Loop (Humana Festival), Arrangements (Atlantic Theatre Company). His devised work includes Memorabilia (ALLIANCE THEATRE), Hominid (Out of Hand Theatre/Theatre Emory/Oerol Festival Netherlands), and Stadium 360 (Out of Hand Theatre). Plays-in-progress include Spin Moves (New Harmony Project) and seal boy (Keen Company Playwrights Lab, The Lark's Meeting of the Minds, Playwrights' Center of Minneapolis). National Awards include The L. Arnold Weissberger Award for Playwriting for Arrangements, TCG Edgerton Foundation New American Play Award for The Catch, the Fratti/Newman Political Play Contest Award for Fire in the Garden, and South Coast Repertory's Elizabeth George Commission for an Outstanding Emerging Playwright Organizations who have commissioned Ken's work include the San Francisco Museum of Modern Art, Arena Stage, the ALLIANCE THEATRE, Actors Theatre of Louisville, Theatre Emory, Out of Hand Theatre, and South Coast Repertory Theatre. Ken is a Core Writer at the Playwrights Center of Minneapolis, and a former board member of The New Harmony Project. Ken received his MFA from University of California, San Diego and has taught at UCSD, Emory University, Indiana University (head of MFA in Playwriting) and, currently, at Stony Brook University.
Artist Meet, Greet, & Ice Cream Social at 9:30 p.m.
Victory Gardens Theater Lobby
Hang out with the playwrights and artists while cooling off with boozy ice cream floats at this post-show artist meet and greet.
Sunday, August 6, 2017 at 12:00 p.m.
Tell Them I'm Still Young
By Julia Doolittle
Directed by Jessica L. Fisch
Allen and Kay are approaching sixty-five when their only daughter is killed in a car crash. Now parents without children, the two struggle to renegotiate their identities and their marriage, as the entrance of two young people revives a painful longing for what's been lost: their family and their futures.
Tell Them I'm Still Young features Marilyn Dodds Frank (Kay), Bryce Gangel (Taylor) and Joe Lino (Seth). Additional casting to be announced.
About Julia Doolittle
Julia Doolittle is a Brooklyn-based playwright and screenwriter whose work has been developed at the Williamstown Theatre Festival, Rattlestick Playwright's Theatre, The Tank, Tiny Rhino, The Women's Project, Ensemble Studio Theatre, Urban Stages, and Rogue Machine Theatre. She is a 2016 recipient of the Elizabeth George Commission from South Coast Rep. Upcoming, the Samuel French Off-Off-Broadway Play Festival.
Sunday, August 6, 2017 at 3:00 p.m.
Wolf Play
By Hansol Jung
Directed by Halena Kays
An American father un-adopts a Korean boy but just before he leaves the new house, the ex-father finds out that the new couple to whom he has "re-homed" his ex-son, is lesbian. This doesn't sit well with ex-father at all. The boy is actually not a real boy. He is a puppet. And his puppeteer is the Emcee of the evening, and spinner of the night's tale: a lone wolf.
Wolf Play features Charin Alvarez (Robin), Eddie Martinez (Ryan), Patrese McClain (Ash), Alec Silver (Wolf), and Eric Slater (Peter).
About Hansol Jung
Hansol Jung is a playwright and director from South Korea. Productions include Cardboard Piano (Humana Festival at Actors Theater of Louisville), Among the Dead (Ma-Yi Theatre Company), and No More Sad Things (co-world premiere at Sideshow Theatre, and Boise Contemporary Theatre). Commissions from Playwrights Horizons, Seattle Repertory Theatre, Artists Repertory Theater, the Virginia B. Toulmin Foundation grant with Ma-Yi Theatre and a translation of Romeo and Juliet for Play On! at Oregon Shakespeare Festival. Her work has been developed at The Public Theater, Royal Court, New York Theatre Workshop, Berkeley Repertory's Ground Floor, Sundance Theatre Lab, O'Neill Theater Center's New Play Conference, Lark Play Development Center, Salt Lake Acting Company, Boston Court Theatre, Bushwick Starr, Ma-Yi Theater Company, Asia Society New York, and Seven Devils Playwright Conference. She is the recipient of the Page 73 Playwright Fellowship, Rita Goldberg Playwrights' Workshop Fellowship at the Lark, 2050 Fellowship at New York Theater Workshop, MacDowell Colony Artist Residency, and International Playwrights Residency at Royal Court. She has translated over thirty English musicals into Korean, including Evita, Dracula, Spamalot, and The 25th Annual Putnam County Spelling Bee, while working on several award winning musical theatre productions as director, lyricist and translator in Seoul, South Korea. Hansol holds a Playwriting MFA from Yale School of Drama, and is a member of the Ma-Yi Theatre Writers Lab.
The Race Race at 5:00 p.m.
Panel Conversation
Richard Christiansen Theater
In a country so divided and polarized by topics of race, how are these conflicts reflected in the dramatic arts? What role does theater play in conversations around race and how can it begin the process of healing and understanding? Join IGNITION and Chicago-based playwrights as we begin to uncover the role race plays in creating new work.
Sunday, August 6, 2017 at 7:30 p.m.
Suspension
By Kristiana Rae Colón
Directed by Monty Cole
On the 100th day of 45's first term, two Black teen girls stage a coup of the authoritarian regime of Climb & Succeed Charter Academy, a not-so-dystopian high school where campus security patrols the halls in riot gear and a new disciplinary code takes in-school suspension to a haunting extreme. Voltaire & Yansa, guided by a mystic teaching artist, learn to wield their ancestral magic and Blackgirl badassery to combat the harrowing militarization of public education.
Suspension features Caren Blackmore (yennenga uhura), Amy J. Carle (panoptica), Amanda Drinkall (ms. max), Brandon Greenhouse (mr. blaise), LaKecia Harris (yansa turner), Rory Hayes (rabbit), Kiah McKirnan (mika hampton), Ireon Roach (voltaire pride) and Sejah-Amaru Villegas (riley).
About Kristiana Rae ColónKristiana Rae Colón is a poet, playwright, actor, educator, Cave Canem Fellow, creator of #BlackSexMatters and co-director of the #LetUsBreathe Collective. She was awarded 2017 Best Black Playwright by The Black Mall. In 2016, her play good friday had its world premiere at Oracle Productions, Octagon had its American premiere at Jackalope Theater in Chicago, and but i cd only whisper had its American premiere at The Flea in New York. Octagon was the winner of Arizona Theater Company's 2014 National Latino Playwriting Award and Polarity Ensemble Theater's Dionysos Festival of New Work, and had its 2015 world premiere at the Arcola Theater in London. In 2013, she toured the UK for two months with her collection of poems promised instruments, winner of the inaugural Drinking Gourd Poetry Prize and published by Northwestern University Press. Kristiana is an alum of the Goodman Theater's Playwrights Unit where she developed florissant & canfield, an epic reimagining of the Ferguson protests, which was featured in the 2016 Hedgebrook Women Playwrights Festival. She is a resident playwright at Chicago Dramatists and one half of the brother/sister hip-hop duo April Fools. She appeared on the fifth season of HBO's Def Poetry Jam. Kristiana's writing, producing, and organizing work to radically reimagine power structures, our complicity in them, and visions for liberation.
---
Performances are at the Victory Gardens Biograph Theater, 2433 N Lincoln Avenue, in the heart of Chicago's Lincoln Park neighborhood. Admission to all festival readings and events is free, though an RSVP is strongly encouraged. For more information or to RSVP, visit www.victorygardens.org/ignition or call the Victory Gardens Box Office at 773.871.3000.
Under the leadership of Artistic Director Chay Yew and Managing Director Erica Daniels, Victory Gardens is dedicated to artistic excellence while creating a vital, contemporary American Theater that is accessible and relevant to all people through productions of challenging new plays and musicals. Victory Gardens Theater is committed to the development, production and support of new plays that has been the mission of the theater since its founding, set forth by Dennis Za?ek, Marcelle McVay, and the original founders of Victory Gardens Theater.
Victory Gardens Theater is a leader in developing and producing new theater work and cultivating an inclusive Chicago theater community. Victory Gardens' core strengths are nurturing and producing dynamic and inspiring new plays, reflecting the diversity of our city's and nation's culture through engaging diverse communities, and in partnership with Chicago Public Schools, bringing art and culture to our city's active student population.
Since its founding in 1974, the company has produced more world premieres than any other Chicago theater, a commitment recognized nationally when Victory Gardens received the 2001 Tony Award for Outstanding Regional Theatre. Located in the Lincoln Park neighborhood, Victory Gardens Biograph Theater includes the Za?ek-McVay Theater, a state-of-the-art 259-seat mainstage and the 109-seat studio theater on the second floor, named the Richard Christiansen Theater.
Victory Gardens Ensemble Playwrights include Luis Alfaro, Philip Dawkins, Marcus Gardley, Ike Holter, Samuel D. Hunter, Naomi Iizuka, Tanya Saracho, and Laura Schellhardt. Each playwright has a seven-year residency at Victory Gardens Theater.
For more information about Victory Gardens, visit www.victorygardens.org. Follow us on Facebook at Facebook.com/victorygardens, Twitter @VictoryGardens and Instagram at instagram.com/victorygardenstheater.