Tom Green, Joanne Shaw Taylor and More Coming Up at City Winery Chicago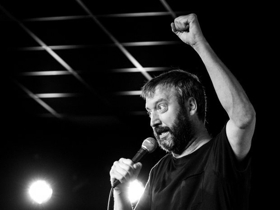 City Winery Chicago, 1200 W. Randolph Street, announces comedy superstar Tom Green (MTV's "The Tom Green Show"), International blues artist Joanne Shaw Taylor and more.
The following shows go on sale to the public on Thursday, November 30 at noon at citywinery.com/chicago.
---
Sunday, January 28
GA seated $12 advance/$15 day of show
Paying tribute to the international reach of superstar Elton John, local musicians come together to perform a one-night set comprised of classic Elton John songs, from his hits of the 1970's to today. Formed with six Chicago-based musicians, the band brings together local talent in a showcase of the best in Chicago music, with nearly all the musicians acting in teaching positions at Chicago's Old Town School of Folk Music; Alton Smith on vocals and piano, Tommi Zender on guitar and drums, Richard Pettengill on guitar, Peter Manis on drums, Debbie Kaczynski on keyboard, and John Abbey on bass.
Ella Fitzgerald Live at Mister Kelly's - A benefit performance and documentary preview
Monday, January 29; 7:30 p.m.
$25/$30/$35/$40
On August 10, 1958, Ella Fitzgerald recorded her Live at Mister Kelly's LP. In 2007, the concert was remastered and re-released in its entirety, including the early and late sets. This celebration concert presents the entire concert of both sets, including such songs as "Nice Work If You Can Get It," "The Lady Is a Tramp," "Summertime," "Witchcraft," "Come Rain or Come Shine," "Stardust," and many more from the classic American songbook of Gershwin, Rodgers & Hart, Porter, and others. Musical direction by Andrew Blendermann, with Joe Policastro on bass, Phil Gratteau on drums and featuring Featuring Sophie Grimm, Lynne Jordan, Frieda Lee, Liz Mandeville, LaShera Moore, Daryl Nitz, Alina Taber, and Ellen Winters.
The documentary film Mister Kelly's: Wasn't It a Time portrays the most beloveds and famous talent of our time at the decisive moments when they showed up, dug deep, and broke in through interviews, live footage, photos, music, and song. The film asks, "how do you change the world with a laugh and a song" and documents the rise and fall of one of American entertainment's great proving grounds.
Tuesday, March 6
$18/$20/$22/$25
Joanne Shaw Taylor has established herself as the UK's number one star of the blues rock world. From the 2009 release of her debut album, White Sugar, Taylor launched a rise to stardom in both the UK and abroad, gaining her a foothold in the British blues industry. Taylor's subsequent albums (Diamonds in the Dirt, Almost Always Never, and Songs From The Road) saw Taylor's fan base rise globally, earning her a spot at number eight in the 2010 US Billboard Top Blues Albums chart, and the award for Best Female Vocalist at the British Blues Awards in both 2010 and 2011. In September 2014, Taylor released her fifth studio album, The Dirty Truth, with White Sugar album producer, Jim Gaines, to critical acclaim across the world, and has become her biggest selling album to date. Following continued success in 2016, including performances on "Later... With Jools Holland," BBC's Glastonbury coverage, and outstanding reviews for her latest album Wild, Taylor will make a stop at City Winery as part of her 2017 world tour through the UK, Europe, and the US.
Friday, March 30; 7:30 p.m. & 10:00 p.m.
$25/$28/$32/$35
Tom Green sparked a TV revolution with his hit MTV comedy series "The Tom Green Show." One of MTV's top-rated programs, "The Tom Green Show" paved the way for shows like "Jackass," "Punk'd" and "Fear Factor." With its guerrilla video tactics and outrageous stunts, it was unlike anything that had been seen before. "The Tom Green Show" began on public access TV in 1994, running for two years on Rogers Television 22 in the Ottawa region, before it was picked up by MTV in January 1999. In a sense, it was the original independent, viral-video hit, years before YouTube even existed. The raw home-video look was what made the show relatable to young audiences across the globe, and its clips are still largely popular online. After his show was acquired and broadcast by MTV, Green went on to produce, direct and star in several films, in addition to appearing several times as a guest on Saturday Night Live. He appeared in such blockbusters as Road Trip and Charlie's Angels, as well as the cult classics Freddy Got Fingered, Stealing Harvard, and Bob the Butler. Beginning in 2009, Green ventured into stand-up comedy, premiering a 2012 comedy special on Showtime, and will make a stop at City Winery as part of a 2017 comedy tour.
City Winery also announces Cash Box Kings open for Shemekia Copeland on Dec. 9
---
All City Winery events are open to all ages and start at 8 p.m., unless noted. Tickets go on sale to the general public on Thursday, November 30 at noon. Only members of City Winery Chicago's signature VinoFile program have access to ticket sales today in addition to receiving: a waiver of ticket service fees; free valet parking; Restaurant Loyalty Rewards, such as a free pair of VIP concert tickets for every $500 spent on food & beverage in the restaurant; exclusive membership-only events; and access to the proprietary City Winery Virtual Sommelier, which helps make suggestions for wines one might enjoy based on past consumption at the venue.
Joanne Shaw Taylor, Tom Green, and the Cash Box Kings join a diverse mix of the most respected names in pop, rock, jazz, blues, world music, theater, dance, spoken word and comedy presented at City Winery Chicago, including previously announced headliners and supporting acts Nico Segal Presents: The JuJu Exchange (Nov. 28, 7pm); Earl Klugh (Nov. 29, 6:30 & 9pm); Rhett Miller with Matthew Ryan (Nov. 30); Lynne Jordan presents A Great Big Diva (Dec. 2, 1pm); Ms. Lisa Fischer & Grand Baton (Dec. 2); Story Sessions Brunch (Dec. 3, 11am); Jeffrey Foucault & Kris Delmhorst (Dec. 3); The Secret Sisters with Brian Dunne (Dec. 4); Marc Roberge of O.A.R. (Dec. 5, 7 & 9:30pm); Joe Pug with Juanita Stein (Dec. 6); Shemekia Copeland (Dec. 9); Mihali (Dec. 9, 11:30pm); Chicago Philharmonic Brunch - FairyTale Noël (Dec. 10, 12pm); Los Lobos with Matt Andersen (Dec. 10-11); Los Lobos with Future Stuff (Dec. 12-13); Dwele (Dec. 14, 7 & 9pm); Tab Benoit with Eric Johanson (Dec. 16); The Empty Pockets with Nate Jones (Dec. 17, 7pm); Kris Allen with Marie Miller (Dec. 18); Bebel Gilberto (Dec. 19-20); Avery*Sunshine (Dec. 21, 7 & 9:30pm); Michael McDermott with Heather Horton (Dec. 22); Michael McDermott (Dec. 23, 5 & 8pm); Christmas for the Jews (Dec. 25); Poi Dog Pondering (Dec. 26-30); BoDeans (Dec. 31, 7:30 & 11pm; Jan. 1, 5 & 8pm); Steve Forbert (Jan. 3); Bilal (Jan 4-5); Talib Kweli with K'Valentine (Jan. 6, 7 & 10pm); Amy Black presents The Music of Memphis & Muscle Shoals (Jan. 7, 7pm); Steve Earle (Jan. 8-9 & Feb. 12-13); Tom Cochrane (Jan. 10); Flobots (Jan. 11); Freddy Jones Band with The Nadas (Jan. 12-13); Tracy Nelson & The Bel Airs (Jan. 16); Davina & the Vagabonds (Jan. 17); Sandra Antongiorgi with ¡ESSO! Afrojam Funkbeat, Pecados de Maria, DJ Cqqchifruit (Jan. 18, 6:30pm); Eric Benét (Jan. 19, 7 & 10pm); Lee Ann Womack (Jan. 20-21); Alejandro Escovedo (Jan. 25-27); The Four C Notes (Jan. 28, 3pm); The Posies (Jan. 31); Justin Townes Earle (Feb. 2-3); Judy Collins (Feb. 4, 5 & 8pm); Melanie Fiona (Feb. 7, 7pm); Tortured Soul (Feb. 8); 10,000 Maniacs (Feb. 9, 7:30 & 10pm; Feb. 10, 5 & 8pm); JD Souther (Feb. 11); Cyrille Aimee (Feb. 15); Kindred the Family Soul (Feb. 16, 7 & 10pm); The Birdland All-Stars featuring Tommy Igoe (Feb. 21); Syleena Johnson (Feb. 23, 7 & 10pm); Sergio Mendes (Feb. 25, 5 & 8PM); Alan Doyle (Mar. 2); Brad Williams (Mar. 4); Howard Jones (Mar. 8); Tom Papa (Mar. 9, 7 & 10pm); We Banjo 3 (Mar. 14); Stephen Kellogg (Mar. 15); Jonatha Brooke (Mar. 16), Los Lonely Boys with Lisa Morales (Mar. 17-18); The Zombies (Mar. 19-20); Joshua Radin with William Fitzsimmons (Mar. 27-28); Candlebox Acoustic Duo with Lullwater (Apr. 15-16); John Waite (May 24-25)
Opened in 2012, City Winery Chicago is a fully operational winery, restaurant with outdoor patio, concert hall and private event space located in the heart of the West Loop at 1200 W. Randolph, in the historic urban Fulton Market district. Once a refrigerated food distribution warehouse, the 1911 building has been transformed into a contemporary 33,000 square foot haven for those passionate about wine, music and culinary arts. The décor evokes the romance of being in wine country, from the exposed stainless steel fermenting tanks and French oak barrels, to the aroma of fermenting grapes. Chicago's only fully operation winery has produced dozens of in-house wines sourced from vineyards in California, Oregon, Washington, Argentina and Chile, including a Wine Enthusiast 92-point 2015 Verna's Vineyard Reserve Pinot Noir. With more than 400 unique producers from around the world City Winery is recognized with 2014 and 2015 Best of Awards of Excellence "for having one of the most outstanding restaurant wine lists in the world" by Wine Spectator. The globally inspired, locally sourced, wine-focused food menu is conceived for pairing and sharing. The concert hall accommodates up to 300 guests, all seated at tables with complete beverage and dining service, ensuring a comfortable "listening room" experience enhanced by a state-of-the-art Meyer Sound system. Riedel is the official and exclusive provider of glassware, showing City Winery's commitment to enjoying quality wine in a quality vessel. American Airlines is the Official Airline and Virgin Hotels Chicago is the Official Hotel of City Winery. For more information, visit www.citywinery.com.