Photo Flash: First Look at TUG OF WAR at Chicago Shakespeare Theater
On the occasion of the 400th Anniversary of Shakespeare's legacy in 2016, Chicago Shakespeare Theater embarks on an epic theatrical endeavor-Artistic Director Barbara Gaines' TUG OF WAR, which distills six Shakespeare histories into two action-packed dramas. BroadwayWorld has a first look at the cast in action below!
Adapted and directed by Gaines as the Theater's centerpiece of the yearlong Shakespeare 400 Chicago festival, the TUG OF WAR saga traces the injustice and intrigues of war from the perspectives of both kings and common soldiers through two, six-hour marathon productions-Foreign Fire (Edward III, Henry V and Henry VI, Part 1) in the spring and Civil Strife (Henry VI, Parts 2 and 3 and Richard III) in the fall.
Featuring some of Chicago's most celebrated actors, the dynamic ensemble cast of 19 performs over 100 characters throughout the electrifying drama. The musicality of Shakespeare's text is complemented with live music performances ranging from Bach and the blues, to contemporary pop and folk anthems. Songs from P!nk, Pete Townshend and Tim Buckley are accompanied onstage by a band of ensemble members on electric guitar, cello, keyboard, ukulele and percussion.
TUG OF WAR: Foreign Fire is presented in the Courtyard Theater stage now through June 12, 2016.
Photo Credit: Liz Lauren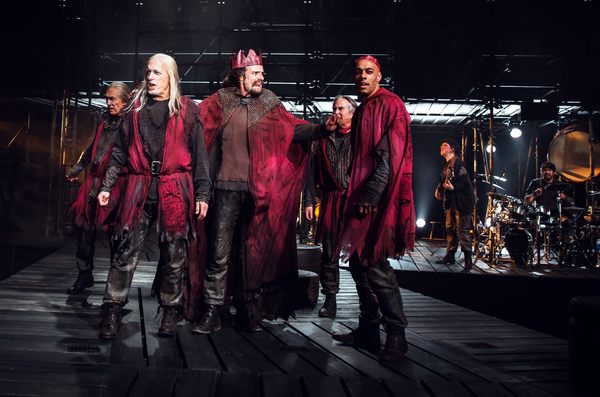 King Edward III (Freddie Stevenson, at center) rallies the British troops to battle (David Darlow, Larry Yando, James Newcomb, Dominique Worsley)

Edward, Prince of Wales (Dominique Worsley)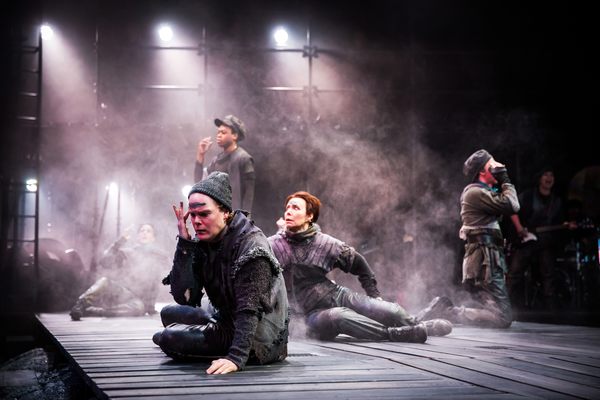 French soldiers face defeat at the hands of Henry V's British army (Alex Weisman, Daniel Kyri, Barbara Robertson)

Henry V (John Tufts) commands his troops 'once more unto the breach'

Princess Katherine of France (Heidi Kettenring, at right) denies the romantic advances of the foreign King Henry V (John Tufts)

The company in a rousing rendition of 'Once I Was a Soldier' written by Tim Buckley and Larry Beckett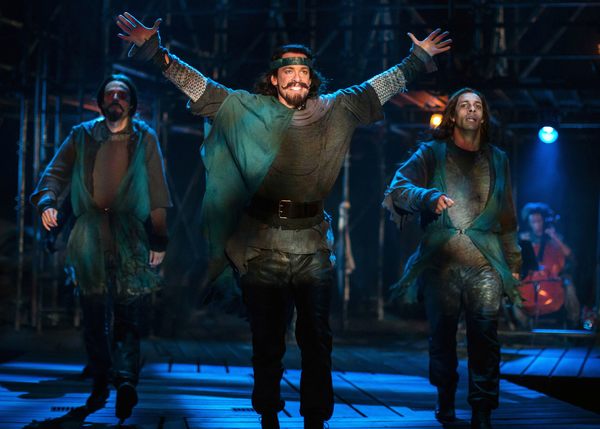 The commanders of the French forces -- the Duke of Orleance (Freddie Stevenson), the Dauphin (Steve Sutcliffe) and Lord Rambures (Dominique Worsley) -- face the British onslaught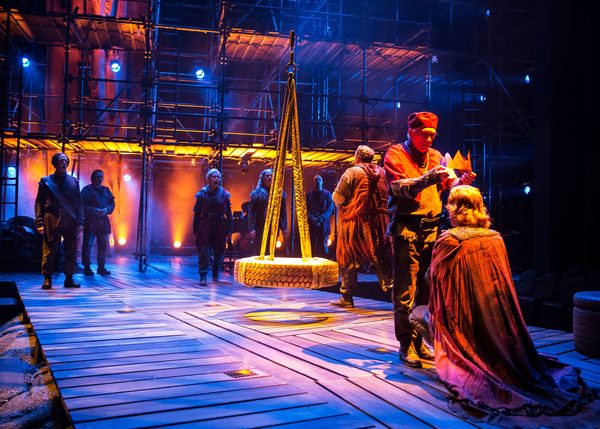 Henry VI (Steven Sutcliffe, kneeling) is crowned king of England and France by the Bishop of Winchester (David Darlow)

Margaret of Anjou (Karen Aldridge) is betrothed to King Henry VI