Gettysburg Community Theatre presents Disney's SLEEPING BEAUTY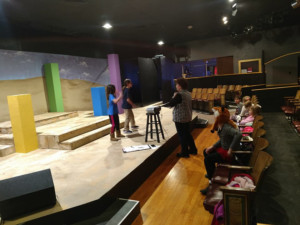 Gettysburg Community Theatre (GCT) the not-for-profit 501c3 community theatre located at 49 York Street in historic downtown Gettysburg, will present Disney's Sleeping Beauty kids with PreK-4th Grade actors at 8pm Fridays and Saturdays and 2pm Sundays February 2-18, 2018 at GCT. Tickets are $12 +tax/fees reserved seating.
Under the direction of Buff Wills, among the cast are many children from York and Adams Counties and beyond sharing the stage together, including Jordan Coscia and Sara Miller as Guards, Sarah Rice as Queen Stephanie, Samuel Rios as King Stefan, Jackson Prin as King Hubert, Jack Rios as King Hubert, Maria Kirk as Flora, Lucy Heaton as Fuana, Giada Langville as Merryweather, Audrey Norwood as Maleficent, Reia Hogan as Fumpfel, Greta Hartley as Pest, Gabriella Scavitto as Blather, Chloe Sainer as Stench, Madison Prin as Princess Aurora/Briar Rose, Sydney Cobb as The Owl/Lady In Waiting, Emma Prin as The Frog/Lady In Waiting, Isabella Lucia Nalewak as the Butterfly, Sara Miller as The Fox/Lady In Waiting, and Jordan Coscia as The Rabbit/Lady In Waiting.
Tickets are on sale now for Disney's Sleeping Beauty as well as all the 2018 Season productions including Godspell -March 2-18, 2018, Some Enchanted Evening GCT's 10th Annual Gala -March 14, 2018 7-11pm (to be held at the Home of Michael & Jane Rice in New Oxford), Disney's Beauty & The Beast jr. -April 27-May 13, 2018, Into The Woods -June 1-17, 2018, Children Of The Battlefield and America The Beautiful (performing in rotating repertoire style) -July 6-22, 2018, A Year With Frog And Toad -August 10-26, 2018, Annie -September 7-23, 2018, The Diary Of Anne Frank -October 5-21, 2018, The Wizard Of Oz -November 16-18, 2018 (performances held at and tickets on sale through The Eichelberger Performing Arts Center in Hanover), and Home For The Holidays November 23-December 2, 2018.
Reserved seating tickets for performances held at GCT are available in advance online at www.GettysburgCommunityTheatre.org or via phone, or at the door one hour before each show time if seats are still available in GCT's very intimate, and almost always sold out, 80 seat theatre. Tickets to The Wizard Of Oz are on sale through Eichelberger Performing Arts Center in Hanover.
GCT is located at 49 York Street within the first block of Lincoln Square in historic downtown Gettysburg in the building that was once The Elks Lodge. GCT box office phone number is 717-334-2692. Audition, ticket, educational, donation, volunteer opportunities and more can be found online at www.GettysburgCommunityTheatre.org.
This production is made possible in part by donations/sponsorships/grants from The Cultural Alliance of York County, The Rotary of Gettysburg, Rarrick Orthodontics, The Gettysburg Times, UniqueSource Products & Services, The Janet & Edward Riggs Charitable Fund of InFaith Community Foundation, Patricia and Shawn Yingling, The Christmas Haus, and Harvest Investment Services/Kristine Witherow.
Related Articles View More Central Pennsylvania

Stories

Shows
More Hot Stories For You