Photo Flash: PREFORMANCES WITH ALISON CHARNEY at Merkin Concert Hall
"PREFORMANCES WITH ALLISON CHARNEY" first evening concert of the 2017-18 season will feature preeminent musicians Kajsa William-Olsson, Elizabeth Mann, Donna Weng and the ARK trio (soprano Allison Charney, cellist Kajsa William-Olsson, pianist Reiko Uchida) in exclusive preview "preformances" - anticipating their upcoming appearances on the world's most prestigious stages. The November 27th concert program taking place at 7:30 pm at Merkin Concert Hall at Kaufman Music Center will present works by master composers of the 20th century - Czech composer Bohuslav Jan Martin? and Russian composer Sergei Sergeyevich Prokofiev as well as new classical works by American contemporary composer Michael Ching.
Cellist Kajsa William-Olsson will play Bohuslav Martinu's Cello Concerto, No. 1, a work she will perform with full orchestra later this season. Kajsa William-Olsson has been a member of the Royal Philharmonic Orchestra in Stockholm, Sweden since 1995. As a founding member of the VITALIS Quartet and Hanna Quartet, Kajsa William-Olsson has toured all over Sweden, Norway, and Finland, as well as Austria, Germany, England, and France and made her U.S. debut at Weill Recital Hall at Carnegie Hall.
Bohuslav Martinu's much beloved Cello Concerto No. 1, H. 196 is a work that has experienced an amazing performance history undergoing three compositional transformations between 1930 and 1955 and was thus premiered by three renown cellists Gaspar Casado (1931), Pierre Fournier (1939) and Milo's Sádlo (1956). PREformances' audiences will be treated to the sound of Kajsa William-Olsson's performance on her exquisite 1709 cello made by Giovanni Grancino, one finest luthiers of the Milanese school.
PREformances' guest Elizabeth Mann, principal flutist for the Orchestra of St. Luke's, will play Sergei Prokofiev's Flute Sonata with pianist Donna Weng in advance of their upcoming concert at Princeton. Elizabeth Mann, a featured performer in concert halls throughout the United States, Europe, and the Far East, is a member of the Orpheus Chamber Orchestra and has played principal flute with the Rotterdam Philharmonic Orchestra under the baton of Valery Gergiev, and recently recorded and performed as associate principal flute with the New York Philharmonic. She has been principal flute of the Santa Fe Opera and Minnesota Orchestra, flutist of the Dorian Wind Quintet, and has performed with the Boston Symphony Orchestra and with Yo-Yo Ma's Silk RoadEnsemble. Liz has toured the U.S. performing the Mozart Flute Concerto under the baton of André Previn, soloed with Renée Fleming at Carnegie Hall, and performed the "Brandenburg" Concertos with Jaime Laredo in Spain and Japan. She gave the U.S. premiere of Sofia Gubaidulina's Concerto for Flute and Violin with Gidon Kremer, and premiered a solo flute piece by Joan Tower and a concerto by Peter Maxwell Davies. A student of Julius Baker at The Juilliard School Elizabeth is a well-known teacher in New York and gives masterclasses across the country. She is involved with the OrpheusInstitute at The Juilliard School and Manhattan School of Music, and teaches at the Colorado College Summer Music Festival.
The back story to Sergei Prokofiev's Flute Sonata is also a history of transformation. Ironically audiences have come to enjoy this composition in its transcription for violin and piano, known as Sonata Op. 94a. While in his letters Prokofiev noted "I long wanted to write a work for the neglected flute, and I wanted this sonata to have a delicate, fluid classical style" Prokofiev's only composition for flute is a work demanding great technical mastery, highlighting the beauty and virtuosic breadth of the flute in ground breaking ways. After its premiere in Moscow in 1943 by Nikolay Kharkovsky (flute) and Sviatoslav Richter (piano) the work was not played. At the urging of virtuoso violinist David Oistrakh, Prokofiev's adapted his Flute Sonata to a work for violin and piano, known as the Violin Sonata No.2, Op.94bis or Op.94a and enjoyed great popularity.
In a special appearance on PREformances, all three members of the ARK trio: soprano Allison Charney, cellist Kajsa William-Olsson, pianist Reiko Uchida - unite in New York to perform contemporary composer Michael Ching's Arrangements and Derangements: Interpretations of Schubert a new work commissioned by the ARK trio. The composition is an inspired transformations of Shubert's art song, addressing the trio's unique structure of voice, cello and piano. Michael Ching's witty homage is based on Shubert's beloved Piano Quintet in A major, D. 667. Shubert's original work was written in 1819, by one Romantic period's leading figures, at the time 22 years old. Popularly known as the 'Trout Quintet', the piece was coincidentally composed for an unusual grouping of musicians - piano, violin, cello and double bass - instead of the typical piano quintet of piano and string quartet.
Of the work, Ching reflects "Schubert's songs are so perfect that they are hard to adapt without feeling like you might be defacing them... there are two impulses at work: 1) a very careful, respectful, almost reverential arrangement and 2) an aggressive reinterpretation or commentary which I've called "derangement" which is a jumble of de-arrange, deranged, and French déranger (disrupt, disturb). The derangement of "Sei mir gegrüsst" reflects a 21st century view of the text. What may have seemed Romantic in Schubert's time, seems to me obsessive and even deluded. The cello plays Schubert's melody and the voice reinterprets Rückert's text. It is almost as if the singer is conjuring the words from hearing the song played by the cello."<

PREformances' November 27th concert will conclude with its signature piece Richard Strauss' Zueignung, performed by soprano Allison Charney and collaborative pianist Craig Ketter. Composed by in 1885 and included in the first collection of songs Strauss ever published, Zueignung, whose translation is "Dedication" is a Lied composed to setting of a poem by the Austrian poet Hermann von Gilm.

ABOUT PREFORMANCES WITH ALLISON CHARNEY
Now in its 9th year, the innovative classical concert series PREFORMANCES WITH ALLISON CHARNEY invites audiences to experience celebrated classical musicians in "PREformances" anticipating their upcoming engagements on the world's most prestigious stages. Acclaimed opera singer Allison Charney hosts a behind-the-scenes glimpse into top-level artists' practices and performance, deliberately blurring the traditional barriers which exist between classical musicians and the audience in concerts. Ms. Charney promises a complete concert experience that provides entertainment and insight providing audiences with classical music knowledge that she promises "is simply not Googleable."
Throughout its previous eight seasons, PREFORMANCES WITH ALLISON CHARNEY has presented over 95 of the preeminent musicians of our time. Notable appearances include those by New York Philharmonic Music Director Alan Gilbert, Metropolitan Opera stars William Burden and Maria Zifchak, flutist Carol Wincenc, violinist Kelly Hall-Tompkins, pianists Joel Fan and Navah Perlman, just to name a few. In addition, the series has presented new classical works by composers Michael Ching, Moshe Knoll, Kim D. Sherman and Dina Pruzhansky. Together with Craig Ketter, PREFORMANCES' noted collaborative pianist, soprano Allison Charney, performs on every concert. Concerts typically run an hour and a half, with no intermission.
To commemorate PREFORMANCES' move to Merkin Concert Hall at Kaufman Music Center renown visual artist, designer and director Doug Fitch has created original artwork for Season Nine. Mr. Fitch's recent work include several projects conducted by Alan Gilbert for the New York Philharmonic, including Ligeti's Le Grand Macabre (cited as the top opera of 2010 by The New York Times, New York Magazine, and Time Out New York), Janác?ek's The Cunning Little Vixen (2011, New York Magazine's "Best Classical Event of the Year"), A Dancer's Dream: Two Works by Stravinsky (2013, later screened in movie theaters worldwide); and HK Gruber's Gloria - A Pig Tale (2014, with forces from The Juilliard School as part of the New York Philharmonic's Biennial). Mr. Fitch was the inaugural WBFO visiting artist at SUNY, where he created an opera of images, How Did We...? Most recently Mr. Fitch provided the art direction and edible design for "The Opera Party"- a new WQXR series in The Greene Space.
PREFORMANCES WITH ALLISON CHARNEY owes a debt of gratitude to Rabbi Joy Levitt, Executive Director of the JCC Manhattan and Megan Whitman, Director of The Lambert Center for Arts + Ideas where the series was originally incubated and evolved from proof of concept into a featured programming component of the JCC Manhattan's cultural offerings on Manhattan's Upper West Side.
PREFORMANCES WITH ALLISON CHARNEY looks forward to welcoming both audiences and featured guest artists to its new concert space and home at Merkin Concert Hall at Kaufman Music Center on October 16 at 1PM. Widely regarded as having near-perfect acoustics, the 450-seat Merkin Concert Hall is both intimate and stately, with its 2007 renovation designed by noted American architect and native New Yorker, Robert A. M. Stern. The state of the art facilities fully anticipate the ease of audience utilizing wheel chairs or who have hearing impairments. The Kaufman Music Center's location at Lincoln Square is easily accessible by public transportation and positions PREFORMANCES WITH ALLISON CHARNEY within the world-renowned epicenter of classical music - the concert halls and academic centers that are home to of many of PREFORMANCES' featured guests.
PREFORMANCES WITH ALLISON CHARNEY maintains a charitable relationship with the Basser Center for BRCA at the University of Pennsylvania - contributing to its research efforts and by promoting awareness of the Basser Center's mission of advancing the care of individuals living with BRCA1 and BRCA2 mutations. PREFORMANCES WITH ALLISON CHARNEY is supported in part through the generosity of its patron group - Friends of PREFORMANCES - donors who believe in the series mission and vision and whose partnership enables the development of new works in addition to educational community outreach efforts, offering free tickets to aspiring young professional musicians as well as students without regular access to high quality classical music programming. To learn more visit www.preformances.org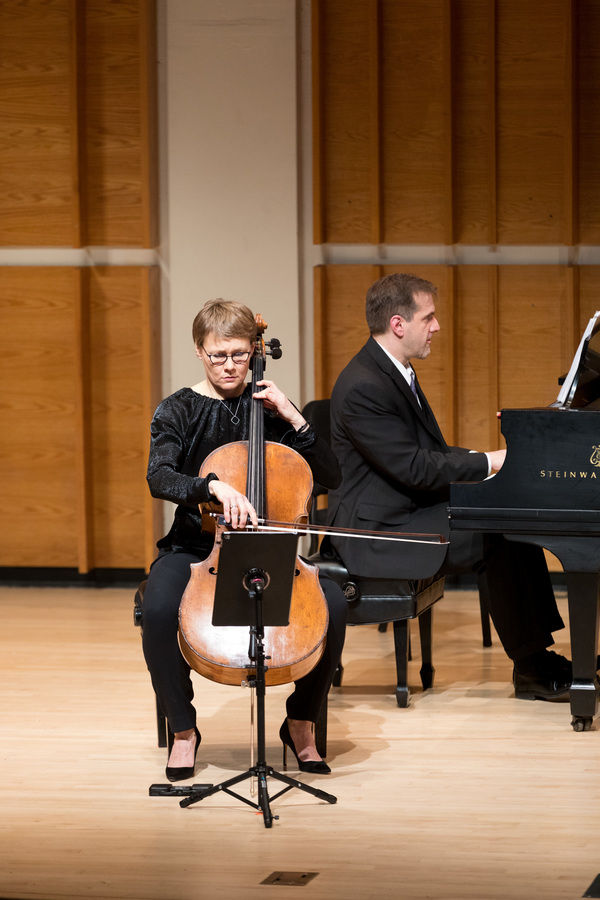 PREformances collaborative pianist Craig Ketter accompanies cellist Kajsa William-Olsson in Bohuslav Martinu's Cello Concerto, No. 1, a work she will perform with full orchestra later this season

November 27th Audience in reflection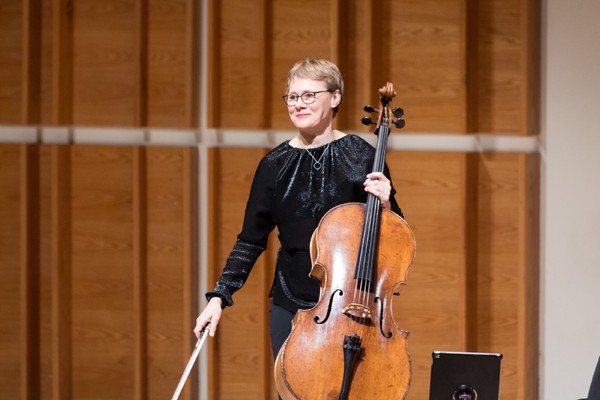 Cellist Kajsa William-Olsson takes the stage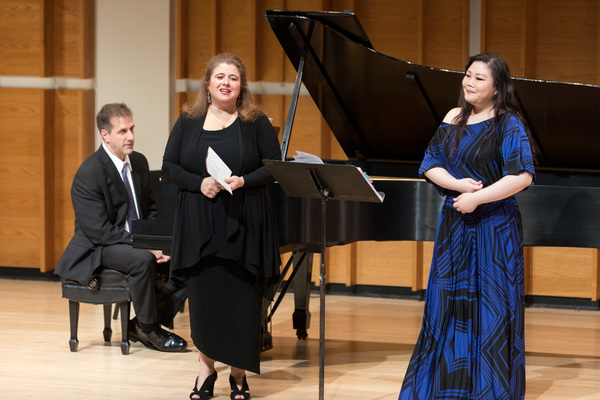 Soprano Allison Charney with mezzo soprano Hyona Kim before Madama Butterfly duet

Mezzo soprano Hyona Kim

The ARK trio (soprano Allison Charney, cellist Kajsa William-Olsson, pianist Reiko Uchida) performing contemporary American composer Michael Ching's witty homage "Arrangements and Derangements: Interpretations of Schubert�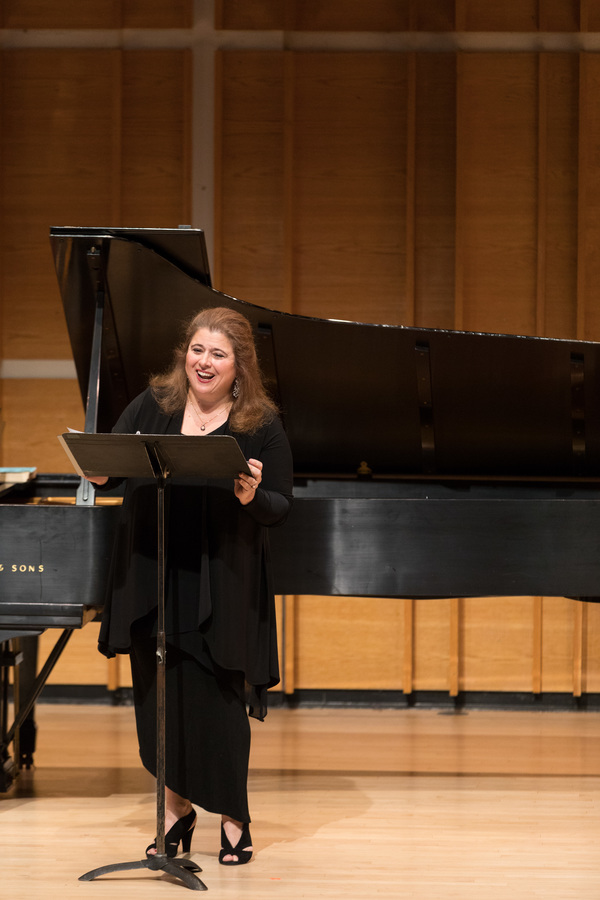 PREformances founder and host Allison Charney welcome audience to Season Nine's first evening concert

Elizabeth Mann performs Sergei Prokofiev's Flute Sonata with pianist Donna Weng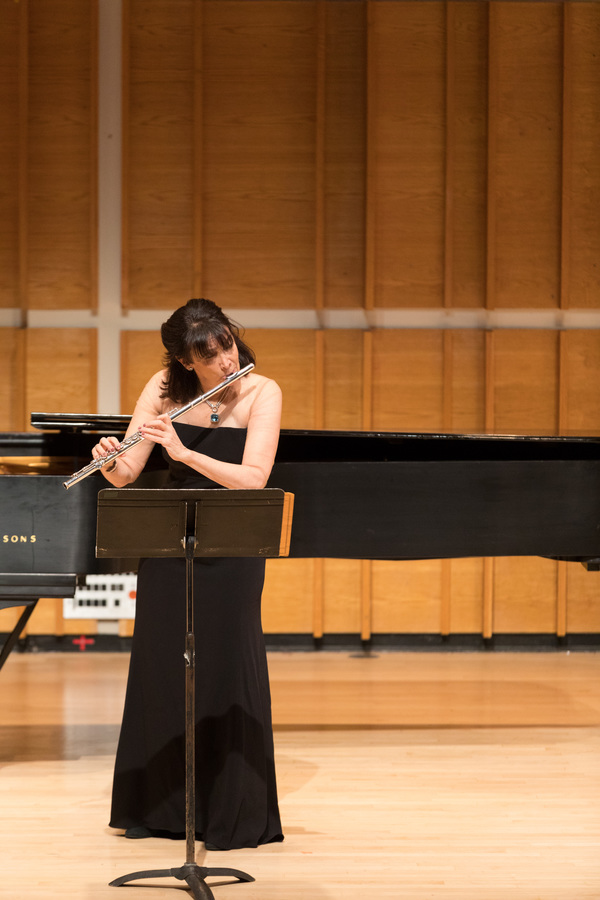 Elizabeth Mann, principal flutist for the Orchestra of St. Luke's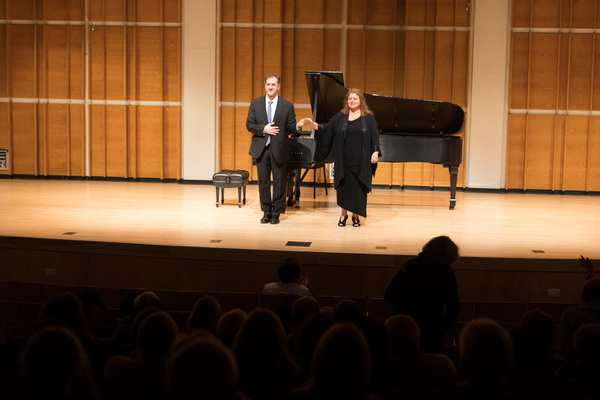 PREformances with Allison Charney concludes with signature song "Zueignung� by Strauss sung by Allison and PREformances' collaborative pianist Craig Ketter
Featured This Week on Stage Door
Shoutouts, Classes, and More from Your Favorite Broadway Stars
Related Articles
View More Music

Stories
More Hot Stories For You