CLICK, CLACK, MOO: COWS THAT TYPE Brings Farmhouse Fun to Center for Puppetry Arts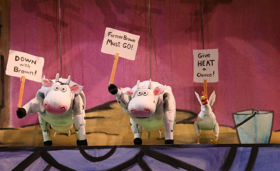 Families are invited to "moooove" over to the Center for Puppetry Arts during the production of Click, Clack, Moo: Cows That Type, June 12-July 29! Based on the book by Doreen Cronin with illustrations by Betsy Lewin, "Click, Clack, Moo: Cows That Type" is a New York Times bestseller and a 2001 Caldecott Honoree that tells the story of what happens when Farmer Brown's cows learn to type and go on strike. The book was adapted for the puppet stage by the Center's Artistic Director Jon Ludwig and Resident Puppet Builder Jason Hines.
Recommended for ages 4 and up, Click, Clack, Moo: Cows That Type features rod and marionette puppetry styles performed by puppeteers Brian Harrison, Mandy Mitchell, Amy Sweeney and Tim Sweeney, with live music by Dolph Amick. The witty production is the Center for Puppetry Arts' first mainstage Family Series show of the 2018-19 season, kicking off the 40th anniversary year.
"Click, Clack, Moo: Cows That Type is a great way to start summer off on the right foot," said Center for Puppetry Arts Artistic Director Jon Ludwig. "Since the production is based on the award winning book, it will remind young readers that reading over summer break is a fun and important hobby."
The Center for Puppetry Arts is continuing its dedication to programming for patrons with Autism Spectrum Disorder on Sunday, June 24 with sensory-friendly modifications to the 1 p.m. performance as well as in the Museum and in the Create-A-Puppet Workshops™. The Center will also provide a quiet room, social stories, noise-reducing headphones and fidget toys for guests wishing to use those resources. For details, visit puppet.org/asd.
Click, Clack, Moo: Cows That Type will be presented in the Mainstage Theater, June 12 - July 29. The production is supported in part by the National Endowment for the Arts.
Regular show times are:
Tuesday - Friday: 10 a.m. and noon
Saturday: 11 a.m. and 1 p.m.
Sunday: 1 p.m. and 3 p.m.
All-inclusive tickets are $9.75 (Members) and $19.50 (nonmembers) and include entrance to the Create-A Puppet Workshop™, where guests can make, decorate and perform with their own Click, Clack, Cow Hand Puppet, as well as admission to the Worlds of Puppetry Museum, featuring the largest collection of Jim Henson puppets in the world as well as a global gallery.
Tickets can be purchased online at puppet.org or by calling 404.873.3391.
Photo by Center for Puppetry Arts
More Hot Stories For You