Something's Coming! Learn About All the Broadway Plays of 2017!
As we prepare for 2017 to kick off, Broadway will see a host of new and returning plays, headlined and helmed by some of the stage's best. From the Sally Field revival of THE GLASS MENAGERIE to the Broadway premiere of THE PLAY THAT GOES WRONG, there's plenty to be excited about as the 2016-17 theatre season ramps up.
With a handful of new pieces set to bow before the Tony Awards deadline in April, BroadwayWorld brings you a look at those plays currently set to open on the Great White Way this year!
---
The Present

Currently in previews
Opening Night: January 8th
Variously known as Platonov, Wild Honey, Fatherlessness and The Disinherited, Anton Chekhov's untitled first play was not discovered until 1920, some 16 years after the playwright's death. Andrew Upton's adaptation is set post-Perestroika in the mid-1990s at an old country house where friends gather to celebrate the birthday of the independent but compromised widow Anna Petrovna (Cate Blanchett). At the center is the acerbic and witty Platonov (Richard Roxburgh) with his wife, his former students and friends and their partners. They may appear comfortable, but boiling away inside is a mess of unfinished, unresolved relationships, fueled by twenty years of denial, regret and thwarted desire.
---
Jitney

Previews Begin December 28th
Opening Night: January 19th
Only one of the plays in two-time Pulitzer Prize winner August Wilson's masterful The American Century Cycle has never been seen on Broadway - until now. Set in the early 1970s, this richly textured piece follows a group of men trying to eke out a living by driving unlicensed cabs, or jitneys. When the city threatens to board up the business and the boss' son returns from prison, tempers flare, potent secrets are revealed and the fragile threads binding these people together may come undone at last. MTC has a long history of co-producing works by this legendary playwright: King Hedley II, Seven Guitars and The Piano Lesson, and is proud to produce this Broadway debut. Directing is Ruben Santiago-Hudson, one of Wilson's finest interpreters.
---
The Glass Menagerie

Previews Begin February 7th
Opening Night: March 9th
Amanda Wingfield (Sally Field) lives in a neighborhood for the lower middle class with her two children. Her husband left her years ago. Amanda does everything she can to provide a good future for her children. Both children live in a fantasy world they created themselves. Son Tom works in a shoe store, but has poetic ambitions. He is thinking about running away from home. Daughter Laura is mildly disabled as a result of an illness during her childhood. She lives a secluded life, estranged from the world. The shy Laura is just as fragile as the collection of glass toy animals she carefully built up and cherished.
---
Significant Other

Previews Begin February 14th
Opening Night: March 2nd
Meet Jordan Berman. He's single. And he has a date with a co-worker to see a documentary about the Franco-Prussian war. At least, he thinks it's a date. Significant Other follows Jordan and his three closest friends as they navigate love, friendship and New York in the twenty-something years. The Broadway debut of author Joshua Harmon will be complemented by the Broadway debut of rising young director Trip Cullman, who guided the play to its successful off-Broadway engagement.
---
The Price

Previews Begin February 16th
Opening Night: March 16th
When the Great Depression cost his family their fortune, Victor Franz gave up his dream of an education to support his father. Three decades later, Victor has returned to his childhood home to sell the remainder of his parents' estate. His wife, his estranged brother, and the wily furniture dealer hired to appraise their possessions all arrive with their own agendas, forcing Victor to confront a question, long-stifled, about the value of his sacrifice. One of the most personal plays by the consummate voice of the American everyman, Arthur Miller's The Price is a riveting story about the struggle to make peace with the past and create hope for the future. Steppenwolf co-founder Terry Kinney (reasons to be pretty) directs.
---
Sweat
Previews Begin March 4th
Opening Night: March 29th
With warm humor and tremendous heart, Lynn Nottage's Sweat tells the story of a group of friends who have spent their lives sharing drinks, secrets and laughs while working together on the line of a factory floor. But when layoffs and picket lines begin to chip away at their trust, the friends find themselves pitted against each other in the hard fight to stay afloat. Kate Whoriskey directs this stunning new play about the collision of race, class, family and friendship, and the tragic, unintended costs of community without opportunity.
---
The Play That Goes Wrong

Previews Begin March 9th
Opening Night April 2nd
Broadway has a brand new British import, and it's too late to send it back! Winner of the 2015 Olivier Award for Best New Comedy, The Play That Goes Wrong is a celebration of the best of live theater... and the worst. Welcome to opening night of the Cornley Polytechnic Drama Society's newest production, The Murder at Haversham Manor. This 1920s whodunit has everything you never wanted in a Broadway show- a ramshackle set, a leading lady with a concussion, and a corpse that can't play dead. It's a classic mystery... and it's a mystery how it ever got to Broadway! Direct from a bafflingly successful run on London's West End, this sidesplitting show-within-a-show will move you... from your house to the theater and back.
---
Oslo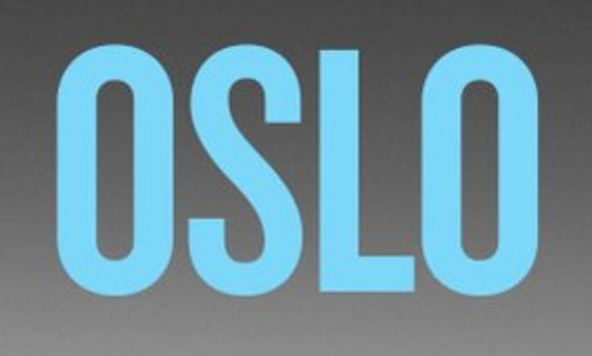 Previews Begin March 23rd
Opening Night: April 13th
How did the 1993 Middle East peace talks come to be held secretly in a castle in the middle of a forest outside Oslo? A darkly funny and sweeping new play, OSLO tells the surprising true story of the back-channel talks, unlikely friendships and quiet heroics that led to the 1993 Oslo Peace Accords between the Israelis and Palestinians. As he did with such wit and intelligence in Blood and Gifts, J.T. Rogers presents a deeply personal story set against a complex historical canvas: a story about the individuals behind world history and their all too human ambitions. Directed by Bartlett Sher.
---
The Little Foxes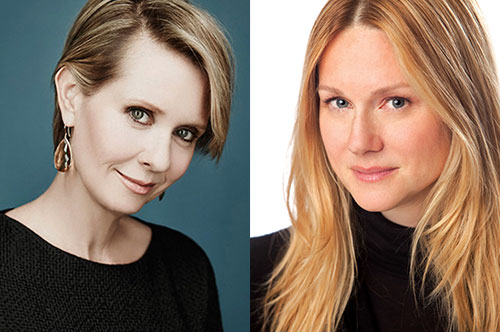 Previews Begin March 29th
Opening Night: April 19th
Two extraordinary actresses return to Manhattan Theatre Club in a vibrant new production of Lillian Hellman's The Little Foxes. In a thrilling coup, MTC will present three-time Tony Award nominee Laura Linney (Time Stands Still, Sight Unseen) and Tony winner Cynthia Nixon (Rabbit Hole, Wit), who will alternate playing the roles of Regina and Birdie in Lillian Hellman's legendary play about greed and ambition. Set in Alabama in 1900, The Little Foxes follows Regina Giddens and her ruthless clan, including her sister-in-law Birdie, as they clash in often brutal ways in an effort to strike the deal of their lives. Far from a sentimental look at a bygone era, the play has a surprisingly timely resonance with important issues facing our country today. Tony winner Daniel Sullivan (Proof, Rabbit Hole) will direct.
---
Six Degrees of Separation

Previews Begin April 5th
Opening Night: April 25th
Inspired by a true story, the play follows the trail of a young black con man, Paul, who insinuates himself into the lives of a wealthy New York couple, Ouisa and Flan Kittredge, saying he knows their son at college. Producer Stuart Thompson announced today that John Guare's critically acclaimed play Six Degrees of Separation will return to Broadway this spring in a revival starring seven-time Emmy Award winner Allison Janney ("Mom," The Girl on the Train) as Ouisa and Tony Award winner John Benjamin Hickey (The Normal Heart, "Manhattan") as Flan. Trip Cullman (Significant Other, Punk Rock) will direct the production, which is set to open at the Barrymore Theatre in April 2017 and will run for 15 weeks only.
---
A Doll's House, Part 2

Previews Begin April 1st
Opening Night: April 27th
Directed by Tony-winner Sam Gold, a wildly inventive new American play that picks up after Henrik Ibsen's most cherished work concludes, A Doll's House, Part 2 will boast an all-star cast that features three-time Emmy Award-winner and three-time Tony Award®-nominee Laurie Metcalf, Academy Award-winner Chris Cooper, Tony Award®-winner Jayne Houdyshell and two-time Tony Award®-nominee Condola Rashad. In the final scene of Ibsen's 1879 ground-breaking masterwork, Nora Helmer makes the shocking decision to leave her husband and children, and begin a life on her own. This climactic event - when Nora slams the door on everything in her life - instantly propelled world drama into the modern age. In A Doll's House, Part 2, many years have passed since Nora's exit. Now, there's a knock on that same door. Nora has returned. But why? And what will it mean for those she left behind?
---
Indecent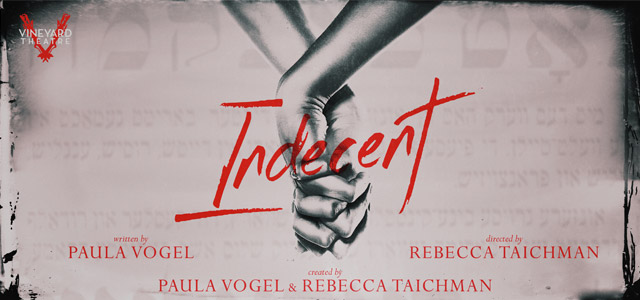 Previews Begin April 4th
Opening Night: April 18th
A new play with music, INDECENT is written by Paula Vogel, created by Paula Vogel and Rebecca Taichman, and directed by Rebecca Taichman. INDECENT is a deeply moving play inspired by the true events surrounding the controversial 1923 Broadway debut of Sholem Asch's GOD OF VENGEANCE - a play seen by some as a seminal work of Jewish culture, and by others as an act of traitorous libel. INDECENT charts the history of an incendiary drama and the path of the artists who risked their careers and lives to perform it.
---
Present Laughter
Previews Begin March 10th
Opening Night: April 5th
Noel Coward's totally-irresistible comedy, Present Laughter, follows a self-obsessed actor (is there any other kind?) in the midst of a mid-life crisis. Freely indulging his considerable appetite for wine, women and sleeping late (not necessarily in that order), the theatre's favorite leading man suddenly finds himself caught between fawning ingenues, crazed playwrights, secret trysts and unexpected twists. Present Laughter first premiered on Broadway at the Plymouth Theatre in 1946, following an immensely successful wartime tour starring Coward himself. One of his most produced and beloved works, Present Laughter has come to define Coward's singular comedic voice for generations of theatergoers. In addition to Coward, some of the world's most accomplished stage actors, including the likes of Albert Finney, Peter O'Toole, and Ian McKellen, have played the lead role.
---