The Glass Menagerie - 2017 - Broadway
Sally Field & Joe Mantello star in The Glass Menagerie on Broadway.
Two-time Academy Award winner Sally Field and two-time Tony Award winner Joe Mantello star in Tennessee Williams' The Glass Menagerie on Broadway. Also starring Finn Wittrock and Madison Ferris. Tony winner Sam Gold directs.
The Glass Menagerie is the play that brought a brilliant young writer named Tennessee Williams to national attention when it premiered on Broadway in 1945. More than seventy years later, Williams' most personal work for the stage continues to captivate and overwhelm audiences around the world.
Video preview
Photo preview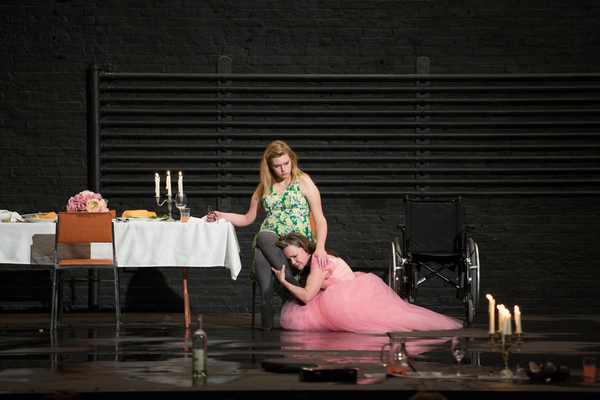 Schedule
Running Time: 2 hours and 5 minutes, with no intermission
Twitter watch
@LCTheater
10/21/2020 11:47am
Tune-In Alert! Our new Resident Director Lileana Blain-Cruz is directing a reunion reading of Suzan-Lori Parks' The… https://t.co/VEYQLBj5MN
Featured Reviews For The Glass Menagerie
'The Glass Menagerie' Broadway Review: Sally Field Leads Solid Gold Revival - The Wrap
Sam Gold is the latest to pick up the next-to-nothing-is-more approach to Tennessee Williams. The American director's "Glass Menagerie" opened Thursday at the Belasco Theatre, and it is pure Gold in every sense of the word. Has there ever been a barer stage on Broadway? The four actors enter from a side door on the orchestra level, with Sally Field pushing newcomer Madison Ferris in a wheelchair. What follows is one of the evening's many silent longueurs as Ferris, a woman with muscular dystrophy, negotiates the small staircase to the stage to take her place there. Occasionally, she walks by pushing her buttocks in the air and taking steps on her feet and hands. But for most of the production, this Laura sits on the floor or in the wheelchair. It's odd to begin a review by concentrating on an actor's physical challenges, but that first long ascent to the stage pretty much establishes Field's tortured Amanda Wingfield and, in essence, Gold's take on "The Glass Menagerie." It's a daring, masterful stroke, and one that redefines the Williams classic, and will influence every "Menagerie" to come in the next few years.
Theater Review: 'The Glass Menagerie' - NY1
...what Gold has devised is quite confounding. Part of the problem is that his directorial decisions are so radical in some cases they take the audience out of the play's poetic reverie. The decision to cast a young disabled actress to play the painfully shy Laura puts the emphasis on the character's physical handicap, when in fact it's Laura's extreme insecurities that make her life tragic. And the play's text refers to her "walking," but that makes no sense as presented here.