Six Degrees of Separation - 2017 - Broadway Tickets, News, Info & More
Inspired by a true story, the play follows the trail of a young black con man, Paul, who insinuates himself into the lives of a wealthy New York couple, Ouisa and Flan Kittredge, saying he knows their son at college.
Producer Stuart Thompson announced that John Guare's critically acclaimed play Six Degrees of Separation will return to Broadway in a revival starring seven-time Emmy Award winner Allison Janney ("Mom," The Girl on the Train) as Ouisa and Tony Award winner John Benjamin Hickey (The Normal Heart, "Manhattan") as Flan.
Trip Cullman (Significant Other, Punk Rock) will direct the production, which is set to open at the Barrymore Theatre in April 2017 and will run for 15 weeks only.
Video preview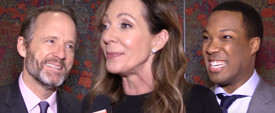 Photo preview
Schedule
Running Time: One hour and 30 minutes, with no intermission
Featured Reviews For Six Degrees of Separation
Allison Janney, Corey Hawkins Lead 'Six Degrees' Revival - NBC New York
It's 1990 all over again in "Six Degrees of Separation," a period-faithful revival of the John Guare play -- based on real events -- about a clever con artist who convinces an erudite Upper East Side couple that he's the son of Sidney Poitier. Allison Janney, who is as skilled in drama as she is in comedy, leads the cast as privileged Ouisa Kittredge, whose small dinner party with husband Flan (John Benjamin Hickey) is interrupted by the arrival of a young man with a minor stab wound who claims to be a Harvard classmate of her children.
Theater Review: Can Six Degrees of Separation Still Bring Home the Bacon? - Vulture
Even softened slightly as it is in this production, the play's brutal message to sophisticates, whether at the end of Reagan's era or the start of Trump's, comes through. We still do not know anyone but ourselves - and ourselves not too well, either. The idea that there are "six degrees of separation" between any two people, which in Guare's formulation became a global catchphrase, is not merely a humanistic piety about interconnectedness; it's also a warning. Those six degrees are unbridgeable if you live on an island.
Six Degrees of Separation Broadway Cast