Six Degrees of Separation Broadway
Inspired by a true story, the play follows the trail of a young black con man, Paul, who insinuates himself into the lives of a wealthy New York couple, Ouisa and Flan Kittredge, saying he knows their son at college.
Producer Stuart Thompson announced that John Guare's critically acclaimed play Six Degrees of Separation will return to Broadway in a revival starring seven-time Emmy Award winner Allison Janney ("Mom," The Girl on the Train) as Ouisa and Tony Award winner John Benjamin Hickey (The Normal Heart, "Manhattan") as Flan.
Trip Cullman (Significant Other, Punk Rock) will direct the production, which is set to open at the Barrymore Theatre in April 2017 and will run for 15 weeks only.
Video preview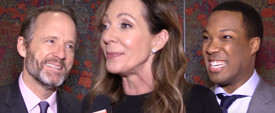 Photo preview
Schedule
Running Time: One hour and 30 minutes, with no intermission