Six Degrees of Separation - 2017 - Broadway
Inspired by a true story, the play follows the trail of a young black con man, Paul, who insinuates himself into the lives of a wealthy New York couple, Ouisa and Flan Kittredge, saying he knows their son at college.
Producer Stuart Thompson announced that John Guare's critically acclaimed play Six Degrees of Separation will return to Broadway in a revival starring seven-time Emmy Award winner Allison Janney ("Mom," The Girl on the Train) as Ouisa and Tony Award winner John Benjamin Hickey (The Normal Heart, "Manhattan") as Flan.
Trip Cullman (Significant Other, Punk Rock) will direct the production, which is set to open at the Barrymore Theatre in April 2017 and will run for 15 weeks only.
Video preview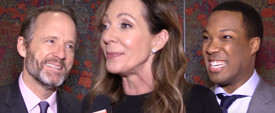 Photo preview
Schedule
Running Time: One hour and 30 minutes, with no intermission
Featured Reviews For Six Degrees of Separation
Allison Janney's Triumph In 'Six Degrees of Separation' On Broadway - Daily Beast
The play's most significant painting, a Kandinsky, hangs over all the action-and what does its centrality finally tell us? Perhaps, for one, that this a play about the perversity of worth: of the works of art that Ouisa and Flan are so engaged in dealing with, and-in contrast-of a human life, Paul's, which they show a terrible incomprehension about. Well, it's worth a lot of money, and its deeper significance, as Paul signals to Ouisa, is one of interpretation; the two great knots-material and psychological--of the play on one canvas. In the end, Paul, whatever has happened to him, has the power of that knowledge. Which may not be worth much, but it's something.
Aisle View: Six More Degrees - Huffington Post
Almost thirty years later, Six Degrees is something of a period piece. Guare illustrates in a roundabout manner how the cellphone and the Internet have thoroughly changed the world we live in, as the plot stands on circumstances that would be instantly resolved with a quick call (or e-mail) and a Google search. Conversely, Guare's jabs at the Broadway musical Cats remain uncomfortably and wickedly current.
Six Degrees of Separation Broadway Cast