Significant Other - 2017 - Broadway
Meet Jordan Berman. He's single. And he has a date with a co-worker to see a documentary about the Franco-Prussian war. At least, he thinks it's a date. Significant Other follows Jordan and his three closest friends as they navigate love, friendship and New York in the twenty-something years.
The Broadway debut of author Joshua Harmon will be complemented by the Broadway debut of rising young director Trip Cullman, who guided the play to its successful off-Broadway engagement.
Significant Other was a NY Times Critic's Pick when it premiered last summer at Roundabout Theatre Company. Charles Isherwood, writing in the New York Times, called it "an entirely delightful new play, as richly funny as it is ultimately heart-stirring."
Significant Other began at Roundabout Theatre Company following the professional debut and world premiere of Joshua Harmon's play Bad Jews at Roundabout Underground's Black Box in fall 2012.
Video preview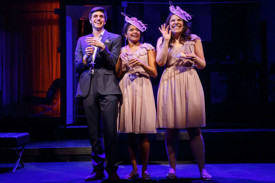 Photo preview
Schedule
Running Time: Two hours and 15 minutes, with one intermission
Featured Reviews For Significant Other
'Significant Other': Theater Review - Hollywood Reporter
Under playwright Joshua Harmon's compassionate gaze, that potentially mopey, extended sitcom scenario becomes by turns hilarious and poignant, delivering a relatable contemporary take on the old-fashioned theme of waiting with increasing impatience for Mr. Right. In addition to the sharp, insightful writing, a big part of what prevents this delightful play from turning either trite or maudlin is the wonderful performance of Gideon Glick as Jordan, who is late-twenties, geeky-cute, comfortable in his sexuality, gainfully employed in advertising and desirably located in an Upper West Side Manhattan apartment. But somehow, despite his gnawing hunger for a fulfilling relationship, he remains hopelessly single. He and his similarly solo closest friend Laura (Lindsay Mendez) make a pact to be each other's fallback option should the romantic horizon remain empty.
Theater Review: Significant Other Is Still a Too-Loud, Too-Long Wedding Reception - Vulture
If only Significant Other, which opened tonight on Broadway, were as dramatic. But although Joshua Harmon's sour comedy has many fine supporting qualities - wit, a neat structure, lacerating dialogue, and a clutch of terrific performances from a cast led by Gideon Glick - they don't have very much to support.
Significant Other Broadway Cast