Significant Other Broadway
Meet Jordan Berman. He's single. And he has a date with a co-worker to see a documentary about the Franco-Prussian war. At least, he thinks it's a date. Significant Other follows Jordan and his three closest friends as they navigate love, friendship and New York in the twenty-something years.
The Broadway debut of author Joshua Harmon will be complemented by the Broadway debut of rising young director Trip Cullman, who guided the play to its successful off-Broadway engagement.
Significant Other was a NY Times Critic's Pick when it premiered last summer at Roundabout Theatre Company. Charles Isherwood, writing in the New York Times, called it "an entirely delightful new play, as richly funny as it is ultimately heart-stirring."
Significant Other began at Roundabout Theatre Company following the professional debut and world premiere of Joshua Harmon's play Bad Jews at Roundabout Underground's Black Box in fall 2012.
Video preview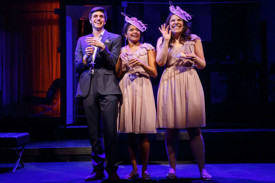 Photo preview
Schedule
Running Time: Two hours and 15 minutes, with one intermission
Featured Reviews For Significant Other
'Significant Other': three weddings and a pity party — theater review - NY Daily News
In its 2015 Off-Broadway run, the comedy by Joshua Harmon ("Bad Jews") struck me as "hilarious, heart-tugging and annoying." On Broadway at the Booth Theatre, same goes. Hilarity comes from spry, occasionally crude one-liners showcased to the max by the fine cast as well as Trip Cullman's deft direction. Heart-tugging moments arise between Jordan and his age-addled grandmother (Barbara Barrie).
The Modern Gay Way to Lose Out in Love: Review of 'Significant Other' on Broadway - Daily Beast
The reviews had been so positive for the off-Broadway production of Joshua Harmon's Significant Other, that its laureled coronation on Broadway should have been all but assured. But there are so many jarring, derailing elements to this Roundabout Theatre production-about a gay man in his late twenties, confronting loneliness, but not really confronting loneliness convincingly, and therein lies the problem-that the evening merely becomes an extended sequence of his irritating whining. The play's peppy (occasionally extremely funny) comedy ill-balances its very dark heart, which-as the final curtain reveals-is really about one man's terrible isolation. It's Ibsen meets Will and Grace, but-as that show's Jack might screech-"in a bad way."
Significant Other Broadway Cast