Kathleen Chalfant To Receive Obie Award For Lifetime Achievement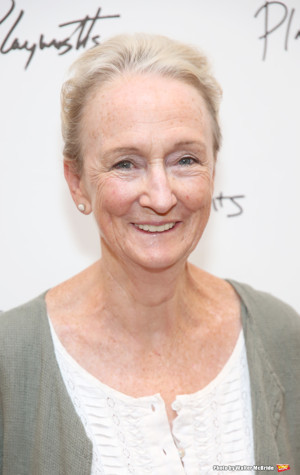 The American Theatre Wing (Heather Hitchens, President and CEO) and The Village Voice (Peter Barbey, President and CEO) are thrilled to announce that Tony Award-nominated and three-time Obie-winning actress Kathleen Chalfant will receive a special Obie Award® for Lifetime Achievement at the 63rd Annual Obie Awards, which will be held on Monday, May 21, 2018 at Terminal 5 (610 West 56th Street). Tickets to the 2018 Obie Awards are now available via www.ObieAwards.com.
As was previously announced, Emmy and Obie-winning actor John Leguizamo will host this year's Obie Awards. The Obie Award judges panel for this season is chaired by longtime Village Voice critic Michael Feingold, and includes Entertainment Weekly theater critic Melissa Rose Bernardo, Obie-winning projection designer Wendall K. Harrington, Broadway News theater critic Charles Isherwood, Tony Award-nominated and Obie-winning costume designer Toni-Leslie James, dancer-actress-director Sondra Lee, Tony Award-nominated and Obie-winning actor Arian Moayed, and Obie-winning actress Ching Valdes-Aran.
The production team for the 2018 Obie Awards includes J. Jason Daunter (Artistic Supervisor), Eric Cornell (Line Producer), P. Jason Yarcho (Musical Supervisor), Natasha Katz(Lighting Designer), Kai Harada (Sound Designer), Antje Ellermann (Scenic Designer), and Adam J. Thompson (Video Designer).
Kathleen Chalfant. Broadway: Angels In America (Tony and Drama Desk nominations); City Center Encores! Bloomer Girl (Dolly Bloomer), Racing Demon (New York premiere, dir. by Richard Eyre), Dance With Me, M. Butterfly.
In addition to Wit for which she won the Drama Desk, Obie, Lucille Lortel, and Outer Critics Awards, Kathleen has also appeared Off-Broadway in For Peter Pan On Her 70th Birthday (Playwrights Horizons), Somewhere Fun (Vineyard Theatre), Miss Ovington And Dr. Dubois by Clare Coss, Red Dog Howls by Alex Dinelaris (NYTW),Painting Churches by Tina Howe, Prophecy by Karen Malpede, Family Week by Beth Henley, Vita & Virginia with Patricia Elliot at the Zipper Theatre; Deadman's Cell Phone by Sarah Ruhl at Playwrights Horizons, A Hard Heart by Howard Barker at Epic Theatre Ensemble; Spalding Gray: Stories Left to Tell at The Minetta Lane Theatre; Great Expectations at Theatreworks/USA; 5 By Tenn at Manhattan Theatre Club; Guantanamo at The Culture Project directed by Nicholas Kent and Sacha Wares; The Last Letter by Vasily Grossman directed by Frederick Wiseman, Alan Bennett's Talking Heads; Savannah Bay by Marguerite Duras; Far Away by Caryl Churchill; The Vagina Monologues; Nine Armenians (Drama Desk Nomination);Twelve Dreams (written and directed by James Lapine); Henry V (New York Shakespeare Festival, directed by Doug Hughes, Callaway Award); True History and Real Adventures (by Sybille Pearson, dir. by Michael Mayer). Other New York credits: Phaedra in Delirium (CSC); Iphigenia and Other Daughters (by Ellen McLaughlin); Endgame (directed by David Esbjornson); The Party (from three stories by Virginia Woolf adapted by Ellen McLaughlin, directed by David Esbjornson); Three Poets (by Romulus Linney); Sister Mary Ignatius... (by Christopher Durang);Just Say No (by Larry Kramer); The Investigation of the Murder in El Salvador (by Charles Mee, directed by David Schweitzer, New York Theatre Workshop); Jules Feiffer's Hold Me!(directed by Caymichael Patten); Signs Of Life (by Joan Schenkar).
Regional Theater: McCarter Theatre Center, Guthrie Theater, Arena Stage, Yale Rep, Berkeley Rep, Long Wharf Theatre, Hartford Stage Company, Mark Taper Forum, Actors Theatre of Louisville, Sundance Playwrights Lab, Milwaukee Repertory Theatre, Paper Mill Playhouse and others. Film: Isn't It Delicious by Michael Kelly; Lillian by Amanda Pennington (Cannes short film corner 2013); Muhammed Ali's Greatest Fight for HBO; The Bath by Mark Lundsten; In Bed With Ulysses, Duplicity by Tony Gilroy; The People Speak by Howard Zinn and Anthony Arnove; The Last New Yorker; Murder and Murder (written and directed by Yvonne Rainer); Bob Roberts; Five Corners; Jumpin' at the Boneyard; Dream Work (with Eric Bogosian); A Price Above Rubies; The Last Days of Disco; Side Streets; Random Hearts; Company Man and Kinsey.
TV: "The Americans" (recurring role on FX), "The Affair," "House of Cards" (recurring role Netflix), "Mercy" (NBC), "Rescue Me" (Ma Garrity), "One Life to Live" (Headmistress), "Book of Daniel" (Katherine), "Jo" (Kate in the CBS pilot), "The Guardian" (social worker Laurie Solt in the CBS series), "The Laramie Project," "Benjamin Franklin," "A Death in the Family" (Aunt Hannah) for PBS Masterpiece Theatre, "Law & Order" (Lisa Cutler), "Law & Order: Special Victims Unit," "Law & Order: Criminal Intent," "The Beat" (recurring role), "Storm of the Century" (Stephen King miniseries for ABC); "Prince Street" (recurring role), "Spin City," "LA Law." Radio: The Lion in Winter (Eleanor of Aquitane) for LA TheatreWorks with Alfred Molina.
She was a participant in V-Day 2001 at Madison Square Garden and V-Day 2002 in San Francisco and Sacramento, California as well as The Lysistrata Project at BAM. Additional Awards: 1996 Obie Award for Sustained Excellence of Performance; 1998 Connecticut Critics Circle Award (Wit); 2000 Ovation, Garland, and Los Angeles Drama Critics Circle Awards (Los Angeles) for Wit. She received the Drama League and Sidney Kingsley Awards for her body of work.
Kathleen is a founding member of the Women's Project and sits on the boards of The Vineyard Theatre, Broadway Cares/Equity Fights Aids, and the advisory board of the New York Foundation for the Arts. Ms. Chalfant was Artist in Residence at the Weill College of Medicine of Cornell University for 2005-2006, was a Beineke Fellow at the Yale School of Drama in the spring of 2006, the fall of 2008, and the fall of 2010 and was a member of the Board of Advisors of MSF/Doctors Without Borders for 5 years. She was awarded an honorary Doctorate of Humane Letters from the Cooper Union in June 2010.
Ms. Chalfant has recently been part of a new initiative of Beyond the Wire called The Addiction Project and read the third act of Long Day's Journey Into Night at the Harvard Medical School with Harris Yulin and Bryce Pinkham and The Bacchae with Jesse Eisenberg and Adam Driver in Hazard County Kentucky. She was Artist In Residence for 2011 -2012 in the Graduate Theatre Program at The New School.
For more information, visit www.ObieAwards.com.
The Village Voice created the Obie Awards, at the suggestion of then editor Jerry Tallmer, soon after the publication's own inception in 1955, to encourage the newly burgeoning Off Broadway theater movement and to acknowledge its achievements. The Obies are structured with informal categories, to recognize artists and productions worthy of distinction in each theatrical year. Over the decades, the Obie Awards have played a major role in the Voice's long history of championing work of innovative and exceptional quality Off and Off-Off Broadway. The Village Voice put the new downtown theater movement on the map with its in-depth coverage, becoming a forum for conflicting viewpoints which helped generate excitement over new works and new approaches to theater-making. The Obies have become a theatrical tradition, a meaningful way to acknowledge the best artistic achievements of downtown theater. The list of actors, writers, directors, and designers who have received Obies at pivotal moments in their careers is a virtual who's who of contemporary theater. While the categories of the awards have continued to change almost annually, the creative spirit remains the same. The Obie Awards salute a theatrical movement that's as important, and as vibrant, today as it was in 1955.
ABOUT THE American Theatre Wing
One hundred years ago, on the eve of America's entry into World War I, seven suffragettes-all women of the theatre-came together to form The Stage Women's War Relief. A century later, the spirit and vision behind the founding of American Theatre Wing remains a touchstone for all we do. The Wing continues to champion bravery, with a focus on developing the next generation of brave artists. We envision an American Theatre that is as vital, multi-faceted, and diverse as the American people.
The Wing's programs span the nation to invest in the growth and evolution of American Theatre. We provide theatre education opportunities for underserved students through the Andrew Lloyd Webber Initiative, develop the next generation of theatre professionals through the SpringboardNYC, Theatre Intern Network, and SwingSeats programs, incubate innovative theatre across the country through the National Theatre Company Grants, support emerging musical theatre songwriters through the Musical Theatre Songwriting Challenge (co-presented with the NEA) and the Jonathan Larson® Grants, and illuminate the creative process through the Emmy-nominated "Working in the Theatre" documentary series. In addition to founding the Tony Awards® which are co-presented with The Broadway League, the American Theatre Wing co-presents the Obie Awards®, Off Broadway's Highest Honor, with The Village Voice.
Visitors to AmericanTheatreWing.org can gain inspiration and insight into the artistic process through the Wing's extensive media collection, and learn more about its programming for students, aspiring and working professionals, and audiences. Follow the Wing on Twitter and Instagram @TheWing, and on Facebook.com/TheAmericanTheatreWing.
ABOUT THE VILLAGE VOICE
Founded in 1955 by a small group led by Norman Mailer, The Village Voice is the nation's first alternative newsweekly. The winner of three Pulitzers, it built a reputation for itself as an aggressive interrogator of 'the powers that be' as well as a reliable resource for finding and promoting cutting edge arts and culture. Over the years it has been a home to a wide range of writers and artists, including E.E. Cummings, Katherine Anne Porter, Ezra Pound and James Baldwin plus photographer Fred McDarrah, Sylvia Plachy, cartoonist Lynda Barry, investigative journalists Wayne Barrett and Tom Robbins, music writer Robert Christgau and film writer J. Hoberman among many others.
Today, The Voice maintains its iconic progressive brand with its digital platform, a true showcase of content ranging from cultural journalism, political commentary to high-impact imagery.
For more information, visit www.villagevoice.com
Photo Credit: Walter McBride / WM Photos