Click Here for More Articles on 2021 AWARDS SEASON
Drama Desk Awards Nominees- What It All Means for the 2017 Tony Awards!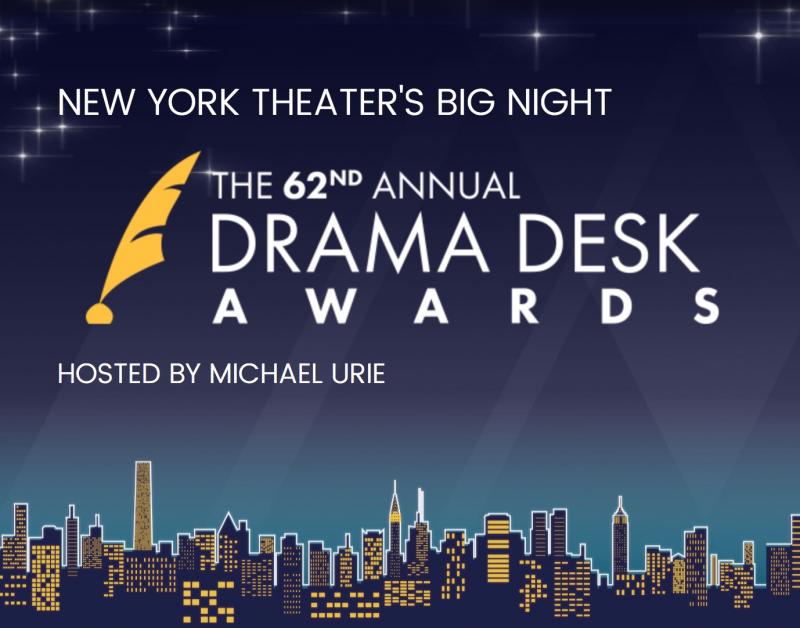 Earlier this morning, Laura Benanti (She Loves Me, Gypsy) and Javier Muñoz (Hamilton, In the Heights) announced the nominations for the 62nd Annual Drama Desk Awards.
What does today's news mean for the rest of awards season? Does love from the Drama Desk usually mean that a Tony nomination will follow?
Below, BroadwayWorld investigates how many Drama Desk nominees of the past were subsequently nominated for Tony Awards. Additionally, we calculated the percentage of eligible nominees (discounting off-Broadway nominees) who earned Tony nominations in the past ten years. Check out the chances that this year's Drama Desk nominees have at a Tony nod below!
Year
Eligible DD Nominees That
Earned Tony Nominations
Percentage
2016
50 of 71
70%
2015
48 of 69
70%
2014
60 of 83
72%
2013
50 of 75
67%
2012
46 of 74
62%
2011
52 of 75
69%
2010
51 of 85
60%
2009
52 of 89
58%
2008
49 of 83
59%
2007
55 of 86
64%
Click here for a full list of the 2017 nominees.
The 62nd Annual Drama Desk Awards, hosted by Michael Urie, will be held at The Town Hall (123 W. 43rd Street) on Sunday, June 4th.
The Drama Desk Awards, which are presented annually, honor outstanding achievement by professional theater artists on Broadway, Off-Broadway and Off-Off Broadway. What sets the Drama Desk Awards apart is that they are voted on and bestowed by theater critics, journalists, editors, publishers, and broadcasters covering theater. Tickets to the 62nd Annual Drama Desk Awards are available to the general public at www.dramadeskawards.com.
The Drama Desk was founded in 1949 to explore key issues in the theater and to bring together critics and writers in an organization to support the ongoing development of theater in New York. The organization began presenting its awards in 1955, and it is the only critics' organization to honor achievement in the theater with competition among Broadway, Off Broadway and Off-Off Broadway productions in the same categories.