Click Here for More Articles on Spoiler Alert! w/ @BWWMatt
BWW Interview: Marc Kudisch Talks BILLIONS, Changing Landscape of Theatre and Television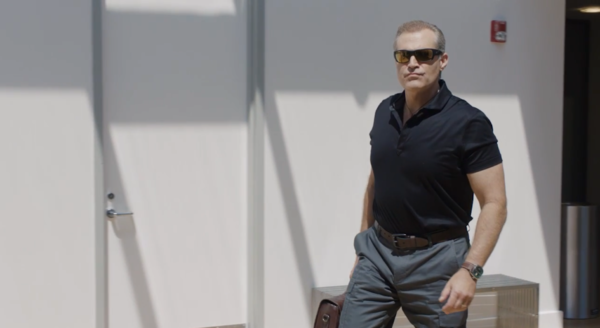 Anyone familiar with the career of three-time Tony-nominee Marc Kudisch knows two things about him; 1) he is one of the most talented stage actors of his generation, and 2) he is as passionate as he is talented.
Despite more than two decades of success on the New York stage, including 13 Broadway and seven Off-Broadway shows, countless readings, benefits, and concerts, and additional regional productions, the actor has been popping up on television much more frequently recently. Partly by choice, and partly because of the evolving landscapes of theatre and television, Kudisch has consciously made on-screen roles more a part of his plan in recent years. In fact, he begins an explosive Season 2 arc on Showtime's BILLIONS tonight as the new Axe Capital corporate therapist, Dr. Gus. BILLIONS airs on Sundays at 10p/9c.
Even before he appears on screen, the new character is being billed as an instant fan-favorite. A no-nonsense replacement for Maggie Siff's Dr. Wendy Rhoades, who left Axe in Season 1, Gus is the type of larger-than-life character that few actors get to sink their teeth into on a premium cable prestige drama.
"When I went in and auditioned for Gus, it's not in my opinion really typical of a lot of television right now," Kudisch said. "Gus is a big guy, he's a big character, he's a big personality, and more often than not, when you go into the (audition) room, particularly those of us that are stage actors, we're always having to focus it down, because we're used to being larger than life on a stage, but the medium, obviously is different."
Despite his inclination to pull back the reigns on the character for television, his instincts were telling him that for this particular role, bigger was better.
"It was fascinating, because I read the role, and I literally even said to my wife, 'I don't know how else to play this.' So, I sort of prepared two different ways to go with it when I went in and auditioned for those guys."
As theatre fans have learned in the past 24 years, when it comes to Marc Kudisch's artistic instincts, they are most often right. He said that after seeing his initial approach to the character, the BILLIONS writers and producers told him, "No, we wrote him to be big. He's bigger than life, man. That's exactly who he is."
So with the approval of the show's creators to play the character with as much bluster and swagger as he saw fit, Kudisch was able to craft a performance that is nothing short of unforgettable.
"It was sort of this great pleasure to play this character who is beyond unapologetic for, let's just say, invading people's private space," Kudisch said. "That's a part of who he is, but I think he's the opposite of Wendy. So, I serve my purpose on this season. It's a fun arc for the character to play. He pushes buttons."
While the medium is different, the fact that Gus doesn't apologize for things that he says falls very much in line with why Kudisch first fell in love with the theatre.
"The theatre is the last socially acceptable place for a community to have politically incorrect conversation, and it's why theatre was born, it's why it's still around," he said. Kudisch added that for the HAMILTON cast to address then-Vice President Elect Mike Pence from the stage was the most appropriate thing that they could have done, because theatre, even plays based on historical events, are truly about our present and our future. That is why, after his first success on screen in 1995, Kudisch purposely chose to focus his career on stage when offers to go west came pouring in.
"When I shot (BYE BYE) BIRDIE for ABC TV, God knows how many years ago, it was a big hit on television," he said of his role as the title character in the musical TV movie. "People forget, BYE BYE BIRDIE did really well. We were getting film offers from that, and everyone thought I was off to L.A., because that's where television and film was. The challenge in our business is that everybody thinks that that's where success lies; you got onto Broadway so that you can get into TV and film; it's just a stepping stone, because you don't really succeed until you do that, or that's the old mentality that existed at the time."
Despite those opportunities, Kudisch felt that not only was his passion on the stage, but his unique talents were also more suited for it as well.
"I wanted to be on stage, that's all I wanted to be was a stage actor," Kudisch said. "I was trained that way, I felt my skill was that way; I have a very particular energy. I love music theatre, it wasn't what I was trained in, but I had a passion for it, and I wanted to help develop it... Knock on wood as well, man. I had a long string of work. I was creating a lot of new roles in new shows."
Beginning in 1998, Kudisch originated roles in the Broadway musicals HIGH SOCIETY, THE WILD PARTY, THOROUGHLY MODERN MILLIE, CHITTY CHITTY BANG BANG, and 9 TO 5, mixed in with revivals of BELLS ARE RINGING, ASSASSINS (though it was technically the Broadway debut), and THE APPLE TREE.
In addition he created roles in numerous Off-Broadway shows, including musicals by Michael John LaChiusa (SEE WHAT I WANNA SEE) and Lynn Ahrens and Stephen Flaherty (THE GLORIOUS ONES). As diverse as these shows were, Kudisch says that as time went on, he got involved with projects that appealed to a certain aspect of his artistic nature.
"The specific kind of work that I was doing moved a little darker, and edgy, and weird," he said. "I mean, even in the lighter fare, like CHITTY CHITTY BANG BANG for example, that's weird stuff. And with Michael John, I just had these opportunities to explore unexplored territory in music theatre."
However, over time he's felt that the work that he loves to do has been slowly becoming less and less a part of the theatrical conversation, especially on Broadway.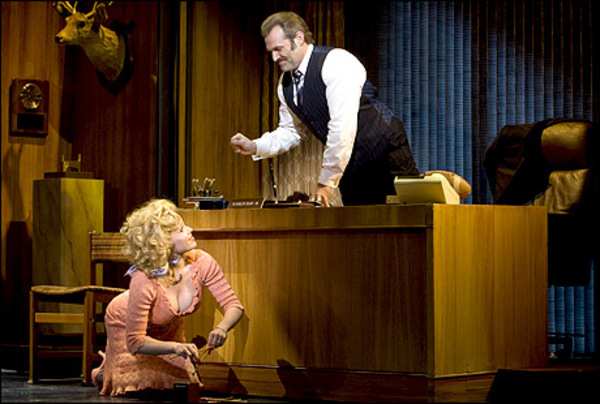 "We on Broadway, we walk around with blinders on," Kudisch said. "I'm sorry, I'm gonna say it, and it's gonna piss anybody off, but it's amazing to me how the New York, Broadway community that I love deeply, is sort of like a horse with blinders on when it comes to any other form of industry outside of what we do.
"Fortunately for me, a lot of television came to New York at a time when I felt like Broadway was a lot of B-movies that may or may not have been good ideas to bring to the stage. Then, television had this content that reminded me of the kind of stuff that I was doing on the stage when I first got here. Think about it, like KISS OF THE SPIDER WOMAN, would that ever be done today? Would it? I don't know."
Kudisch cites the evolving television landscape over the past decade-plus as to why he and other New York stage actors are appearing on TV more often. With cable networks becoming the drivers of the medium's best programming, they aren't encumbered by the traditional constructs of the network system and can begin to experiment with the form more than has ever been attempted. At around the same time, East Coast cities and states, like New York, Georgia, Baltimore, Pittsburgh, and North Carolina, began offering tax incentives for production companies to film there, meaning that New York actors became far cheaper to bring on board.
"I'm digging the television that's now available as an actor, and as a fan and a watcher of television. It's an exciting time in television for New York actors," he said. "So much is shot on the East Coast, because the locations are what people want. So, there's this huge pool of talent that's local, where they wouldn't be in L.A. Also, New York gave incentives, (and) I really think that it comes down to the bottom line.
"Literally, I was working in L.A. directing a show this summer with my wife Shannon Lewis choreographing (JOSEPH AND THE AMAZING TECHNICOLOR DREAMCOAT at Los Angeles' 3-D Theatricals, read BWW's rave review here), and literally all I could do was, 'Ok, I'm here, but I've got to make sure I have dates available to fly back to New York, because I've got to shoot on a television series.' And, come on, that's the most wonderful irony that you could possibly ask for. I was in L.A. directing a musical, and I was in New York shooting a series."
However, in addition to the availability and budgetary advantages of the new television environment, Kudisch was also drawn back to the medium because of the stories being told there that he wasn't finding as often on the stage.
"I never felt like I was (a network TV) kind of guy; I was not your half-hour sitcom guy, or even your procedural kind of guy," he said, "but the moment that Netflix and HBO and Showtime and Amazon, the moment that all of those outlets began to delve into, let's just say, interesting, complex television, it actually reminded me of the kind of work that I was doing Off-Broadway, or like with Michael John."
In fact, the content is not the only similarity that Kudisch sees between the evolving TV and theatre scenes.
"In some ways it mirrors what's going on in Broadway and New York theatre in general," he said. "What happened, in my opinion, there was the national network stuff, and that was king. We get used to a norm, we get used to a status quo, we always do, and it comes in cycles. Then we have Fox, and then cable comes in and opens up opportunities. They're smaller, they're still not going to compete with national networks, but what it does provide is a new kind of entertainment. "
Kudisch, who has been working more and more in new, original opera lately, says that the work being done on New York stages outside of Broadway is serving a similar purpose as the cable and streaming networks.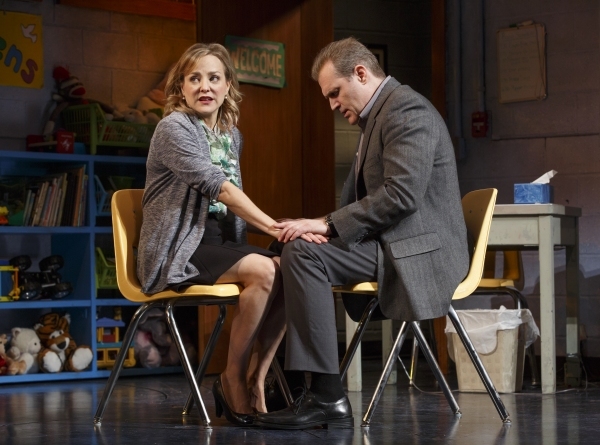 "It seems to me now that Off-Broadway is the real gestation place for some real quality theatre, and look at the big hits, DEAR EVAN HANSEN; HAMILTON; NATASHA, PIERRE (AND THE GREAT COMET OF 1812); these pieces, if they didn't have that gestation period in a different environment where they had a little bit of freedom to explore, they would have never come about the way that they did. That's what I mean when I say that I look at Off-Broadway now as the Netflix of the Broadway scene. It's this place where you can explore, and not killing a budget."
While he has been focusing on TV, Kudisch has also been involved with the development of the new Stephen Sondheim and David Ives musical BUNUEL at The Public Theatre. So while the type of work that he loves to do hasn't changed, the venue in which Kudisch has been finding it lately has. He said that over the past five years he has begun to explore television again because the medium has changed and opened up to his unique sensibilities.
In addition to BILLIONS, and a recurring role on Netflix's HOUSE OF CARDS, Kudisch recently shot a recurring role on David Fincher's MINDHUNTER, which will also be available on Netflix. Like Dr. Gus, Kudisch said that his MINDHUNTER character is really odd, and his inclusion in the show might be partially due to Fincher's fondness for HAND TO GOD, which he saw multiple times on Broadway.
MINDHUNTER stars fellow Tony-nominee Jonathan Groff, and while BILLIONS stars Damian Lewis and Paul Giamatti are known as screen actors, they both have long histories on the stage. Lewis is currently starring opposite Tony-winner Sophie Okonedo in Edward Albee's THE GOAT; OR WHO IS SYLVIA? in the West End, and Kudisch appeared with Giamatti in HAMLET at the Yale Rep in 2013. In addition, numerous stage actors appear on the Showtime series, including Kudisch's WAYSIDE MOTOR INN costar Kelly AuCoin, Tony-winner Ruben Santiago-Hudson, nominees Condola Rashad, Terry Kinney, Jeff DeMunn, Broadway writer and actor Eric Bogosian, CHINA DOLL star Christopher Denham, and more.
"In television there's great TV and then there's not great TV, just like there's great or not great anything," Kudisch said, "and the guys that created BILLIONS, Brian Koppelman, David Levien, and Andrew (Ross) Sorkin, these guys, they're great. They're smart, they're warm, they're inviting, they've created this amazing environment."
After speaking with Kudisch for over 45 minutes, it became clear that this type of environment that promotes creativity and intelligent storytelling is what drives the acclaimed actor, whether it is on stage or screen. Countless times in our conversation, he would get excited when delving deeper into a point, and it was exhilarating to see the passion that has made him one of the best performers that Broadway in recent memory.
"At the end of the day, here's the truth, at least for me," he said. "As I've gotten older, I thought I was going to mellow out, I really did, but I haven't. If anything, the fire's become more focused. I know why I'm in the business; I know why I'm an actor. I know what specifically drives me forward, and it's not fame, and it's not adulation, it's not applause, it's none of that crap; it's different for everyone, but the reason that I got into television was because I really felt that there was content, and a conversation that was happening there that used to happen on the stage that felt like it wasn't happening anymore, or at least not as focused a conversation.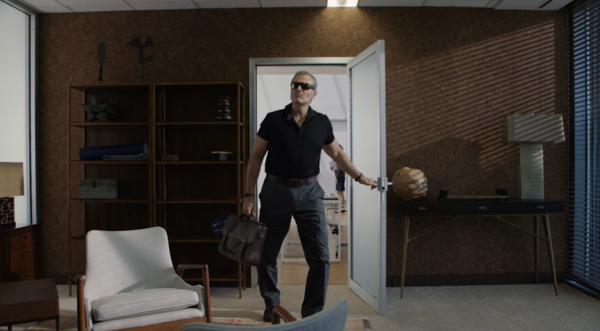 "There are people that sing better than me, there are people that act better than me, and there sure as hell are a lot of people that love doing it more than me. I just like a conversation. I like getting in front of an audience and talking about something, and having them talk back."
While he might not be finding the conversations that drive him as much on stage anymore, we are all fortunate that Kudisch is finding them somewhere.
"The great thing about BILLIONS, you've got to admit it, man, every show has tension, and every time you think a character succeeds, then the rug is pulled out from right underneath them," he said. "And you know what? I just love that shit."
---
Are you excited to have Kudisch back on your TV screen? Let me know on Twitter @BWWMatt. You can listen to me on BroadwayRadio or on BroadwayWorld's pop culture podcast Some Like it Pop.
Banner Image: Marc Kudisch. Photo Credit: Showtime
Related Articles
Matt is a Senior Editor and Administrator at BroadwayWorld, regularly writing about Broadway real estate, TV, and film. He is a proud graduate of The (read more...)