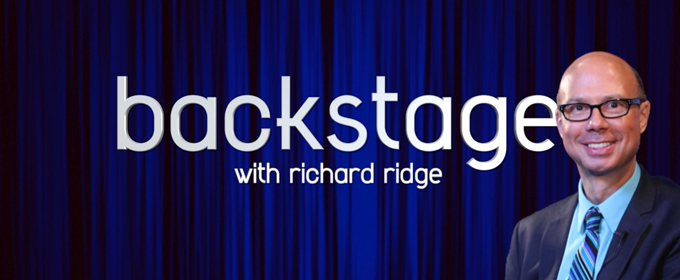 Click Here for More Articles on BACKSTAGE WITH RICHARD RIDGE
BWW Interview: Jonathan Groff on SPRING AWAKENING- 'It Was Like Every Dream I Had Come True'
Screen Actors Guild Foundation and Broadway World have partnered for filmed Conversations Q&A series to recognize and celebrate the vibrant theatre community in New York City and the union actors who aspire to have a career on the stage and screen. The most recent conversation featured Jonathan Groff, moderated by BroadwayWorld's Richard Ridge. As a part of the special event, Groff and Ridge spoke in depth about his his time in Spring Awakening. Read on below to find out what he had to say about the show that changed it all for him!
Check out the full interview here!
---
Let's talk about the role that changed everything for you which was Melchior in the musical Spring Awakening...
I didn't really know what it was until I left the show and actually went to see it. It was really educational to see the show after I was in it and to be like, "Oh my god, it's like a beautiful piece of art." We were just doing our jobs. It was maybe good that we didn't see it before we were in it. But it was also like a mysterious piece. I think even along the way, they had a hard time getting it produced. For years it was in development because you say it's like classical text, rock music, and sex with teenagers, and producers aren't like, "Great let's do that." It's a very complex, poetic piece of theater. It's not on the page a commercial hit.
Looking back, what did that show and that role mean to you?
Everything. On a sort of superficial level, it was like every dream I had come true. Moving to New York... I wanted to be in a Broadway show... I wanted to work with Michael Mayer because I'd seen Thoroughly Modern Millie six times. So in a sort of superficial way it checked the boxes. I think ultimately it was the acting training that I never had. For me, there's nothing more valuable as an actor, or better way to learn, than getting to perform in front of a live audience, no matter where you are. Whether it's on Broadway, in Florida, or doing a tour.
We all left transformed actors. We started as kids. I felt like I was going to get fired every day, truly in the workshop. And five kids did get fired between the workshop and the off-Broadway run. We were just nervous to keep our jobs. And we went from kids to collaborators. We started investing in the piece and having a point of view. We grew up. We became adults. We became artists. We sort of refined our voices in a way that we didn't know how to in the beginning. It was just the most incredible training experience anyone could ever ask for.
---
Equally versatile on stage and screen, Jonathan Groff can currently be seen as King George in The Public Theater's acclaimed world premiere musical production of Hamilton, with book, music, and lyrics by Lin-Manuel Miranda. In June, Groff will star in the Encores! Off-Center production of William Finn's A New Brain at New York City Center. Jonathan Groffcan also currently be seen as Patrick in the second season of the hit HBO television series, "Looking." Created by Michael Lannan and directed and executive produced by Andrew Haigh, "Looking" follows the lives of three gay friends as they navigate life in modern-day San Francisco.
Theater credits include: Melchior Gabor in the Tony Award-winning musical, Spring Awakening (Theatre World Award, in addition to Tony, Drama Desk, and Drama League Award nominations), famed role of Claude in The Public Theater's heralded revival of Hair, which ran as part of The Public Theater's "Shakespeare in the Park" series at the Delacorte Theatre.He was the recipient of an Obie Award for Outstanding Performance - Prayer for My Enemy, directed by Bartlett Sher, at Playrwights Horizons, and The Singing Forest, co-starring Olympia Dukakis, at the Public Theatre. West End debut in the heralded revival of Ira Levin's Deathtrap. Most recently, Jonathan joined Alfred Molina in the Donmar Warehouse production of the Tony Award-winning Best Play, Red at the Mark Taper Forum in Los Angeles.
Related Articles