Hamilton - Broadway Tickets, News, Info & More
The groundbreaking musical sensation, Hamilton springs from the mind of Emmy, Tony, and Grammy Award winner Lin-Manuel Miranda and tells the unlikely story of the ten-dollar founding father, Alexander Hamilton who was young, scrappy, and hungry and ready to mark his mark on this new nation.
From bastard orphan to George Washington's right hand man, rebel to war hero, loving husband caught in the country's first sex scandal to the Treasury secretary who made an untrusting world believe in the American economy, Hamilton is an exploration of a political mastermind. This revolutionary tale of America's fiery founding is told through the sounds of the what this nation has become. Directed by Thomas Kail and choreographed by Andy Blankenbuehler, this new musical about taking your shot will turn your world upside down.
Video preview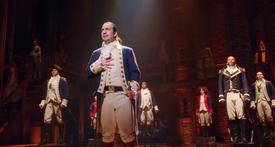 Photo preview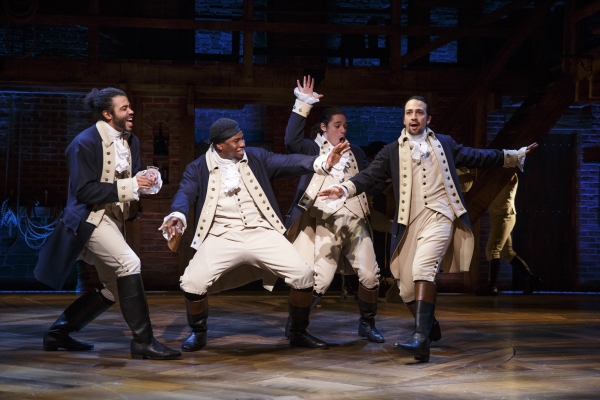 Schedule
Running Time:
Two hours and 30 minutes, with one intermission
Tuesdays: 7:00pm
Wednesdays: 2:00pm and 8:00pm
Thursdays: 7:00pm
Fridays: 8:00pm
Saturdays: 2:00pm and 8:00pm
Sundays: 3:00pm
About the Theatre
(New York, NY)
226 W. 46th St.
Seating Chart
Featured Reviews For Hamilton
Our theater critic comes around to the smash hit 'Hamilton' - amNY
I must confess that I gave one of the less enthusiastic reviews of "Hamilton" back in February, finding the plot to be too dense (it is, after all, a biography) and the hip-hop sound to be monotonous. On second viewing, I was determined to accept the show on its own terms, and I ended up being absolutely entranced by Miranda's inventive writing, Thomas Kail's masterful direction and Andy Blankenbuehler's nonstop movement. I may be the last critic to join the "Hamilton" fan club, but better late than never. Miranda tackles Hamilton's life, as well as the chaos and culture of the Revolutionary War and early years of the Republic, with genuine historical analysis, humor, tenderness and an eye for contemporary relevance.
'Hamilton': Theater Review - Hollywood Reporter
The almost entirely sung-through show is remarkably faithful to the historical facts, packing immense amounts of detail into its sprawling narrative. But it does so in such riotously entertaining fashion that it never feels like a history lesson, although it surely delivers one...Largely unaltered from its original production save for one important cast change, the lyrically dense show makes an even greater impact on the large Broadway stage, which provides ample room for its large ensemble. The performers have only gotten better, with Miranda in the title role...delivering a commanding star turn that is as charismatic as it is emotionally affecting. But there's also terrific work from Leslie Odom, Jr. as the scheming Burr, stopping the show with the rousing number "The Room Where It Happens"...The musical is a triumph...More to the point, it signals its immensely talented creator and star as a game-changing figure in musical theater.
Buy at the Theatre Shop
T-Shirts, Mugs, Phone Cases & More