Hamilton - Broadway
The groundbreaking musical sensation, Hamilton springs from the mind of Emmy, Tony, and Grammy Award winner Lin-Manuel Miranda and tells the unlikely story of the ten-dollar founding father, Alexander Hamilton who was young, scrappy, and hungry and ready to mark his mark on this new nation.
From bastard orphan to George Washington's right hand man, rebel to war hero, loving husband caught in the country's first sex scandal to the Treasury secretary who made an untrusting world believe in the American economy, Hamilton is an exploration of a political mastermind. This revolutionary tale of America's fiery founding is told through the sounds of the what this nation has become. Directed by Thomas Kail and choreographed by Andy Blankenbuehler, this new musical about taking your shot will turn your world upside down.
Video preview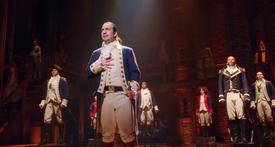 Photo preview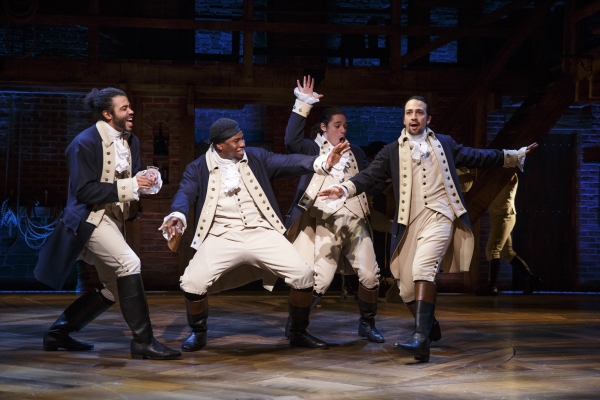 Schedule
Running Time: Two hours and 30 minutes, with one intermission
Tuesdays: 7:00pm
Wednesdays: 2:00pm and 8:00pm
Thursdays: 7:00pm
Fridays: 8:00pm
Saturdays: 2:00pm and 8:00pm
Sundays: 3:00pm
(New York, NY)
226 W. 46th St.
Seating Chart
Featured Reviews For Hamilton
Broadway Review: 'Hamilton' - Variety
The wonderful dancing chorus seems to have more room to perform its leaps and bounds, and the individual characters have always been larger than life in the first place. In fact, Leslie Odom Jr. seems even more invested in the difficult character of Aaron Burr, really sinking his teeth into the frustration and yearning that this troubled character reveals...Like any true landmark, "Hamilton" stands up to repeated viewings. After six months, the show's initial impact hasn't dulled a bit; in fact, the qualities that made it so extraordinary the first time around are all the more striking...That rapper style, with its interlocking interior rhymes and pounding cadences, perfectly captures Hamilton's feverish intelligence and hyperarticulate manner. But instead of keeping to a single uniform musical style (hip-hop or otherwise), as traditional shows often have, Miranda continues to draw from all available styles and musical sources, from nursery lullaby to rock 'n' roll and operetta, in order to capture the soul of a character and the spirit of the moment. If this sort of thing catches on, the old, reliable Broadway showtune may be a thing of the past.
'Hamilton' isn't quite revolutionary - NY Post
But then, there's a lot of love for this energetic telling of the story of Alexander Hamilton...Thomas Kail's direction and Andy Blankenbuehler's choreography is inventive and kinetic, suggesting the story is always in motion on the bilevel wooden set. But "revolutionary" the show is not. Truly radical art is divisive, and under its brash exterior, "Hamilton" is warmly reassuring -- a love letter to a land of opportunity... "Hamilton" shines brightest when it gets into the characters' heads and hearts, especially concerning our hero's personal life -- though those are the scenes in which Miranda's limitations as an actor are obvious. Less effective is the history-with-a-capital-H stuff. Turning political debate into a rap battle is clever, but overall, Hamilton's big-picture importance is diluted...Well, America turned out to have a long, successful run. So, no doubt, will "Hamilton."