Hamilton - Broadway
The groundbreaking musical sensation, Hamilton springs from the mind of Emmy, Tony, and Grammy Award winner Lin-Manuel Miranda and tells the unlikely story of the ten-dollar founding father, Alexander Hamilton who was young, scrappy, and hungry and ready to mark his mark on this new nation.
From bastard orphan to George Washington's right hand man, rebel to war hero, loving husband caught in the country's first sex scandal to the Treasury secretary who made an untrusting world believe in the American economy, Hamilton is an exploration of a political mastermind. This revolutionary tale of America's fiery founding is told through the sounds of the what this nation has become. Directed by Thomas Kail and choreographed by Andy Blankenbuehler, this new musical about taking your shot will turn your world upside down.
Video preview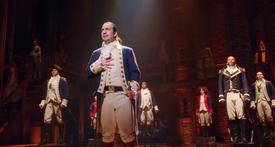 Photo preview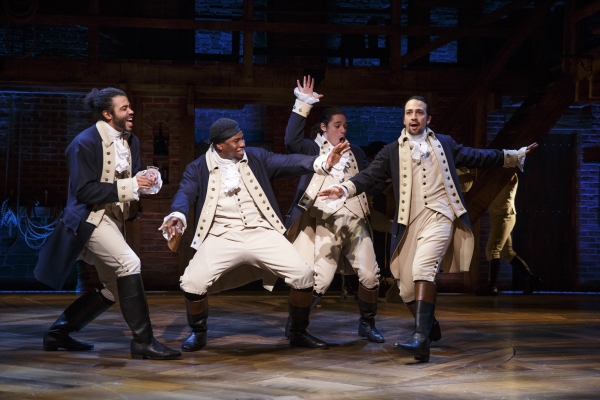 Schedule
Running Time: Two hours and 30 minutes, with one intermission
Tuesdays: 7:00pm
Wednesdays: 2:00pm and 8:00pm
Thursdays: 7:00pm
Fridays: 8:00pm
Saturdays: 2:00pm and 8:00pm
Sundays: 3:00pm
(New York, NY)
226 W. 46th St.
Seating Chart
Featured Reviews For Hamilton
Theater Review: Is Hamilton Even Better Than It Was? - Vulture
A second look...suggests that something even more significant is going on. The breakthrough isn't so much the incorporation of those contemporary genres; after all, Miranda already did that, throwing in Latin music to boot, in the charming In the Heights. But Hamilton not only incorporates newish-to-Broadway song forms; it requires and advances them, in the process opening up new territory for exploitation. It's the musical theater, not just American history, that gets refurbished. And perhaps popular music, too...I noticed only a few textual changes since it opened downtown, all smart. The role of the villain, Aaron Burr, has been carefully streamlined...The paradoxical result is that Leslie Odom Jr.'s already excellent performance is even more thrilling...I still wonder, too, if the manic staging by director Thomas Kail and choreographer Andy Blankenbuehler, fun as it is, may sometimes get in the way of the action instead of enhancing it.
'Hamilton' review: Musical of founding father Alexander Hamilton soars on Broadway - NY Daily News
With "Hamilton," Broadway is officially the coolest place on the planet. And the smartest. And most exhilarating...It's even richer and more eloquent since its run earlier this year at the Public Theater...Hip hop is one flavor of the score. It's as if the speechmaking Founding Fathers are in the next room. And it's a deft way to depict the often-fractious relationships between these competitive 18th-century power players...But to call this a "hip hop musical" is simplistic: rhythm and blues, jazz and Broadway are also part of a work that nods to Rodgers and Hammerstein, Gilbert and Sullivan and beyond. Since the Off-Broadway run, performances have all deepened, including Miranda's. He better conveys Hamilton's cockiness, contrition and all-too-human flaws. The charismatic Daveed Diggs aces his roles and lends laughs as Thomas Jefferson and the French general Lafayette. Jonathan Groff (HBO's "Looking") is the picture of pouty petulance as King George III, who appears now and again to warble a Brit-pop tune of vengeance, venom and venality...The breathtaking Renee Elise Goldsberry brings grit and grace as the indomitable Angelica, Hamilton's confidante. As Eliza, the lovely Phillipa Soo captivates with her pure, sweet singing as Hamilton's devoted-despite-everything wife...If only every history lesson -- and Broadway musical -- dazzled so completely.