Photo Flash: Inside Rehearsal For PINTER FIVE
Marking the 10th anniversary of the revered playwright's death, Pinter at the Pinter features all Pinter's short plays, alongside a selection of his poems and sketches.
The season is presented by The Jamie Lloyd Company, ATG Productions, Ben Lowy Productions, Gavin Kalin Productions and Glass Half Full Productions.
Pinter at the Pinter is an unparalleled event featuring the short plays written by the greatest British playwright of the 20th Century, in the theatre that bears his name. They have never been performed together in a season of this kind. Each play runs for a limited number of performances.
The season will be presented in repertoire by a world-class cast, many of whom were Harold Pinter's friends and frequent collaborators. The cast includes Keith Allen, Jessica Barden, Brid Brennan, Ron Cook, Phil Davis, Janie Dee, Danny Dyer, Tom Edden, Paapa Essiedu, Lee Evans, Abbie Finn, Martin Freeman, Robert Glenister, Rupert Graves, Tamsin Greig, Isis Hainsworth, John Heffernan, Jane Horrocks, Celia Imrie, Gary Kemp, Katherine Kinglsey, Colin McFarlane, John MacMillan, Eleanor Matsura, Emma Naomi, Tracy-Ann Oberman, Kate O'Flynn, Jonjo O'Neill, Peter Polycarpou, Abraham Popoola, Antony Sher, John Simm, Hayley Squires, Maggie Steed, David Suchet, Meera Syal, Luke Thallon, Russell Tovey, Dwane Walcott, Al Weaver, Penelope Wilton and Nicholas Woodeson.
Direction is by Jamie Lloyd, Patrick Marber, Lyndsey Turner, Ed Stambollouian and Lia Williams, with season design by Soutra Gilmour, lighting by Jon Clark, Elliot Griggs and Richard Howell, and sound and music by George Dennis and Ben & Max Ringham.
Pinter Five season runs 13 December - 26 January.
Harold Pinter's first play, The Room, features in a triple-bill directed by Pinter's colleague and friend, Patrick Marber.
An all-too-familiar and frighteningly topical brand of English xenophobia runs through this darkly funny and unexpectedly odd play from 1957. In the hilarious Victoria Station and the reflective Family Voices, isolated voices attempt to communicate, but can we ever truly express the depths of our feeling?
Cast includes Rupert Graves, Jane Horrocks, Colin McFarlane, Emma Naomi, Luke Thallon and Nicholas Woodeson.
Check out photos from rehearsal below!
Photo Credit: Marc Brenner

Colin McFarlane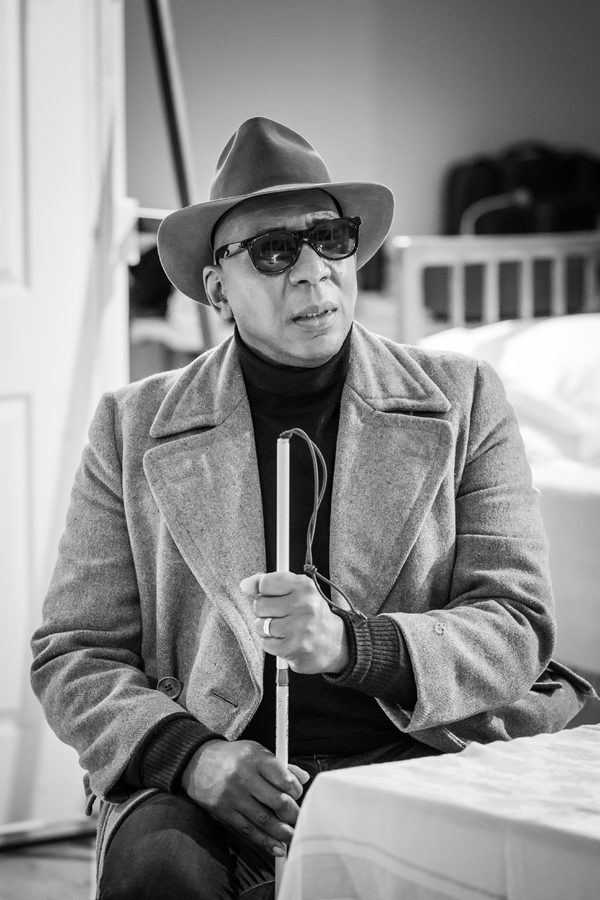 Colin McFarlane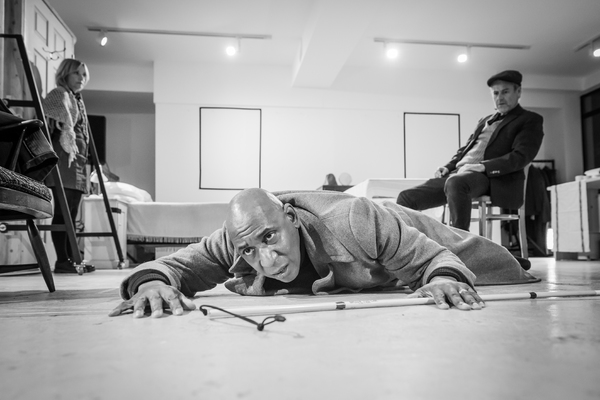 Jane Horrocks, COlin McFarlane, and Rubert Graves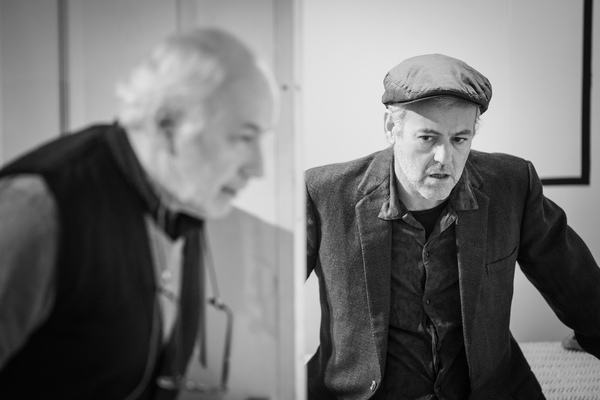 Nicholas Woodeson and Rupert Graves