BWW Review: THE LAST 5 YEARS at TeaterStudio Lederman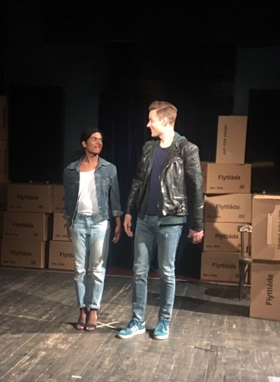 The Last 5 Years opened the 8th of April at the TeaterStudio Lederman. I neither seen The Last 5 Years before and nor had I been to the TeaterStudio Lederman before and I was charmed both by the musical and the theatre. The Last 5 Years is produced by Robin Karlsson Production.
TeaterStudio Lederman is a small theatre which you enter from an anonymous door, a red painted steep stair down to the basement and there you enter into a warm and cosy foaje and a small bar where you can have a drink before and after the play. There is probably around 100 seats so it is intimate and cosy and you get close contact with the actors from all seats.
The Last Five Years is written by Jason Robert Brown and was premiered in 2001 in Chicago. Then it has been played Off-Broadway and around the world. The Opera in Gothenburg played it in 2010 and it was on a small tour, but it is the first time it is on stage in Stockholm
It is a musical about the relation ship between the struggling actress Cathy Hiat and the author Jamie Wellerstein. We see the relationship from their eyes and angles and Jamie tells it from start to end and Cahty from the end till the start separately and they only meet on stage in middle of the story when Jamie ask Cathy to marry him and they get married.
The story starts with Cathy in their apartment full of moving boxes after Jamie has left her. We are then transferred 5 years back as Jamie enters the stage and uses Tinder to find a girl and after a number of swiping, Cathy's picture comes up on his mobile and there she is, his dream girl. The story then goes back and forth between Cathy and Jamie. It's a very good and smart way of describing their relationship and how Jamie becomes famous overnight when his first book is published, but Cathy goes to audition after audition but no luck except some small parts. One of my favorite scenes is when she's is at audition and during her audition, instead of hearing her sing, we hear what she is thinking about the audition and her relationship with Jamie. The relationship between Jamie and Cathy is not equal, which becomes very clear during a release party for one of Jamie's books where Cathy is the classic add-on to the famous man. The woman behind, who wants more both of her own life and the relationship. But Jamie is smitten by his own success and the life style which comes with fame if you want to.
I really like how the story is set up and I also enjoy the music and the Swedish lyrics by Linnea Sjunnesson and Fredrik Fischer. The lyrics move the story forward and reflect the different moods of Cathy and Jamie in a very good way.
Cahty is played by Cilla Silvia . Cilla has played in several musicals both in Sweden and in England. For example in Sweeney Todd, West Side Story and The Three Musketeers at Stockholms City Theatre, We Will Rock You at Circus and A Midsummer Dream in England.
Jamie is played by Emil Nyström Emil has been in various musicals like Mamma Mia at Circus and Jersey Boys at the China Theater.
Cilla and Emil have good musical voices and can tell a story. They convey very well the various emotional modes they are in and engage and touch the audience. You really want to know both side of the stories of their relationship.
The orchestra of six people is under direction of Johan Mörk. The scenography of Maja Stopp is simple mainly with a large number of moving boxes, but as the story and music is so strong there's no need for a lot of scenography.
The Last Five Years runs until April 22th and I highly recommend it.
Tickets are on sale at:
https://kulturbiljetter.se/evenemang/3257/the-last-five-years/
Related Articles View More Sweden

Stories

Shows