Annette Stolt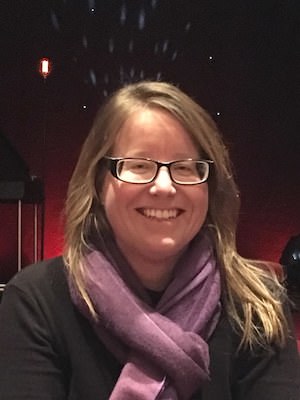 Annette Stolt is from Stockholm Sweden and works as a CFO at an organization to distribute remuneration for copyrights to screenwriters, singers, musicians, composers, actors, writers, directors and photographers for their work broadcasted on TV. She loves musicals, plays and concerts and see as much as she can in Stockholm and throughout Sweden. At least a couple of times a year she travels to London to get updated on West End shows. She thinks that even if you do not know the language in a country you visit you can always enjoy a musical and for example seen Mamma Mia in Japanese in Tokyo. She has been writing for BWW since 2017 and enjoys sharing with the readers what is going on at the stages in Sweden as well as what happens to great Swedish musical artists. 
Review: PIPPI AT CIRKUS at Cirkus

July 13, 2022

Full of joy, energetic when Pippi returns to the stage in a magical combination of musical and circus keeping the core essence of Astrid Lindgrens character.
---
Photos: World Opening Of PIPPI AT CIRCUS Red Carpet at Cirkus

July 13, 2022

It was a beautiful summer day when Pippi at Circus finally opened at the Cirkus arena. The red carpet was full of swedish stars of course with Björn Ulvaeus who is the exectuive producer and witten the songtexts to the musical. He attended the show with his new partner Christina SAS. Check out the photos.
---
NEW MUSIC TO PIPPI LONGSTOCKING AT CIRCUS MUSIKAL at Cirkus

June 19, 2022

The newly written music to the musical Pippi at Circus has now been released at Spotify
---
BWW Feature: PIPPI AT CIRKUS Comes To Cirkus

May 18, 2022

Pippi at Cirkus to open the 1st of July in Stockholm. Cirkus and musical combined with new music from Björn Ulvaeus and Benny Andersson.
---
WICKED To Open at The Opera In Gothenburg

April 28, 2022

Wicked to open in Gothenburg and for the first time with full orchestra. Larger than Broadway and West End.
---
BODYGUARD THE MUSICAL at China Teatern

March 11, 2022

For the first time in Sweden - Bodyguard the musical!
---
BWW Review: 70-Year-Old Tomas Ledin Celebrates 50 Years as an Artist at the Avicii Arena

February 27, 2022

A 70-year old birthday party for Tomas Ledin, who also celebrates 50 years as an artist, is an appropriate celebration to mark the first big concert since Covid restrictions have been lifted. During his long life as an artist, he has toured with ABBA and recorded Never Again with Agneta Fältskog. In 2019, his songs were made into a musical movie with Malin Åkerman in the lead role as Isabella.
---
BWW Review: BOARDERS/GRÄNSER at Playhouse Teater

February 27, 2022

Boarders opened the 26th of February at Playhouse Teater in Stockholm.
---
BWW Review: BE MORE CHILL at Bristol

February 20, 2022

This is the first musical I have seen after all the pandemic restrictions have been lifted, and the title, Be More Chill, feels very appropriate. At last we can relax and start enjoying life and performing arts again. The team behind this set has worked for 1.5 years to be able to invite the audience to the show's Nordic premiere.
---
MIN VÄN FASCISTEN/MY FRIEND THE FASCIST THE MUSICAL Comes to the Playhouse Teater

January 14, 2022

It swings, the schnapps flows and the laughter rings. Through couplet, reagge, rock and bossa, the ensemble plays and sings through this breathtaking musical theater comedy.
---
BWW Review: MIN VÄN FASCISTEN/MY FRIEND THE FASCIST THE MUSICAL at Playhouse Teater

January 1, 2022

A musical which makes you concerned, worried and makes you laugh at the same time
---
AUDITION BODYGUARD THE MUSICAL at China Teatern

December 21, 2021

Bodyguard the musical will open at China teatern in Stockholm autumn 2022 and are looking for professional dancers
---
BWW Review: RONJA RÖVARDOTTER/RONJA THE ROBBERS DAUGHTER at Intiman

December 19, 2021

See the magical story of Ronja the robbers daughter on stage this Christmas!
---
BWW Review: DEN BÄSTA PJÄSEN SOM NÅGONSIN SKRIVITS at Playhouse Teater

December 2, 2021

The audience is met by a large pile of shoe boxes on the stage that will be used to build a city, places that are important to the people it is told about and above all the houses on Preston Street where they live. Simple, effective and with some surprising effects.
---
PETER JÖBACK ON SUMMER TOUR at Summer Tour 2022

November 28, 2021

With the tour '50 years on earth, 40 years in the service of music' Peter Jöback celebrates double anniversaries and invites the Swedish people to celebrate their careers.
---
BWW Review: SATURDAY NIGHT FEVER at China Teatern

November 28, 2021

A show full of great disco which will give you energy and entertain you
---
BWW Review: LIFE SUCKS/LIVET SUGER at Playhouse Teater

October 21, 2021

Lots of laughter on the opening night of Life Sucks by Aaron Posner, perfectly played at Playhouse Teater in Stockholm, Sweden
---
BWW Review: RAIN MAN at Oscarsteatern

October 9, 2021

Great success on the opening night of Rain Man in Stockholm
---
BWW Previews: FOREVER PIAF at Göta Lejon

October 3, 2021

New musical based on the life of Edith Piaf
---
BWW Review: CABARET at Dramaten

October 3, 2021

Don't miss this version of Cabaret which runs at Dramaten in Stockholm
---