La nueva producción de GREASE llegará a Barcelona a finales de año
La versión de David Serrano para SOM Produce aterrizará en el Tívoli durante 8 únicas semanas.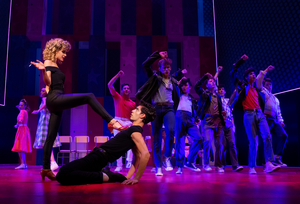 El próximo 2 de diciembre el Tívoli de Barcelona acogerá la nueva gran producción de GREASE que SOM Produce ha puesto en pie con motivo del 50 aniversario del musical, en una temporada muy limitada. Esta versión cuenta con dirección y adaptación de David Serrano, después de triunfar en Madrid esta temporada. Las entradas ya están a la venta.
La dirección musical de esta producción es de Joan Miquel Pérez, coreografías de Toni Espinosa, escenografía de Ricardo Sánchez Cuerda, luces de Juanjo Llorens, sonido de Gastón Briski y vestuario de Ana Llena.
La productora que cuenta ya en su haber con títulos como WEST SIDE STORY, PRISCILLA o BILLY ELLIOT, que recientemente visitó la Ciudad Condal, y que la temporada que viene estrena en Madrid MATILDA y una nueva versión de MAMMA MÍA!, tomará el testigo de Londres donde GREASE se representará hasta octubre de este año.
Esta producción que viaja a Barcelona se estrenó el 2 de octubre de 2021 en el Nuevo Teatro Alcalá de Madrid y es la primera en España que los protagonistas tienen las edades reales de los personajes. El elenco lo han encabezado Mia Lardner en el papel de Sandy Olsson, Quique González como Danny Zuko, Jan Buxaderas como Kenickie e Isabel Pera Nebrera como Rizzo.
El musical de Jim Jacobs y Warren Casey sigue siendo un fenómeno y actualmente ha dado pie a dos proyectos paralelos sobre GREASE: "Rise of the Pink Ladies", que será uno de los primeros estrenos de la plataforma de streaming Paramount+; y por otro prepara una precuela de la película que se llamará "Summer Loving" (un proyecto para el que ficharon a John August, guionista de "Big Fish" y la reciente "Aladdin"), que abordará el verano de romance que vivieron los protagonistas y cuya ruptura fue el punto de partida del musical original.