Meteor Shower - 2017 - Broadway
Get ready for the unexpected when Norm and his wife Corky invite another couple to their Ojai backyard to watch a meteor shower in the night sky. As the stars come out and the conversation gets rolling, cocktails flow, tempers flare, and sparks fly-literally. Steve Martin's surprising new comedy takes an offbeat and absurdist look at the comic anxiety lurking just beneath the surface of modern marriage.
Video preview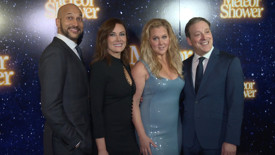 Photo preview
Schedule
Running Time: One hour and 30 minutes
Featured Reviews For Meteor Shower
Meteor Shower review – patchy laughter in Amy Schumer's Broadway debut - Guardian
Steve Martin's lump of sight gags, one-liners and situation comedy streaks toward Broadway. A couple v couple amusement first written in the 1990s, it pits a dull, normal pair (Amy Schumer and Jeremy Shamos) against a more devious duo (Keegan-Michael Key and Laura Benanti). Norm and Corky, owners of a tony pad in Ojai, have invited Gerald and Laura over for wine, crab dip and astronomy. Sparks fly. So do asteroids. So do some of the jokes.
Meteor Shower - TimeOut NY
Schumer, in a confident stage debut, is very funny as our conventional but malleable heroine (who claims to suffer from "exploding head syndrome"), and nobody does nice-guy-finally-losing-it quite like Shamos; while Key sometimes seems a bit trapped in Gerald's booming swagger, the marvelous Benanti is hilarious throughout as his lusciously vague, mercurial companion. Yet despite a somewhat strained attempt to explain itself at the end, Meteor Shower never quite coalesces into a convincing whole. Its entertaining moments blaze, then disappear into an empty sky.
Meteor Shower Broadway Cast