Meteor Shower - 2017 - Broadway
Get ready for the unexpected when Norm and his wife Corky invite another couple to their Ojai backyard to watch a meteor shower in the night sky. As the stars come out and the conversation gets rolling, cocktails flow, tempers flare, and sparks fly-literally. Steve Martin's surprising new comedy takes an offbeat and absurdist look at the comic anxiety lurking just beneath the surface of modern marriage.
Video preview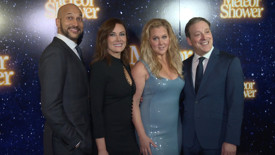 Photo preview
Schedule
Running Time: One hour and 30 minutes
Featured Reviews For Meteor Shower
Inside Amy Schumer's Broadway Debut: Review of Steve Martin's 'Meteor Shower' - Daily Beast
The play is a brisk, intermission-less 80 minutes, and its problem is that every character, if not unsavory, is not that likable. Do they feel imperiled? Not really. Do we care about their relationship faultiness? No. Both couples are playing games, and both know they are playing games, and we are in on the games.
BWW Review: Steve Martin's Hilarious METEOR SHOWER is Undiluted Surrealist Vaudeville - BroadwayWorld
In Steve Martin's good old fashioned, slam bang Broadway comedy, Meteor Shower, married couple Corky and Norm work hard on communication. Whenever one says or does something that hurts or offends the other, they immediately take a time out to hold hands, look at each other eye-to-eye, and recite their words of healing.
Meteor Shower Broadway Cast