Click Here for More Articles on Broadway by Design
Broadway By Design: Beowulf Boritt and Natasha Katz Bring METEOR SHOWER from Page to Stage
Who is Annie without her red dress? Or Eva with out her balcony? It is the charge of the Broadway designer to transport the audience into the world of a show, whether it be Great Depression-era New York City or outside of the Casa Rosada.
In Broadway by Design, BroadwayWorld is shining a spotlight on the stellar designs of this Broadway season, show by show. Today, we continue the series with Beowulf Boritt and Natasha Katz, who acted as scenic and lighting designers for Broadway's newest comedy, Meteor Shower.
---
It's a hot night in Ojai, California, and Corky and her husband Norm are having another couple over. Laura and Gerald, though, aren't looking for a casual evening of polite small talk with new friends. Eventually, the two couples find themselves in a marital free-fall matched in velocity and peril only by the smoldering space rocks tearing through the sky.
Boritt's design process began with a line from the script. "They say the home could have been in architectural digest. The play is set in 1993, so I got my hands on every architectural digest from 1993 and looked for homes that felt attractive by 2017 standards," he explains. "Doing a show set 25 years ago is tricky because most of the styles feel dated, but not classic yet- so there's a danger of what was high style in '93 looking like secondhand cheap housing furniture now!"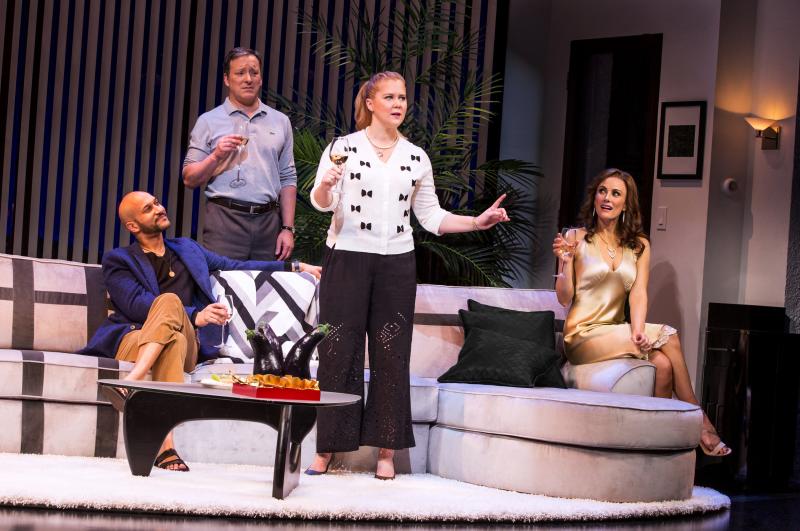 "The biggest challenge was the sky. Jerry Zaks said, 'I want a starry sky, but not your run of the mill star drop.' After a bit of thought I remembered an installation I'd seen a few years ago by Stanley Landsman (Infinity Walk -in Chamber, 1968) at the Milwaukee Art Museum (see below) and I proposed making a giant infinity box on stage. That means we had a giant wall of mirror upstage with hundreds of fiber optic points mounted on the front of it. Then, we hung an second giant two-way mirror a few feet downstage of that. Because the fiber optic points are between two mirrors they are reflected back and forth infinitely between the mirrors creating the illusion of a much deeper sky that we'd have otherwise."
"It was in intense collaboration between myself, Natasha, and Bill Mensching who owns our scene shop Showmotion and built the set. In the end we have a gigantic infinity box onstage that is 25 feet tall and 50 feet wide. I'm sure someone has done this before somewhere, but I hadn't seen it onstage, at this scale before."
"It took intricate technology to achieve the effect and it was thrilling to see the depth that the wall of stars created. It is like nothing I have ever seen before in the theatre. It was very satisfying and very exciting," says Katz.
Katz found her biggest challenge in representing the meteors themselves. "[We wanted to] represent the meteors in both a realistic and theatrical manner since they symbolized so many powerful thoughts and feelings and were used so often."
"The play has many serious and hilarious emotional layers to it," explains Katz. "As absurd as the play appears to be there is a deep logic underneath about the many different sides we all have in our personalities, especially the sides that we repress. The lighting lurches between a bright, almost operation type lighting so that all the flaws, insights, layers and human frailty can't be hidden to transitions between these emotions shown through both the movement in the lighting, The Shadows (representing our many hidden sides) and the symbolic meteors that run through the thread of the show."
Want more Broadway By Design? CLICK HERE.
---
Meteor Shower opened on Wednesday, November 29 at the Booth Theatre (222 West 45th St.). Meteor Shower stars Emmy Award winners Amy Schumer and Keegan-Michael Key, both in their Broadway debut, Tony Award winner Laura Benanti, Tony Award nominee Jeremy Shamos, and is Directed by four-time Tony Award winner Jerry Zaks.
Meteor Shower had its world premiere at San Diego's Old Globe Theatre, and had a subsequent production at the Long Wharf Theatre in New Haven, CT.
Related Articles
Originally from Pittsburgh, Pennsylvania, Nicole began writing for BroadwayWorld in 2010. She currently resides in New York City, where she gets to enjoy far more (read more...)