Flu Strikes METEOR SHOWER on Broadway; Sunday Matinee Cancelled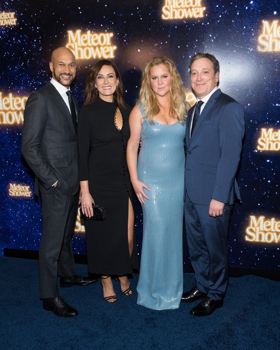 The unusually frigid winter now hitting New York City has made its way to Broadway, as stars of Steve Martin's new comedy Meteor Shower have been struck by winter weather illnesses, resulting in the cancellation of this afternoon's performance.
Both the show's leading ladies Amy Schumer and Laura Benanti are currently home sick. In a statement, producer Joey Parnes said, "We're really sorry for the disappointment and inconvenience today's audience will experience, and we look forward to welcoming back Amy and Laura next week."
The show will resume regular performances as scheduled, Tuesday, January 9. Ticket buyers should contact their point of purchase for exchanges and refunds.
Starring Emmy Award winners Amy Schumer and Keegan-Michael Key, both in their Broadway debut, Tony Award winner Laura Benanti, and Tony Award nominee Jeremy Shamos, Meteor Shower, directed by four-time Tony Award winner Jerry Zaks, plays through Sunday, January 21 only at the Booth Theatre.
Tickets can be purchased online at MeteorOnBroadway.com, via Telecharge.com or by phone at 212 239 6200, or by visiting the Booth Theatre box office (222 West 45th St.).
Photo Credit: Walter McBride / WM Photos