Click Here for More Articles on METEOR SHOWER
Blink and You'll Miss It! Meet the Full Company of METEOR SHOWER on Broadway- Opens Tonight
Tonight's the night! Meteor Shower officially opens tonight, Wednesday, November 29 at the Booth Theatre (222 West 45th St.). Meteor Shower stars Emmy Award winners Amy Schumer and Keegan-Michael Key, both in their Broadway debut, Tony Award winner Laura Benanti, Tony Award nominee Jeremy Shamos, and is directed by four-time Tony Award winner Jerry Zaks.
Playwright Steve Martin will in fact celebrate coast-to-coast openings this evening, with Meteor Shower opening on Broadway and Bright Star celebrating its opening night in San Francisco at the Curran.
It's a hot night in Ojai, California, and Corky (Schumer) and her husband Norm (Shamos) are having another couple over. Laura (Benanti) and Gerald (Key), though, aren't looking for a casual evening of polite small talk with new friends. Eventually, the two couples find themselves in a marital free-fall matched in velocity and peril only by the smoldering space rocks tearing through the sky. Entertaining has never been more entertaining than in this "cosmic comedy from the master of the American absurd" (Variety).
Get ready for tonight's official bows by learning more about the company below!
---
Amy Schumer (Corky) has proven herself to be one of the entertainment industry's leading forces as a standup comedian, actress, writer, producer and director. Schumer is the creator, star, writer and executive producer of the award winning "Inside Amy Schumer," the popular Comedy Central television series, which premiered in April 2013 to the network's highest season premiere ratings of that year. "Inside Amy Schumer" won the 2015 Writers Guild Award for Best Comedy/Variety Sketch series. In 2015, the show was honored with the first-ever Primetime Emmy Award for Outstanding Sketch Variety Series. Schumer was also nominated for Outstanding Directing for a Variety Series and Outstanding Writing for a Variety Series. Schumer received honors for Individual Achievement in Comedy and Outstanding Achievement in Comedy from the Television Critics Association in 2015. Additionally, she was awarded the 2015 Critics' Choice Television Award for Best Actress in a Comedy Series. Among the show's many accolades, it also received the prestigious Peabody Award in 2014. Schumer's first book, The Girl with The Lower Back Tattoo, continues to live on The New York Times bestseller list. Additionally, the book earned her a 2017 Grammy Award nomination for Best Spoken Word Album and will be released in paperback this August. Schumer was most recently seen on the big screen in Snatched, the mother-daughter comedy opposite Goldie Hawn. She can next be seen in Jason Hall's drama Thank You For Your Service this fall. Schumer is currently in production in Marc Silverstein and Abby Kohn's I Feel Pretty opposite Michelle Williams, and will star in Rebecca Miller's She Came to Me opposite Nicole Kidman in early 2018. Schumer's Universal Pictures hit Trainwreck dominated the 2015 summer comedy worldwide box office. Schumer wrote the film which co-starred Bill Hader, Tilda Swinton, Brie Larson, LeBron James and Vanessa Bayer. Judd Apatow directed the film which was nominated for two Golden Globes including Best Actress, Comedy or Musical, as well as Best Picture, Comedy or Musical. Additionally, she won the Critics' Choice Award for Best Actress in a Comedy and was nominated for a Writers' Guild Award in the category of Original Screenplay. That same year, the British Academy of Film and Television (BAFTA) honored Schumer with The Charlie Chaplin Britannia Award for Excellence in Comedy. Schumer's latest one hour Comedy special titled "The Leather Special" is currently streaming on Netflix. Her one-hour HBO comedy special, "Amy Schumer: Live at the Apollo" directed by Chris Rock, premiered on October 17, 2015, and was HBO's most watched Saturday night comedy special debut since December 2009. The special earned her Primetime Emmy Award and Writers Guild Award nominations for Best Comedy/Variety Special as well as a 2017 Grammy Award nomination for Best Comedy Album. She continues to tour to sold out shows around the world. For the past two years, Schumer also received Pollstar's Best Comedy Tour of the Year Award.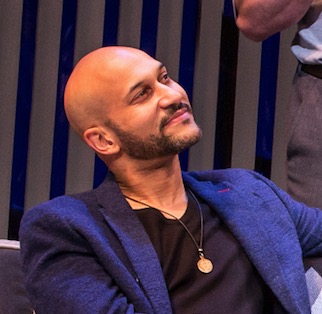 Keegan-Michael Key (Gerald). As an actor, writer, and creator, Keegan-Michael Key has become one of the most creative and in-demand faces in Hollywood. With his extraordinarily diverse skill set and wide-ranging talent in both comedy and drama, Key redefines what it means to be a chameleon and multi-hyphenate in the worlds of film, television, and theater. Currently, Key can be seen in Nick Stoller's comedy series "Friends from College," which follows a group of Harvard alumni and their adult successes - or lack thereof. The show premiered on Netflix on July 14th. He also recently made his New York stage debut in The Public Theater's production of Hamlet as Horatio, opposite Oscar Isaac. Sam Gold directs the production, which opened on July 13th. He recently wrapped production on Shane Black's The Predator, which is expected to hit theaters August 3, 2018. A sequel to the 1987 sci-fi hit Predator, the film also stars Sterling K. Brown, Trevante Rhodes, and Jacob Tremblay. Later this year, he will also lend his voice to Sony Picture Animation's The Star, due this November. Key is the co-creator and co-star of Comedy Central's "Key & Peele" with Jordan Peele. The show won the 2016 Emmy Award for Outstanding Variety Sketch Series, with Key being individually nominated for acting and co-writing with Peele. Key was previously nominated for 5 Emmy Awards for his work on the show, as well as a 2016 Screen Actors Guild Award for Outstanding Performance by an Ensemble in a Comedy Series. "Key & Peele" won a 2014 Peabody Award and an American Comedy Award for Best Alternative Comedy Series. The show has become a TV and viral sensation, with 15 total Emmy nominations and approaching a billion cumulative online hits. The series concluded its five season run in September 2015. On the big screen, Key was last seen in Joe Swanberg's film Win It All, which premiered at the 2017 South by Southwest Film Festival, in advance of its April launch on Netflix. Before that, he starred in John Hamburg's comedy Why Him?, in which he stars alongside James Franco, Bryan Cranston, and Megan Mullally. He also starred in Mike Birbiglia's critically acclaimed indie Don't Think Twice, which premiered at 2016's South by Southwest and Tribeca Film Festivals, and was widely regarded as one of the best films of the year. Additional past film work includes Keanu, which he co-starred in and produced alongside Jordan Peele, Pitch Perfect 2, Horrible Bosses 2, Let's Be Cops, Wanderlust, Just Go with It, Role Models, Hell Baby, Afternoon Delight, and Due Date. He has also done vocal work for Storks, Angry Birds, Hotel Transylvania 2, and The Wild Bunch. On television, Key had a recurring role on the Emmy-winning FX series "Fargo," USA's "Playing House," Adult Swim's "Children's Hospital," and NBC's "Parks & Rec." He was also a series regular on FOX's "MADtv" for six seasons and CBS's "Gary Unmarried." Additional TV credits include "The League," "The Middle," "How I Met Your Mother," "Bob's Burgers," "Reno 911!" and "ER." Key also received a 2016 Emmy nomination for his voiceover work in Crackle's animated comedy "SuperMansion." Key was named among Time Magazine's "Most Influential People of 2014" and Entertainment Weekly's "Entertainers of the Year of 2012." He is a veteran of Detroit and Chicago's The Second City Theater, and received his Bachelor's Degree in Fine Arts from the University of Detroit-Mercy, and his Master of Fine Arts in Theater from Pennsylvania State University.
Laura Benanti (Laura). Tony Award-winner Laura Benanti can now be seen touring the country in her latest solo show, Tales from Soprano Isle. The show will feature songs from Laura's career, including She Loves Me, along with humorous anecdotes and experiences that she has encountered on/off the stage and screen. She recently made headlines as a guest on "The Late Show with Stephen Colbert" with her spot-on, hilarious impersonation of Melania Trump. In 2017, Laura joined the cast as a regular on the hit "Samantha Bee" and Jason Jones' TBS comedy, "The Detour." In 2016, Laura starred as Amalia Balash in the hit Broadway Musical, She Loves Me, for which she received her fifth Tony nomination. Laura also received Outer Critics Circle, Drama League and Drama Desk Award nominations for this role. In addition to television work and her critically acclaimed performance as Elsa Schrader in NBC's "The Sound of Music LIVE," Ms. Benanti is a highly celebrated stage actress who took Broadway by storm at the age of 18. She received a Drama Desk award, Outer Critics Circle Award and a Tony Award Nomination for her starring role in the Broadway production of Women on the Verge of a Nervous Breakdown for Lincoln Center where she also starred in the Broadway production of Sarah Ruhl's In the Next Room or The Vibrator Play. Ms. Benanti earned the 2008 Tony Award for Outstanding Featured Actress in a Musical, a Drama Desk and Outer Critics Circle Award for her revelatory portrayal of Gypsy Rose Lee inGypsy opposite Patti LuPone and directed by Arthur Laurents. Her other Broadway roles include The Wedding Singer, Nine, starring Antonio Banderas, her Tony, Drama Desk and Outer Critics Circle Award-nominated performance of Cinderella in Stephen Sondheim's Into the Woods and her sultry Tony nominated turn in Swing! Ms. Benanti made her Broadway debut as Maria in The Sound of Music opposite Richard Chamberlain. Other distinguished theater performances include The Public Theater's production of Christopher Durang's Why Torture is Wrong and the People Who Love Them, Perdita in The Winter's Tale at the Williamstown Theatre Festival opposite Kate Burton, Anne in A Little Night Music at the L.A. Opera opposite Victor Garber, Eileen in Wonderful Town opposite Donna Murphy and most recently her portrayal of Rosabella in the Most Happy Fella, both for City Center Encores! Ms. Benanti completed a week-long engagement at the popular New York cabaret club, 54 Below, for which The New York Times hailed her as a "supremely confident" performer whose "bright, full soprano, with its semioperatic heft, can go almost anywhere." In September 2013, she released her debut album, In Constant Search of the Right Kind of Attention: Live at 54 BELOW on Broadway Records to ecstatic reviews. Laura currently performs her concerts in venues around the country and even recently performed for the President and First Lady of the United States at both the Fords Gala and the Kennedy Center Honors in Washington DC. In 2014, she joined the cast of ABC's hit series "Nashville" guest-starring as songbird Sadie Stone. Laura also appeared in recurring roles on CBS's "The Good Wife" and HBO's "Nurse Jackie." Laura's past television credits include a starring role in the NBC series "The Playboy Club" and "Go On" opposite Matthew Perry. She also starred in the F/X original series "Starved". Ms. Benanti had a recurring role on "Law and Order: SVU," "Royal Pains," and "Eli Stone." and had appearances on "The Big C" and "Elementary". She currently resides in Manhattan with her husband Patrick and daughter Ella. Website: LauraBenanti.com. Twitter: @LauraBenanti
Jeremy Shamos (Norm) received a Tony Award nomination for his performance in Clybourne Park, for which he also received Drama League Award and Lucille Lortel Award nominations. Other Broadway credits include Noises Off, The Assembled Parties, Glengarry Glen Ross, Elling, Reckless, and The Rivals. Off-Broadway: The Qualms, Engaged (Obie Award), Animals Out of Paper(Drama Desk Award nomination), We Live Here, Corpus Christi, The New York Idea, 100 Saints You Should Know, Miss Witherspoon, Gutenberg!, Observe the Sons of Ulster..., Shakespeare (Abridged), Race, The Alchemist, Hamlet, Cymbeline, Dinner With Friends (Lortel Award), If I Forget (Drama Desk nomination). Television: recurring roles on "Better Call Saul" and "Nurse Jackie," guest appearances on "The Affair," "Chicago P.D.," "Limitless," "Happyish," "Elementary," "The Good Wife," "Unforgettable," "Fringe," "Law & Order: SVU" and "Criminal Intent." Film: Alejandro Gonzalez's Birdman, Woody Allen's Magic in the Moonlight, Ang Lee's Taking Woodstock, and The Big Sick.
Photo Credit: Matthew Murphy