Home for the Holidays - 2017 - Broadway
Drawing from a rich musical catalog that rivals only Broadway itself, Home for the Holidays features three of the greatest voices of their generation performing contemporary takes on more than 25 perennial favorites. Backed by a kinetic eight-piece rhythm and brass band, traditional favorites like "O Come All Ye Faithful" and "O Holy Night" provide heart as they come to life side-by-side with radio favorites such as "All I Want for Christmas is You" and "Christmas (Baby, Please Come Home)." Kaitlyn Bristowe provides seasonally themed narration while acclaimed actor and singer Danny Aeillo offers stories and songs that share a glimpse into Christmas in Manhattan through the decades of his childhood.
Video preview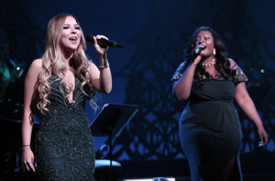 Photo preview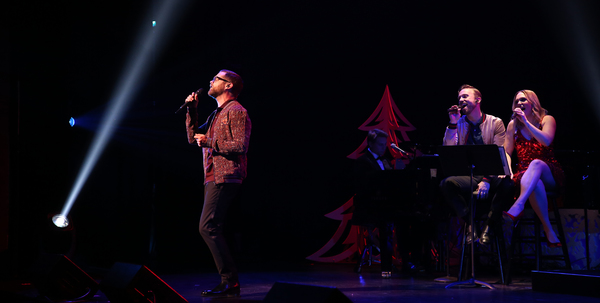 Featured Reviews For Home for the Holidays
Home for the Holidays - TimeOut NY
"Please be advised that Home for the Holidays contains haze effects," warns a sign at the August Wilson Theatre, and boy, does it ever. First there is the hazy concept. This tacky pop-up Broadway concert, the yuletide equivalent of a Halloween costume store, features a comically motley cast: Candice Glover, Josh Kaufman and Bianca Ryan, three winners of televised vocal contests; Kaitlyn Bristowe, one of two bachelorettes on season 11 of The Bachelorette; Peter and Evynne Hollens, a married a cappella duo; and, somehow, veteran character actor Danny Aiello. Then there is the hazy singing: breathy, baroquely melismatic ornamentations, as though the vocalists were skating on thin ice and afraid to stay on a single note for more than a quarter of a second.
'Home for the Holidays' a peculiar seasonal pop-up on Broadway: theater review - NY Daily News
If your happy place is an Odd Lot outlet, then "Home for the Holidays" will be right up your aisle, er, alley. That's not an endorsement. It's just that this seasonal pop-up concert on Broadway is one motley mix. A trio of TV reality show vocal contest winners share top billing: Candice Glover of "American Idol," Josh Kaufman of "The Voice" and Bianca Ryan of "America's Got Talent."
Home for the Holidays Broadway Cast