BWW Review: HOME FOR THE HOLIDAYS Is Like Walking In A Melisma Wonderland
"Don't sing notes that are not in the chords."
"Get to know what you're singing about."
"Sing the melody."
"Maybe some of the 14-year-olds in the audience won't get it, but I would be willing to take that risk."
These were some of the controversial statements made by Harry Connick, Jr. during his stint on "American Idol," - first as a mentor and then as a judge - that sparked heated debates with other judges who favored vocal melisma and elongated riffs over singing the melody and interpreting the lyric.
HOME FOR THE HOLIDAYS (which really could be called "Home For Christmas" since that's the only holiday mentioned) is a 90-minute concert starring three vocalists who first gained fame by winning television talent programs, and, as evidenced by their performances at the August Wilson, they did not emerge victorious by being on Team Harry.
Touted on show's website as "some of the greatest voices of our generation" (Is Audra McDonald of our generation? How about Marilyn Maye?), Candice Glover ("American Idol" Season 12), Josh Kaufman ("The Voice" Season 6) and Bianca Ryan ("America's Got Talent" Season 1, when she was 11) are, in all seriousness, at least reasonably talented. And again, in all seriousness, this New York theatre critic probably has no business critiquing their vocal capabilities, since they're of a style he rarely pays attention to. But their show is on Broadway, so it's the responsibility of a Broadway theatre critic to see and review it.
So, if you choose to read any further, please be advised that the opinions expressed below are of someone who prefers musical theatre and cabaret singing, where acting, lyric interpretation and respect for the composer's melody is standard procedure.
Okay.
Conductor/pianist Jonathan Tessero leads an on-stage 9-piece band playing contemporary holiday pop hits (James Horner and Will Jennings' "Where Are You, Christmas?," Mariah Carey's "All I Want For Christmas Is You") and backbeat-infused traditional favorites like "The First Noel," "O Come All Ye Faithful," "Joy To The World" and "Have Yourself A Merry Little Christmas." No one is credited for the orchestrations and it doesn't take long for the lack of musical textures to make everything sound like background music.
Tessero is billed as creative and musical director, so it can be assumed he's responsible for the staging, which usually consists of singers standing with hand-held microphones raised to their mouths, barely acknowledging each other's existence. The band's soloists receive better opportunities to bust out with some personality.
Ryan has a rather thin voice that tends to waver around notes without hitting them. Kaufman, who spent a couple of months on Broadway a few years ago playing the title role in PIPPIN, exudes that geeky button-down soul. Glover certainly has the best pipes on the stage, though showing off their flexibility takes precedence over communicating the meaning of the lyrics.
Married couple and "YouTube Sensations" (that's how they're billed) Peter and Evynne Hollens spend most of their time seated in front of the band singing backup, though the husband gets a solo moment, singing a ballad he wrote about the fresh and unexpected subject of keeping the Christmas spirit all throughout the year.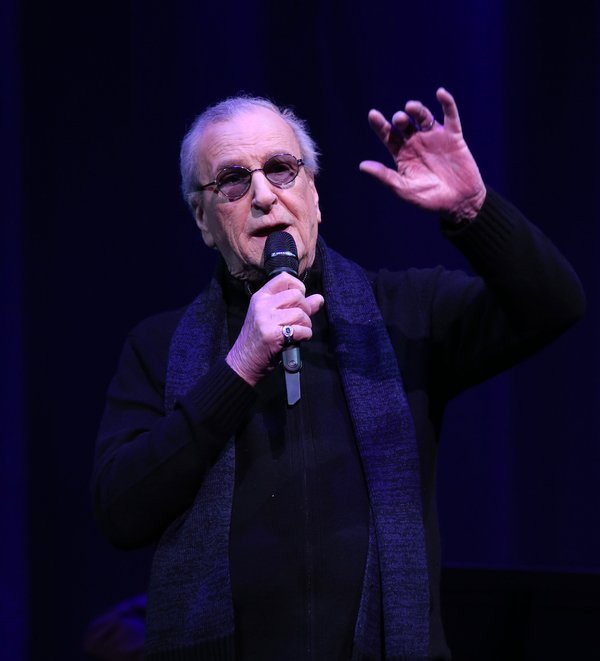 The show is hosted by Kaitlyn Bristowe from Season 11 of "The Bachelorette," who, when she's not participating in group chorus numbers, spends what must be a total of five minutes on stage reciting generic (uncredited) spiel about the joy of the Christmas season, which she delivered Saturday night with all the stilted confidence of someone trying their lines off book for the first time.
In the middle of all this is the fine Broadway actor Danny Aiello, who, being a fine Broadway actor, is quite touching when he describes growing up poor in Manhattan and the excitement of receiving his first Christmas present from Santa.
And with the few snippets of "Silver Bells" that he solos, he reveals himself to be the most satisfying singer on stage. Why? Because he sings the melody and expresses the meaning of the lyric.
Related Articles
After 20-odd years singing, dancing and acting in dinner theatres, summer stocks and the ever-popular audience participation murder mysteries (try improvising with audiences after they?ve (read more about this author...)