Candice Glover, Josh Kaufman and Bianca Ryan Head HOME FOR THE HOLIDAYS, Beginning Tonight on Broadway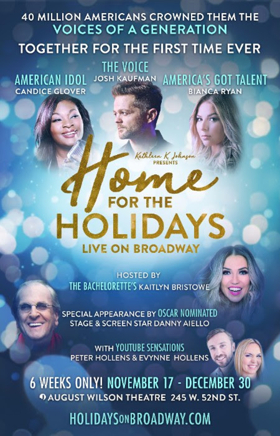 Kathleen K. Johnson has announced that Home for the Holidays, Broadway's only Holiday show, will star Candice Glover, winner "American Idol" Season 12; Josh Kaufman, winner of "The Voice" Season 6; and Bianca Ryan, winner: "America's Got Talent" Season 1; and will be hosted by Kaitlyn Bristowe, star of "The Bachelorette" Season 11, with a special appearance by Oscar nominated stage and screen star Danny Aiello, as well as YouTube sensations Peter Hollens and Evynne Hollens.
This strictly limited Broadway engagement begins performances at the August Wilson Theatre (245 West 52nd Street, between Broadway and 8th Avenue) tonight, November 17th, and continue through Saturday, December 30th only. Opening Night is set for Tuesday, November 21st.
Drawing from a rich musical catalog that rivals only Broadway itself, Home for the Holidays features three of the greatest voices of their generation performing contemporary takes on more than 25 perennial favorites. Backed by a kinetic eight-piece rhythm and brass band, traditional favorites like "O Come All Ye Faithful" and "O Holy Night" provide heart as they come to life side-by-side with radio favorites such as "All I Want for Christmas is You" and "Christmas (Baby, Please Come Home)." Kaitlyn Bristowe provides seasonally themed narration while acclaimed actor and singer Danny Aeillo offers stories and songs that share a glimpse into Christmas in Manhattan through the decades of his childhood.
"We're very excited to present this holiday offering for all to enjoy. The music and songs performed by our tremendous talent will fill you with those joyful, fun, positive holiday memories we've come to expect from New York at this special time of year," said Ms. Johnson.
A native of St. Helena Island, South Carolina, Candice Glover is an R&B/Soul recording artist who was crowned the winner of Season 12 "American Idol." Since then, Candice has taken the music industry by storm and has headlined at live events to sold-out crowds throughout the US, Canada, Mexico, and Austria, including the Soul Train Awards, the Super Bowl Gospel Celebration, the Songwriters' Hall of Fame, Lust for Life-Life Ball in Vienna, Celebration of Gospel and BET Experience at LA Live. Candice has also had the honor of singing the National Anthem and performing at half-time at several sporting events around the country. In addition to the release of her debut CD "Music Speaks," Candice has co-starred in Hallmark Channel's original Christmas movie, "Northpole;" starred in the lead role of Paul D. Hannah's Gospel musical The Love Shack in Los Angeles; and was cast as a Gullah woman on a South Carolina Sea Island plantation last year in WGN America's series "Underground." Candice is currently working on her second CD. Along with having the distinct honor of being invited to perform at the White House by First Lady Michelle Obama, Candice has also been recognized by the Ambassador to the United Nations and former Governor of South Carolina Nikki Haley, in her gubernatorial address. Candice Glover is an artist who has captivated the hearts of many with her heartfelt performances and phenomenal voice! Follow Candice on Facebook at candiceglovermusic or on the web at candiceglover-official.com.
As winner of the sixth season of "The Voice," Josh Kaufman, the Indianapolis-based singer/songwriter, proved himself possessed of a stunning range and singular power to capture pure emotion. Also a longtime guitarist and piano player, Kaufman recently released his first post-"Voice" self-titled EP, which channels his rich vocal work into a gracefully catchy blend of soul, funk, R&B, rock, and classic pop. Growing up in a musical family, the Florida-born Kaufman got his start singing in church when he was just four-years-old. In addition to performing in choirs throughout his childhood, he further honed his vocal skills by closely studying the layered harmonies of gospel music. While attending high school in Blacksburg, Virginia, Kaufman began playing in bands and writing his own songs, mining much inspiration from the soulful yet fiery and guitar-fueled sound of Lenny Kravitz. Kaufman kept up with his music throughout college and, some years after earning his degree in philosophy, went on to become a staple of the Indianapolis music scene as a solo artist and frontman for local soul band, The New Etiquette. Despite his dedication and undeniable passion for singing, Kaufman found himself struggling to move forward with his music. "The more I thought about it, the more I realized how important it was for me to keep on pursuing music in my life," says Kaufman. "But since my wife and I had started building a family, I wasn't at a point where I could just keep going and see what came of it. I knew that if I was really going to make something happen, I needed a jumpstart." That jumpstart came in the summer of 2013, when Kaufman auditioned for "The Voice." Throughout the season, Kaufman floored audiences with his stirring renditions of tracks like Sam Smith's "Stay with Me," Bonnie Raitt's "I Can't Make You Love Me," and John Legend's "All of Me"-the studio performances of which each climbed to the top 5 on the iTunes Charts --and eventually made his way to victory. Since then, Kaufman's has kept busy, sitting in with The Roots on "The Tonight Show Starring Jimmy Fallon," headlining the Indy Jazz Fest, singing back home at the Indianapolis 500, and making his Broadway debut in the title role of the Tony Award-winning revival of Pippin. Kaufman says one of his main goals for is to make music infused with a powerful intimacy. "I'm a pretty reserved and introverted person by nature, and singing has always been a way to express the things that I might not express otherwise," Kaufman notes. "At its best music creates this deep emotional connection that transcends explanation," he continues, "and that, I think, is what keeps me making music."
By the age of 11, Bianca Ryan had already made history and won the hearts of over 20 million Americans that called in to vote for her to become the very first winner of the NBC hit show "America's Got Talent." A native to Philadelphia Pennsylvania, this 23-year-old singing prodigy has gained the respect of some of the biggest icons in the music industry including one of the most critical judges in the world, Simon Cowell, who proclaimed during a press conference that "Bianca Ryan is potentially one of the best singers I have ever heard in my life." As the excitement about Bianca spread, she has appeared on the "Oprah Winfrey Show" and multiple times on her longtime admirer "The Ellen Degeneres Show;" and she was sought out by and worked with some of the most gifted song writers, producers, and recording engineers in the music industry including Quincy Jones, David Foster, Diane Warren, Siedah Garret, and Walter Afanasieff to name a few. Shortly after her win Bianca released her debut album that included the number 1 internationally holiday hit song, "Why Couldn't It Be Christmas Every Day?" (The song was co-written and produced by Walter Afanasieff, whose previous credits include Mariah Carey's classic song "All I Want for Christmas Is You.") Bianca's song became one of the most requested Holiday songs here and abroad that Bianca she was asked to go into the studio and record a 5-song holiday EP, also produced by Afanasieff. Over the years Bianca has not only established herself as a top notch singer and performer but she is also considered one of the most gifted songwriters in the business. Quincy Jones believes she will be the "Next Revolution" in the music industry. In 2015, Bianca Ryan Records was established by the young singer-songwriter; her first single, "Alice," clocked over 1.7 million YouTube views and 1 million Spotify streams. In 2017, she began releasing singles including, "One Day", "What I Gotta Do", "Man Down", and her new single "Don't Wanna Come Down." Bianca continues to perform and tour throughout the world.
From the small town of Leduc, Alberta to the global stage, Kaitlyn Bristowe is the Canadian girl making waves-- in a big way. Perhaps the most controversial and well-liked "Bachelorette" to date, Kaitlyn started out with big dreams and ballet shoes. You might recognize her as the fun-loving, straight-shooting jokester who made "Bachelorette" history on her dramatic 11th season run. Known for her innate ability to captivate any audience, Kaitlyn is a natural born entertainer! Since the end of her season, Kaitlyn has taken the social media world by storm (with over 1 million loyal Instagram followers) and continues to showcase her personality and unique perspective with KaitlynBristowe.com. Her notoriously unapologetic style has landed her appearances on major network talk-shows including the likes of "Jimmy Kimmel Live," "Good Morning America," and "Entertainment Tonight."
Peter Hollens is an American pop singer and producer best known for his work on YouTube as an a cappella cover artist. With 1.6 million subscribers, his videos have reached nearly half of a billion views on Facebook and YouTube since 2011. Hollens has collaborated and performed with several outstanding artists including BrIan Wilson, Jason Mraz, Hunter Hayes, Gladys Knight, Lindsey Stirling, George Watsky, Jackie Evancho, and ThePianoGuys. He has released over 125+ digital singles to date and continues to release new music every other week. He has been involved with a cappella music since 1999 when he co-founded the University of Oregon's male a cappella group On The Rocks. In 2010 he and the group were featured on NBC's "The Sing Off" Season 2. Hollens also advises many companies including Patreon, Loudr, Tubular and is on the YouTube creator advisory board.
Evynne Hollens is a singer primarily known for her online videos & live performances. With over 29 million views on YouTube, she releases music videos every-other week; frequently popular music & Disney covers. A native of the Pacific Northwest, she resides in Oregon with her husband Peter Hollens and is a performer, teacher and artistic director. In 2001 she co-founded Divisi - the University of Oregon's award-winning female a cappella group, featured in the best-selling book and inspiration for the hit feature film Pitch Perfect.
Legendary actor and critically acclaimed singer Danny Aiello, a native New Yorker, has a reputation for no-holds-barred stage and screen performances that brim with honest emotion. Danny has received widespread acclaim, including Academy Award and Golden Globe nominations, and has been named Best Supporting Actor by the Los Angeles, Boston and Chicago Film Critics Associations. His many roles in over 100 films, from his portrayal of Cher's jilted fiance? in Moonstruck to his award-winning role as Sal in Spike Lee's Do the Right Thing, have endeared him to audiences worldwide. He also starred as Joe Lieberman in the romantic comedy Lieberman in Love. Directed by Christine Lahti, the film won an Academy Award for Best Live Action Short Film in 1996. Danny has won Emmy Awards for his narration of the Yankees' 2013 season launch promo, entitled "Blessed," and the documentary film The Relics in 2016. Danny recently shot three films: Hereafter Musical, The Neighborhood and Little Italy as wells as completed his fifth album, "Hangin Out." Danny is presently workshopping Capone the Broadway musical, with words and music by Robert Mitchell and produced by Rose Caiola. Danny released his memoir, I Only Know Who I Am When I Am Somebody Else (Simon & Schuster). When Danny is not performing in the theatre or making movies, he's touring with the swinging jazz band he affectionately refers to as "Joe Geary & the Guys." In addition to his film and music credits, Danny Aiello has received many awards for his numerous philanthropic endeavors and contributions to film and television. He has worked with Major League Baseball's Stand Up to Cancer Campaign as well as The Lustgarten Foundation on behalf of pancreatic cancer research (his son Danny III passed away in 2010 of pancreatic cancer), and created PSAs for various police and fire organizations, including post 9/11 events. He has also helped Veterans, HeartShare and Public Television, among others.
Creative and Music Director Jonathan Tessero is an acclaimed Creative Director, Music Director and Live Event Producer whose work has appeared on Broadway, network television, and at concert and event venues around the country. His creative direction for CBS' coverage of Super Bowl XLVII earned the network an Emmy Nomination for Best Art Direction/Studio Design. Under his creative leadership, the rebooted and renamed Essence Fest experienced a record-setting 550,000 attendees for the Beyonce?, Janelle Monae, Maxwell, LL Cool J headlined weekend. He directed the media assets for the Opening Season presentation of a NBA team, led the creation of a 12-story projection map installation, created the Christmas experience for a 10-acre casino, wrote and directed a documentary starring Angela Lansbury and Branford Marsalis for the National WWII Museum, and has conducted the Buffalo Philharmonic, The Louisiana Philharmonic, The Calgary Philharmonic, and the Oregon Coast Music Festival Orchestras. The BBC's upcoming live-to-film European arena tour of Planet Earth II will feature a choir, rock band, and orchestra of 70 musicians playing his orchestrations of the Bleeding Fingers-produced, Emmy-nominated score by Hans Zimmer, Jasha Klebe, and Jacob Shea. Home for the Holidays is the first of his Chart Breakers LIVE series, nearly twenty themed Top 40 revues that combine contemporary dance, his kinetic New Orleans style brass and rhythm band, and hundreds of the most beloved songs ever written. His Production Company Panharmonicon Productions produces large-scale music events like this one.
Producer Kathleen K. Johnson's Broadway credits include A Gentleman's Guide to Love and Murder (2014 Tony Award, Best Musical), Who's Afraid of Virginia Woolf (2013 Tony Award, Best Revival - Play), Hair (2009 Tony Award, Best Musical Revival), Glengarry Glen Ross, Race, A Life in the Theatre, The Lyons, The Best Man, Superior Donuts, and Blithe Spirit among others.
Performances for Home for the Holidays will begin Friday November 17th with Opening Night set for Tuesday November 21st at the August Wilson Theatre (245 West 52nd Street). This limited Broadway engagement will run through December 30th only.
American Express Card Members can purchase tickets before the general public beginning Wednesday, October 11th at 10am (EST). Tickets are on sale to Audience Rewards members from Tuesday, October 17th at 10am (EST). General on-sale will begin Monday October 23rd at 10am online at www.Ticketmaster.com or by telephone toll-free at 877-250-2929 and in person at the August Wilson Theatre box office beginning November 3rd. Tickets will be priced from $99.50 to $179.50, with a limited number of Premium Seats available.
For more information, visit HolidaysOnBroadway.com.

Related Articles
More Hot Stories For You
Breaking: Playwright, Author & Activist Larry Kramer Dies at 84
According to the New York Times, Larry Kramer passed away this morning in Manhattan from pneumonia. He was 84 years old.... (read more)

OLD VIC to Stream Productions From an Empty Theatre; Will Kick Off With LUNGS Starring Claire Foy & Matt Smith
The Old Vic announces a new artistic initiative OLD VIC: IN CAMERA, combining a run of socially distanced performances of Duncan MacMillan's LUNGS wit... (read more)

Voting Now Open For Broadway's NEXT ON STAGE Top 10
Voting is now open for BroadwayWorld's NEXT ON STAGE Top 10! The nominees have submitted all new songs for you to listen to before casting your vote! ... (read more)

New Survey Shows Just 19% of UK Theatre Patrons Will Be Willing to Return When Venues Reopen
A new survey conducted shows that only 19% of audience members of U.K. arts venues and theaters will be willing to return to events, even after venues... (read more)

Times Square Billboards Will Go Dark on Wednesday in Support of Restaurants, Hospitality Businesses, and Non-Profits
The iconic digital billboards will go dark to alert the nation to the very real prospect that hundreds of thousands of American restaurants, non-profi... (read more)

VIDEO: Watch the Young Vic's A STREETCAR NAMED DESIRE, Starring Gillian Anderson, Vanessa Kirby and Ben Foster
Watch the Young Vic's hit production of Tennessee Williams' timeless masterpiece, A Streetcar Named Desire, with Gillian Anderson, Vanessa Kirby and B... (read more)