Come From Away - Broadway Tickets, News, Info & More
On September 11, 2001 the world stopped. On September 12, their stories moved us all.
COME FROM AWAY is the breathtaking musical that reminds you of what good the human spirit is capable of. Written by Irene Sankoff and David Hein, and directed by Christopher Ashley, this musical shines a lot on the best of what we are capable in the absolute worst of times.
In a heartbeat, 38 planes with 6,579 passengers were stranded in a remote town in Newfoundland on a devastating day in September 2001. The locals in Gander opened their hearts and homes to thousands of stranded strangers, spurring unexpected camaraderie in extraordinary circumstances.
Video preview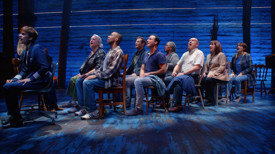 Photo preview
Schedule
Running Time:
One hour and 40 minutes, with no intermission
Tuesdays: 7:00pm
Wednesdays: 2:00pm and 7:00pm
Thursdays: 7:00pm
Fridays: 7:00pm
Saturdays: 2:00pm and 8:00pm
Sundays: 3:00pm
About the Theatre
(New York, NY)
236 West 45th St.
Seating Chart
Featured Reviews For Come From Away
'Come From Away' review: 9/11-themed musical means well but lacks depth - amNY
The cast is made of versatile performers including Broadway veterans such as Jenn Colella, Rodney Hicks, Chad Kimball and Kendra Kassebaum, who are able to handle the fast pace and quick changes. It's a heartwarming story told with high energy, not to mention an effective seminar on crisis management and a persuasive advertisement for Canadian tourism. (Not surprisingly, Justin Trudeau is expected to attend the show later this week.) But good intentions aside, "Come From Away" has the depth of a Hallmark card and a pub rock score that is generic and unmemorable.
'Come From Away': Theater Review - Hollywood Reporter
The true-life story that inspired the new musical Come From Away would seem like the stuff of a Frank Capra movie. The show relates the tale of how a small Newfoundland town in 2001 found itself unexpectedly hosting 7,000 airline passengers stranded there for days after 9/11. But though the material might have lent itself to sickly sweet sentimentality, creators Irene Sankoff and David Hein have crafted a heartwarming and thoroughly entertaining musical. Especially in these politically fractious times, it should prove a true crowd-pleaser on Broadway following previous hit engagements in San Diego, Washington D.C. and Toronto.
Come From Away Broadway Cast
Buy at the Theatre Shop
T-Shirts, Mugs, Phone Cases & More