Update - Broadway Shutdown Extends To September 6 - Click Here
Come From Away - Broadway
On September 11, 2001 the world stopped. On September 12, their stories moved us all.
COME FROM AWAY is the breathtaking musical that reminds you of what good the human spirit is capable of. Written by Irene Sankoff and David Hein, and directed by Christopher Ashley, this musical shines a lot on the best of what we are capable in the absolute worst of times.
In a heartbeat, 38 planes with 6,579 passengers were stranded in a remote town in Newfoundland on a devastating day in September 2001. The locals in Gander opened their hearts and homes to thousands of stranded strangers, spurring unexpected camaraderie in extraordinary circumstances.
Video preview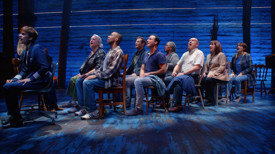 Photo preview
Schedule
Running Time: One hour and 40 minutes, with no intermission
Tuesdays: 7:00pm
Wednesdays: 2:00pm and 7:00pm
Thursdays: 7:00pm
Fridays: 8:00pm
Saturdays: 2:00pm and 8:00pm
Sundays: 3:00pm
Gerald Schoenfeld Theatre
(New York, NY)
236 West 45th St.
Seating Chart
Featured Reviews For Come From Away
Theater Review: Come From Away Makes a Musical Out of Canadian Niceness - Vulture
That a story is basically true does not make it more believable onstage...Not helping matters is the ambitious number of stories the show wants to tell. The cast of 12 plays at least 40 roles, both locals and plane people, most of them whizzing past our attention too quickly and indistinguishably (despite Toni-Leslie James's clever quick-change costume elements) to make lasting impressions. Even when they do, the show's pageantlike structure, in which bits of story are connected by setting and theme rather than by action, prevents those impressions from deepening over time the way they must. There's a lot of snow in Gander but no accumulation. To make up for it, the production, tightly directed by Christopher Ashley, with a handsome woodsy set by Beowulf Boritt and fine lighting by Howell Binkley, does its damnedest to knock you into submission. The songs, also by Sankoff and Hein, are pleasant, in a folk-rock-meets-Celtic-revival vein that the show exploits with the mercilessness of a phlebotomist. (Cue the fiddle, bodhran, and uilleann pipes.) There is much spirited if obligatory stomping. (The choreography is by Kelly Devine.)
Come From Away' Broadway Review: Stranded in Newfoundland, as Well as the Theater - The Wrap
Sankoff and Hein's book tries to drum up suspense in the show's opening scenes by telling us that few of these visitors to Gander knew about the attacks on the World Trade Center and the Pentagon, because few people back then owned cell phones. Really? As songwriters, this duo relies on a strong percussive element that's so incessant that their songs take on a militaristic flair. And they're also very, very loud. Gareth Owen's sound design is the most abrasive to grace a Broadway stage since the entry of "Waitress" a year ago. Dialogue is shrill and disembodied from the actors, and when the ensemble sings any of the show's foot-stomping anthems, the lyrics are indecipherable. Come from Away is a musical about hope, perseverance and people coming together to help each other in difficult times. The Gander townspeople have much in common with the citizens of Meredith Willson's River City, only they're much more adorable.
Come From Away Broadway Cast