Choir Boy - 2019 - Broadway Tickets, News, Info & More
MTC presents Choir Boy by Tarell Alvin McCraney, Oscar-winning screenwriter of Moonlight and a recipient of the MacArthur Fellowship Grant. Directing is Trip Cullman (Murder Ballad).
For half a century, the Charles R. Drew Prep School for Boys has been dedicated to the education of strong, ethical black men. One talented student has been waiting for years to take his rightful place as the leader of the legendary gospel choir. But can he make his way through the hallowed halls of this institution if he sings in his own key? On its US debut at MTC's Studio at Stage II, The New York Times called the play "vivid, magnetic and moving," and The New York Post hailed it as "bracing and provocative." Now, we"re thrilled to bring this soaring music-filled work to Broadway.
Choir Boy features music direction, arrangements, & original music by Jason Michael Webb; scenic & costume design by David Zinn; lighting design by Peter Kaczorowski; original music & sound design by Fitz Patton; hair & makeup design by Cookie Jordan; fight direction by Thomas Schall; and choreography by Camille A. Brown.
NOW THRU MARCH 10 ONLY!
Video preview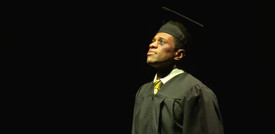 Photo preview
Schedule
Running Time:
One hour and 45 minutes, with no intermission
Twitter Watch
@MTC_NYC
06/23/2022 10:30am
The 2nd Annual Antonyo Awards nominations are out, and MTC is honored to have received 10 nominations. A big congra… https://t.co/GIn6f6MW06
@MTC_NYC
06/23/2022 10:25am
The 2nd Annual Antonyo Awards nominations are out, and MTC is honored to have received 10 nominations. A big congra… https://t.co/w4qLARaa2r
Featured Reviews For Choir Boy
Review: Raising a Joyful New Voice in Tarell Alvin McCraney's 'Choir Boy' - New York Times
This is the first of many plot points that feel both obvious and false, like pieces of the wrong puzzle ham-hammered into place. Too frequently, information that if delivered sooner would have forestalled the plot completely is delivered hastily later, as if to sweep it under a dorm bed. In any case, Trip Cullman's tonally blurry staging for the Manhattan Theater Club does not help you understand what to make of such logical inconsistencies, though it is at least swift enough to keep you from dwelling on them. But a similar problem eats away at the credibility of most of the characters as written. Two of the choir boys, Junior (Nicholas L. Ashe of "Queen Sugar") and David (Caleb Eberhardt), get approximately one trait each. Junior is pleasantly dim; David is tortured by something you'll see coming a mile away.
Tarell Alvin McCraney Won an Oscar. 'Choir Boy' Marks His Broadway Debut. - Daily Beast
Choir Boy has grown in theater size since its 2013 off-Broadway success, and some of the elements have grown beautifully in accordance, prime among them Pope's performance. The character never defines himself as gay. He doesn't deny it, and indeed there is evidence later on that he is, or is attracted to men. The shower scenes in the play not only reveal a lot of flesh, but also hidden desires (and more fear). But, he says: "Sick of people calling me something I ain't doing. I'm just Pharus."