Choir Boy Broadway
MTC presents Choir Boy by Tarell Alvin McCraney, Oscar-winning screenwriter of Moonlight and a recipient of the MacArthur Fellowship Grant. Directing is Trip Cullman (Murder Ballad).
For half a century, the Charles R. Drew Prep School for Boys has been dedicated to the education of strong, ethical black men. One talented student has been waiting for years to take his rightful place as the leader of the legendary gospel choir. But can he make his way through the hallowed halls of this institution if he sings in his own key? On its US debut at MTC's Studio at Stage II, The New York Times called the play "vivid, magnetic and moving," and The New York Post hailed it as "bracing and provocative." Now, we"re thrilled to bring this soaring music-filled work to Broadway.
Choir Boy features music direction, arrangements, & original music by Jason Michael Webb; scenic & costume design by David Zinn; lighting design by Peter Kaczorowski; original music & sound design by Fitz Patton; hair & makeup design by Cookie Jordan; fight direction by Thomas Schall; and choreography by Camille A. Brown.
NOW THRU MARCH 10 ONLY!
Video preview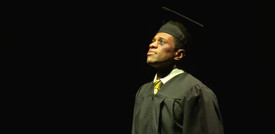 Photo preview
Schedule
Running Time: One hour and 45 minutes, with no intermission
Featured Reviews For Choir Boy
'Choir Boy' review: Coming-of-age drama sings - Newsday
If this is starting to sound like an old story, you are not wrong. It's tempting to throw in the towel on the overdose of teenage angst we've seen on and off Broadway in recent years. Fortunately, this show redeems itself with magnificent a cappella vocals and spot-on performances from the uniformly strong cast, guided by Trip Cullman, who also directed the piece when it ran at MTC's second stage in 2013.
Choir Boy review – Tarell Alvin McCraney hits high notes on Broadway - Guardian
There are other tensions operating here, too. McCraney typically layers his stories with myth and archetype. But here he's abandoned most of his poetic and thematic flourishes (barring an on-the-nose speech in which Pharus discusses the beauty of spirituals), working instead in a more naturalistic style that while friendly to Broadway can sometimes feel a little pat. The short scenes tumble on speedily, but it's really only in the clefts between scenes, when the young men step forward, not necessarily in character, and deliver forceful, emotive versions of Rockin' in Jerusalem or Rainbow Round My Shoulder, that the play takes on a real intensity. In these moments Choir Boy ascends and its choirboys achieve, as long as the notes hold, what feels like freedom.
Choir Boy Broadway Cast