Choir Boy - 2019 - Broadway
MTC presents Choir Boy by Tarell Alvin McCraney, Oscar-winning screenwriter of Moonlight and a recipient of the MacArthur Fellowship Grant. Directing is Trip Cullman (Murder Ballad).
For half a century, the Charles R. Drew Prep School for Boys has been dedicated to the education of strong, ethical black men. One talented student has been waiting for years to take his rightful place as the leader of the legendary gospel choir. But can he make his way through the hallowed halls of this institution if he sings in his own key? On its US debut at MTC's Studio at Stage II, The New York Times called the play "vivid, magnetic and moving," and The New York Post hailed it as "bracing and provocative." Now, we"re thrilled to bring this soaring music-filled work to Broadway.
Choir Boy features music direction, arrangements, & original music by Jason Michael Webb; scenic & costume design by David Zinn; lighting design by Peter Kaczorowski; original music & sound design by Fitz Patton; hair & makeup design by Cookie Jordan; fight direction by Thomas Schall; and choreography by Camille A. Brown.
NOW THRU MARCH 10 ONLY!
Video preview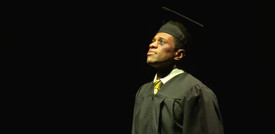 Photo preview
Schedule
Running Time: One hour and 45 minutes, with no intermission
Twitter Watch
@MTC_NYC
01/12/2021 11:40am
We've just announced the final two plays in our 2021-22 season! Don't miss Dominique Morisseau's SKELETON CREW and… https://t.co/ziqI0di71t
Featured Reviews For Choir Boy
Theater Review: 'Choir Boy' - NY1
Tarell Alvin McCraney is an incredibly gifted writer. He penned the Oscar winning screenplay for "Moonlight." And now with "Choir Boy" he flexes his theatrical muscles, proving himself to be an equally talented playwright. The production is a captivatingly intimate portrait of a gay black student trying to find his voice.
'Choir Boy': Theater Review - Hollywood Reporter
Many of the characters are cut from familiar molds - the effeminate gay kid torn between self-affirmation and self-protection; the privileged bully with his own burdens; the closeted loner crippled by anxieties; the sensitive jock. And the microcosm of an exclusive boarding school has often served in theater and film as a prism through which to examine traits prevalent in society at large. But the specificity of a black middle-class milieu, plus the writer's sharp ear for dialogue and his observations on class, race and sexuality, give McCraney's play distinctive qualities that outweigh its more conventional aspects.