Carousel - 2018 - Broadway
Rodgers & Hammerstein's Carousel has returned to Broadway in a production NPR calls, "The best musical of the season, by far."
Three-time Tony Award winner Jack O'Brien's "sumptuous revival is a high-water mark of classic American musical theater" (Time Out). Starring Tony nominee Joshua Henry, Tony winner Jessie Mueller and four-time Grammy winner Renee Fleming, with choreography by New York City Ballet's Justin Peck, "this ravishing Carousel tingles with the rapture of life in all its contradictions" (The New York Times).
Set in a small New England factory town, Carousel describes the tragic romance between a troubled carnival barker and the woman who gives up everything for him. With a score full of "the theater's most beautiful and enduring songs" (Variety), brought to life through "choreography that would send Rodgers & Hammerstein themselves into waves of happy shivers" (The Washington Post), this incandescently staged story of passion, loss and redemption is "one of the most moving experiences in all of musical theater" (New York Magazine).
"God is in Carousel," raves The Chicago Tribune. "It's the greatest musical ever written." Don't miss this ecstatically acclaimed production of one of musical theater's rarest treasures. "What a gift to have it back on Broadway" (The Hollywood Reporter).
Video preview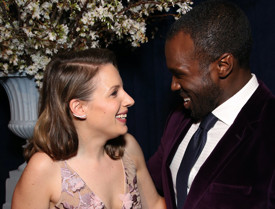 Photo preview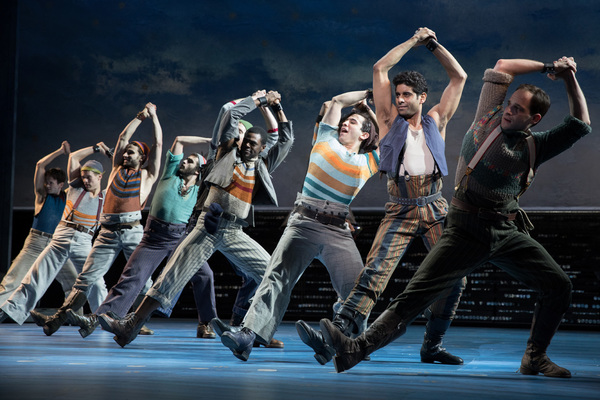 Schedule
Running Time: Two hours and 35 minutes, with one intermission
Featured Reviews For Carousel
Review: A 'Carousel' That Spins on a Romantically Charged Axis - New York Times
The tragic inevitability of "Carousel" has seldom come across as warmly or as chillingly as it does in this vividly reimagined revival. As directed by Jack O'Brien and choreographed by Justin Peck, with thoughtful and powerful performances by Mr. Henry and Ms. Mueller, the love story at the show's center has never seemed quite as ill-starred or, at the same time, as sexy.
'Carousel' on Broadway 2018 review: This ride gets stuck - NJ.com
So where did this handsome, but fundamentally inert production of "Carousel" go wrong? One way is that, instead of approaching the story of Julie Jordan (Mueller) and her doomed romance with Billy Bigelow (Henry) with a fresh, contemporary point-of-view, O'Brien has doubled down on the nostalgia factor, giving us a "Carousel" that -- save for the darkish lighting scheme and the absence of an actual onstage carousel -- looks and feels like something from 70 years ago. (The set design here is by Santo Loquasto; Brian MacDevitt did the lighting.)