Carousel - 2018 - Broadway Tickets, News, Info & More
Rodgers & Hammerstein's Carousel has returned to Broadway in a production NPR calls, "The best musical of the season, by far."
Three-time Tony Award winner Jack O'Brien's "sumptuous revival is a high-water mark of classic American musical theater" (Time Out). Starring Tony nominee Joshua Henry, Tony winner Jessie Mueller and four-time Grammy winner Renee Fleming, with choreography by New York City Ballet's Justin Peck, "this ravishing Carousel tingles with the rapture of life in all its contradictions" (The New York Times).
Set in a small New England factory town, Carousel describes the tragic romance between a troubled carnival barker and the woman who gives up everything for him. With a score full of "the theater's most beautiful and enduring songs" (Variety), brought to life through "choreography that would send Rodgers & Hammerstein themselves into waves of happy shivers" (The Washington Post), this incandescently staged story of passion, loss and redemption is "one of the most moving experiences in all of musical theater" (New York Magazine).
"God is in Carousel," raves The Chicago Tribune. "It's the greatest musical ever written." Don't miss this ecstatically acclaimed production of one of musical theater's rarest treasures. "What a gift to have it back on Broadway" (The Hollywood Reporter).
Video preview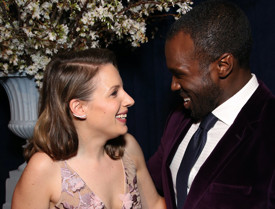 Photo preview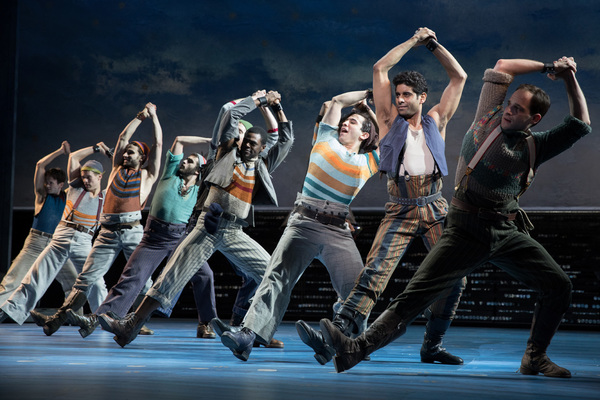 Schedule
Running Time:
Two hours and 35 minutes, with one intermission
Featured Reviews For Carousel
Broadway Review: 'Carousel' Starring Joshua Henry, Jessie Mueller - Variety
Audiences encountering Joshua Henry's electrifying performance as the charismatic but star-cursed Billy Bigelow will long remember the experience. In this new Broadway revival of Rodgers and Hammerstein's "Carousel," Henry shows off the exceptionally beautiful voice of a genuine actor-singer, a voice that while warm and mellow, can also soar with joy and tremble in despair.
Review: The Brilliantly Bitter Pill of 'Carousel' on Broadway - Daily Beast
The current Broadway production, which opens Thursday night directed by Jack O'Brien, does not stint on the darkness of the source material, and it doesn't resolve or make easy for a modern audience one of its most pronounced storylines-the violence Billy Bigelow (Joshua Henry, who will surely be Tony-nominated for a third time for his excellently sung performance) shows to his wife, Julie Jordan (the Tony-winning Jessie Mueller), and his repeated lack of repentance for it.