Ain't Too Proud - 2021 - Broadway Tickets, News, Info & More
It was a sound that would change music history. Ain't Too Proud is the electrifying new musical that tells the story of The Temptations from the streets of Detroit to the Rock & Roll Hall of Fame.
With their signature dance moves and unmistakable harmonies, everybody knows the Temptations' hits, but Ain't Too Proud brings the rest of the rocky history to life; how the founding members met, the unbelievable heights that they hit, and how personal and political conflicts threatened to tear the group apart as the country fell into civil unrest.
With a book by Dominique Morisseau, choreography by Sergio Trujillo, and direction by Des McAnuff, this musical tells the thrilling story of brotherhood, family, loyalty, and betrayal, featuring the toe-tapping hits hits like "My Girl," "Just My Imagination," "Papa Was a Rolling Stone," and many more.
Video preview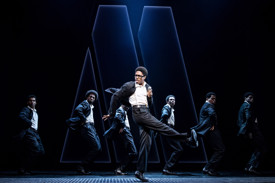 Photo preview
Running Time:
Two hours and 30 minutes, with one intermission
Featured Reviews For Ain't Too Proud
'Ain't Too Proud' review: Temptations jukebox musical plays it safe - amNY
"Jersey Boys" meets "Motown" in "Ain't Too Proud: The Life and Times of The Temptations," the latest biographical/backstage rock and roll jukebox musical to hit Broadway and market itself to the baby-boomer demographic. And while not exactly profound or original, it makes for slick, straightforward, tuneful and altogether pleasant entertainment.
The Temptations Broadway Jukebox Musical, 'Ain't Too Proud,' Is a Gold-Standard Triumph - Daily Beast
Oh no, the heart sinks, another jukebox musical on Broadway. So many-Cher, Donna Summer-have been varying degrees of cringe. But after leaving Ain't Too Proud: The Life and Times of The Temptations, which opened tonight at the Imperial Theatre (to November 24), a happy revelation: This jukebox musical not only has life, it also has wit, intelligence, while also looking stunning and full of energy.
Ain't Too Proud Broadway Cast
Buy at the Theatre Shop
T-Shirts, Mugs, Phone Cases & More