TLT Presents THE SISTERS ROSENSWIEG - An Off The Shelf Reading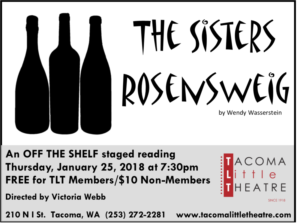 Tacoma Little Theatre presents Wendy Wasserstein's, The Sisters Rosensweig, directed by Victoria Webb. This production will take place on Thursday, January 25, 2018 at 7:30pm.
Sara Goode is about to celebrate her fifty-fourth birthday, and she isn't exactly too happy about it. Firmly ensconced in her lovely London home, she leads a quiet, almost cold, expatriate life with her daughter, Tess. For the birthday celebration, her two sisters, Gorgeous Teitelbaum (Dr. Gorgeous, loving housewife and mother, of Newton, MA, who has her own call-in radio advice program and hopes to make the leap to TV), and Pfeni Rosensweig (peripatetic third-world travel writer, alas, unmarried), are expected to arrive at any moment. As if this weren't causing Sara enough stress, Mervyn Kant shows up at her door, and she doesn't even know the man, who, at first sight, is instantly smitten with her. Mervyn is a furrier, and a friend of Geoffrey's, the on-again, off-again, bi-sexual lover of Pfeni. After her sisters arrive for the celebration, Tess, and her boyfriend, Tom, turn up and advise her that they're planning on rushing off to his ancestral Lithuania for reasons of political protest. Next to arrive is Nicholas, the stuffy Brit whom Sara has been "seeing" although he seems somewhat anti-Semitic. All of this adds up to a rather interesting evening, which leads to unexpected romance, suspected partings, recriminations, reconciliations and, above all, newfound love and acceptance.
Featuring the talents of: Scott Pinkston (Nicholas Pym), KAIT MAHONEY (Tess Goode), CONNIE MURRAY (Sara Goode), Jed Slaughter (Geoffrey Duncan), John Murray (Mervyn Kant), Deya Ozburn (Pheni Rosensweig), Dylan Twiner (Tom Valiunus), and Victoria Webb (Gorgeous Teitelbaum).
Tickets for the January 25, 2018 performance at 7:30pm are $10.00 for non TLT Members, and FREE for those who are members. Tickets may be purchased online at www.tacomalittletheatre.com, or by calling our Box Office at (253) 272-2281.
TLT's OFF THE SHELF
We know that there is a tremendous amount of wonderful theatre that deserves to be heard but sometimes just doesn't get an opportunity. With "Off the Shelf", local directors and actors will be bringing some scripts to life that we hope you will find entertaining, challenging and educational to our stage. We hope that you'll sit back and enjoy an evening of theatre. You never know, you might see one of these shows on our mainstage in the future.
More Hot Stories For You