Photo Flash: 42nd Street Moon Presents FIORELLO!
San Francisco's 42nd Street Moon presents its first 2019 production, the Pulitzer Prize and Tony Award-winning musical FIORELLO! Based on the life of New York City's legendary mayor Fiorello H. LaGuardia, FIORELLO! features lyrics by Sheldon Harnick, and music by Jerry Bock (SHE LOVES ME, FIDDLER ON THE ROOF) and a book by Jerome Weidman and George Abbott (THE PAJAMA GAME, DAMN YANKEES). 42nd Street Moon's production of FIORELLO! runs from February 27 - March 17, 2019 and will perform at San Francisco's Gateway Theatre (215 Jackson St, San Francisco, CA 94111). The press opening will take place on Saturday, March 2 at 6:00 p.m. Tickets range from $30 - $75 and can be purchased through the Box Office at (415) 255-8207 or online at www.42ndstmoon.org.
42nd Street Moon's production of FIORELLO! will be directed by Karen Altree Piemme (making her Moon debut) and choreographed by Jayne Zaban, with Music Direction by Daniel Thomas.
The principal cast of FIORELLO! will feature Colin Thomson* as "Fiorello," Amanda Johnson* as "Thea," Katrina McGraw* as "Marie," Marisa Cozart as "Dora," Christopher M. Nelson as "Floyd," Matt Hammons as "Morris," Catrina Manahan (making her Moon debut) as "Mitzi," Chris Vettel* as "Ben" and Sean Fenton* as "Neal." The ensemble will include Danielle Cheiken, Lee Ann Payne*, Amy Pierce Alvino (in her Moon debut), Cameron La Brie, Mario Mazzetti (in his Moon debut), John Brown and Elliott Hanson (in his Moon debut).
In addition to Ms. Piemme, Ms. Zaban and Mr. Thomas, the creative team will include Brian Watson as Scenic Designer, Wesley Rou as Lighting Designer (making his Moon debut), Merissa Mann as Costume Designer, Lauren Howry* as Assistant Stage Manager and Alicia Lerner* as Stage Manager.
*Member of Actors' Equity Association, the union of professional actors and stage managers.
"Given the divisiveness and bickering that has spilled out of Washington and into our homes, our workplaces, our churches, and everywhere else in our lives," said 42nd Street Moon's Executive Directors Daren A.C. Carollo and Daniel Thomas, "there couldn't be a better time for a show like FIORELLO! Mr. LaGuardia was a man who never let political pandering or back-room deals get in the way of his determination to serve all of his constituents equally; to speak for those with no voice; and to fight for those with no strength. That this show won the Pulitzer speaks to the authors' ability to deliver a message of social justice while working within the confines of Golden Age musical comedy,
Page 2 / 42nd Street Moon's FIORELLO!
and that message resonates just as strongly today. FIORELLO! is must-see viewing for fans of theatre, politics, history, or anyone who wishes for more idealism and less cynicism in our American discourse."
"At a time of intense political polarization in our nation," added Director Karen Altree Piemme, "it is exciting to have the opportunity to work on a show about an individual who was a champion of people in immigrant communities, supported women in the labor movement, and believed that true leadership meant stamping out political corruption and serving all members of our community equally. This story inspires us to be our better selves."
Considered one of the greatest mayors in American history, Fiorello H. La Guardia successfully rose from a crusading lawyer to Congress to running New York City, fighting the corrupt forces of Tammany Hall while never losing his upbeat spirit or pledge to help those less fortunate than him.
The story of the larger-than-life, eternally optimistic FIORELLO! won the Tony Award for Best Musical as well as the Pulitzer Prize and was the first major hit for Sheldon Harnick and Jerry Bock (who went on to write the immortal FIDDLER ON THE ROOF).
FIORELLO! runs about two hours and fifteen minutes, including one intermission.
42nd Street Moon's 2018-2019 season will continue with 110 IN THE SHADE (April 24 - May 12, 2019), ONCE (June 12 - 30, 2019) and THE OLDEST LIVING CATER WAITER (performances begin June 23, 2019). Subscriptions and more information about 42nd Street Moon are available online at www.42ndstmoon.org.Tickets to DAMES AT SEA may be purchased online at www.42ndstmoon.org or by calling the Box Office at (415) 255-8207 (Tues. - Fri., 11 a.m. - 4 p.m.).
42nd Street Moon celebrates and preserves the art and spirit of the American Musical Theatre. The organization contributes to its evolution and continuing vitality by presenting intimately produced performances of classic and rarely performed musical works. Through productions, educational programs, and community outreach, 42nd Street Moon is committed to increasing the awareness and appreciation of the rich heritage and cultural perspective of the musical theatre and its vast influence on the world stage. For more information, visit: www.42ndstmoon.org.
Photo Credit: Ben Krantz Studio

Chris Vettel as Ben Marino

Marisa Cozart as Dora

Colin Thomson as Fiorello LaGuardia with the Ensemble

Colin Thomson as Fiorello LaGuardia

Chris Vettel (R) as Ben Marino with the Ensemble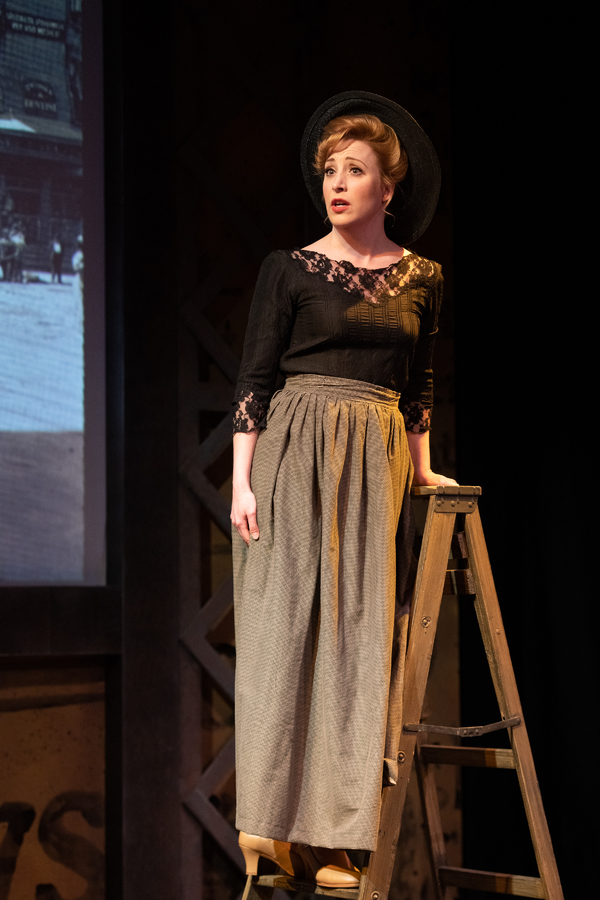 Amanda Johnson as Thea

Colin Thomson as Fiorello LaGuardia with the Ensemble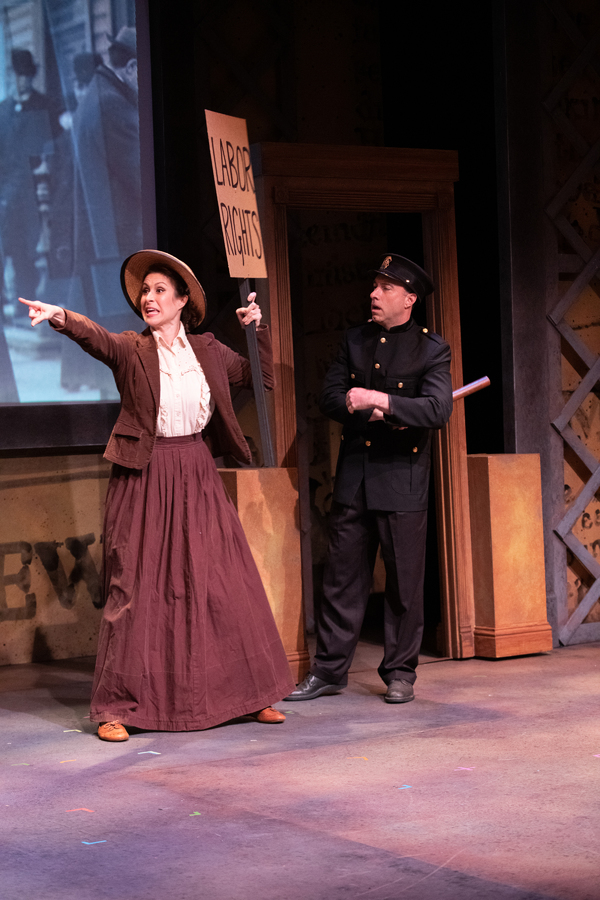 Marisa Cozart as Dora and Christopher M. Nelson as Floyd

Matt Hammons as Morris Cohen

Katrina Lauren McGraw as Marie

Sean Fenton as Neil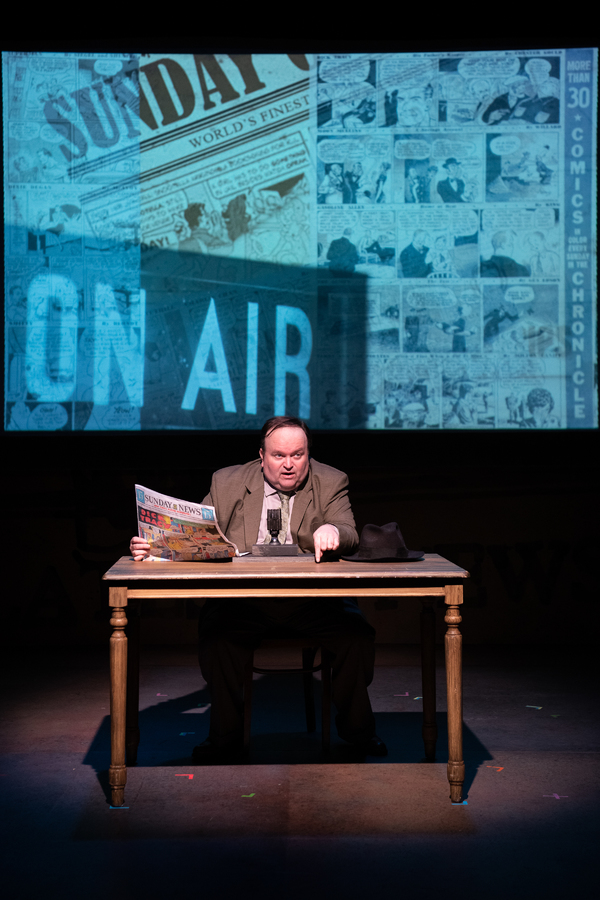 Colin Thomson as Fiorello LaGuardia