BWW Review: Nothing is Rotten in Sacramento Theatre Company's HAMLET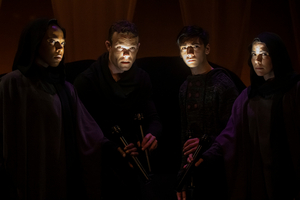 It is said that Shakespeare's Hamlet is being performed every minute somewhere in the world. Now, you can see it at the Sacramento Theatre Company (STC). BroadwayWorld Award-winning director Casey McClellan teams up with Greg Foro to create a modern-day version of the play that focuses on the intricacies of the family unit and revenge.
Adroitly delivering Hamlet's seven soliloquies (and more!) is Ian Hopps, who won a 2019 BroadwayWorld Award for Best Actor in a Play for STC's adaptation of A Midsummer Night's Dream. His anguish and disgust are palpable, his love for his mother (a regal Jamie Jones) sullied by her laissez-faire attitude towards his father's death and her subsequent hasty marriage to his uncle. Hopps flawlessly bares the vulnerabilities of his soul in the famed "To be or not to be" scene and continues to do so in his quest for redemption and revenge while questioning the validity of his faith and relationships. His act of descending into madness is entirely conceivable, whether it is displayed as damning Ophelia to a nunnery or cheerfully chirping, "Farewell!", to a man wrongfully murdered (Gary Alan Wright as a fatherly Polonius). Carrying a show of Hamlet's breadth of difficulty is no easy feat, and I highly expect Hopps to be a front-runner in the 2020 BroadwayWorld Awards for this performance.
Notably supporting Hopps is his spurned heart's desire, Karen Vance as the doomed Ophelia. Naïve and smitten with Hamlet, yet eager to do her father's bidding, Vance finally shows her chops in her cardinal scene. An Annabelle-esque guise lends credence to her departure from reality as she makes her way closer to her imminent ruin. Left alone to avenge her and their father is Dan Fagan, who was last seen at STC in Deathtrap. His fun-loving Laertes is transformed into something he doesn't recognize as he is manipulated and twisted by a desperate Claudius (Eric Wheeler). An equally deft supporting cast rounds out this production full of humor, introspection, and suspense.
McClellan and Foro have succeeded in creating a piece that grabs your attention and provokes thoughtful dialogue. From their take on Old Hamlet's ghost to the sheer white panels of a minimalist set, this interpretation leaves your imagination to fill in the blanks and examine what price revenge is worth.
Hamlet plays at STC through March 22nd. For tickets and more information, visit www.sactheatre.org. Tickets may also be purchased by calling (916) 443-6722 or by visiting the box office at 1419 H Street in Sacramento.
Photo credit: Charr Crail